While you may be tempted to breeze right through the Peruvian capital, I'm here to show you that there are numerous things to do in Lima to warrant sticking around for a while.
One place that seems to be on everyone's bucket list these days is Machu Picchu. The ancient city of the Incas is one of the new Seven Wonders of the World and is probably the most popular destination in all of South America.
In order to get to Machu Picchu and Cusco, though, chances are you'll have to pass through Lima. If you're looking for a cool, safe, and affordable transportation option to cover the route between those popular destinations, check out Peru Hop (with more than 5,000 positive reviews on TripAdvisor).
This fun hop-on-hop-off bus actually picks you up from your accommodation and goes to places you wouldn't otherwise be able to without private transport. If that's not your thing, they also offer cool day trips from Lima as well, including Paracas and Huacachina. Learn more about Peru Hop here.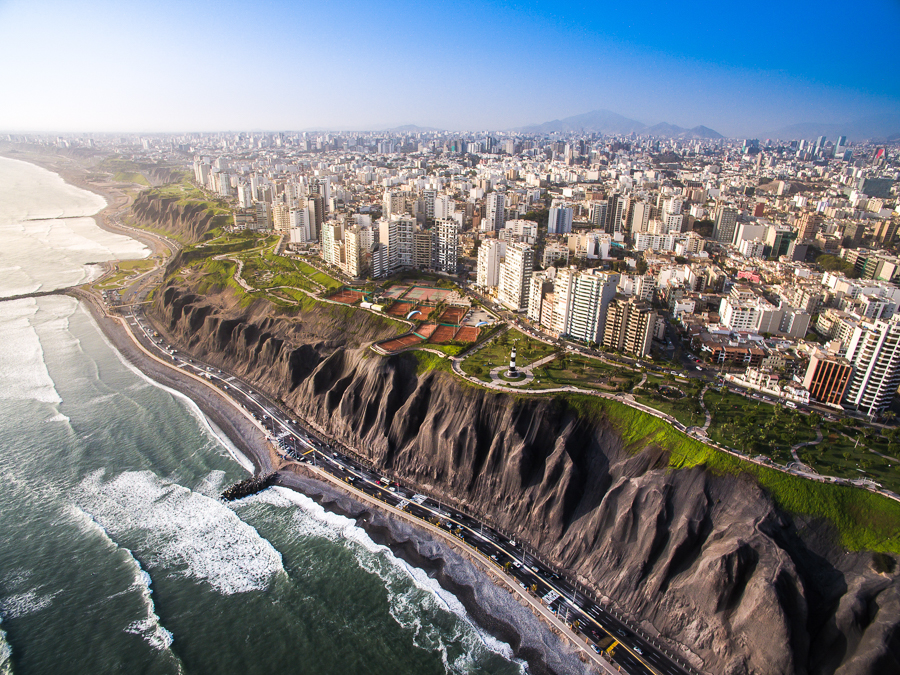 Exploring the historic center, paragliding high above the coast, feasting on Peruvian cuisine, and dancing all night in a hidden bar. These are just a few of the many awesome things to do in Lima.
I spent a month living in Lima as a digital nomad and really enjoyed my stay. Read on for an in-depth look at all that Peru's capital has to offer!
21 Best Things To Do in Lima, Peru
My month in Lima was more time than most people spend, but it still wasn't enough to see all that the city has to offer. Nonetheless, I managed to see plenty more than these attractions, but I've narrowed down my pick for the 21 best things to do in Lima below.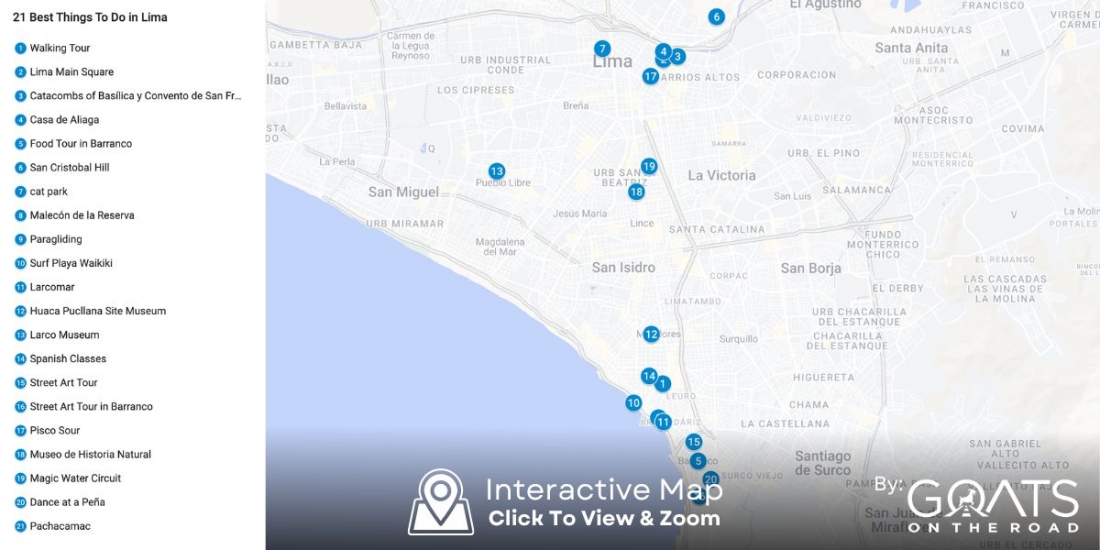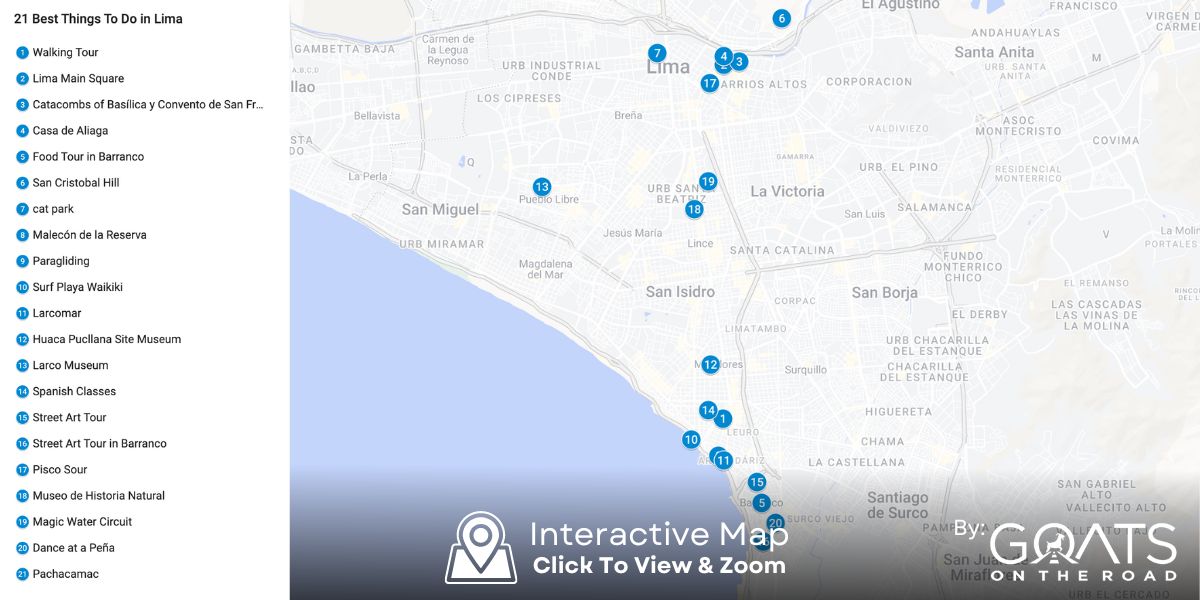 1. Take a Walking Tour (what to do in Lima when you first arrive)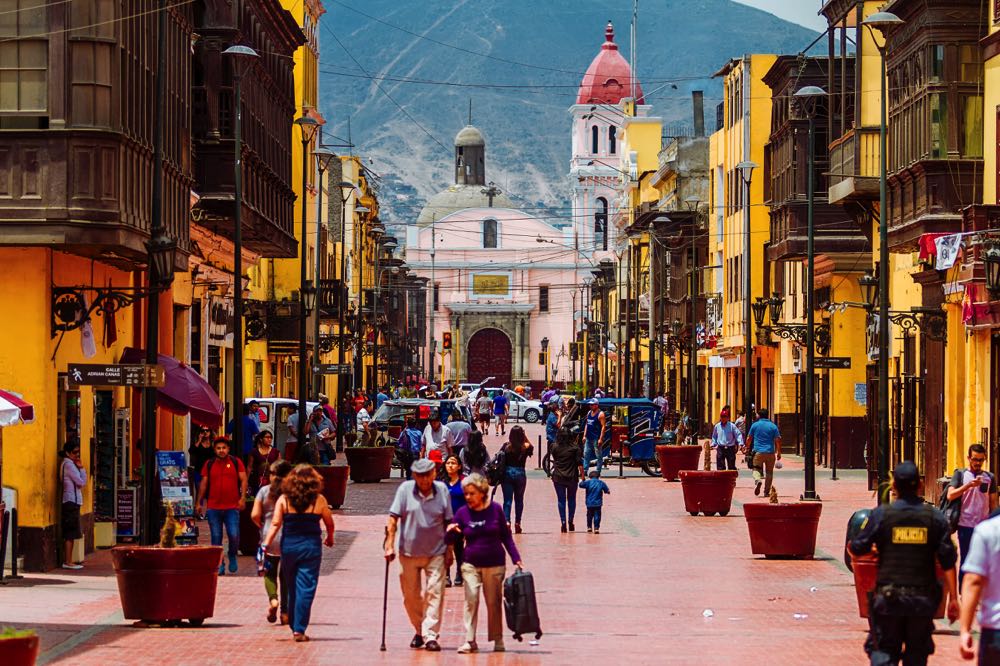 There's no better way to get to know a city than by exploring it on your own two feet. It's even better when you can do so with a local guide and a group of like-minded travelers. The real icing on the cake, though, is when the tour is totally free! 
Joining a free walking tour is definitely one of the best things to do in Lima, and it's the perfect place to begin your trip in the Peruvian capital. While there are quite a few groups running tours these days, the original free walking tour is with Inkan Milky Way. 
These tours last a few hours and cover some of the highlights of Lima's famed Historic Centre. All the while, you'll learn about the history and culture of Lima from your guide, who will be happy to answer any questions you might have.
Be sure to ask for some recommendations on the best places to eat, shop, and drink while you can.
Tours operate from Monday-Saturday at both 11AM and 3PM starting at La Merced Church. For the earlier tour, a guide will even meet you in Miraflores at 10:00 to help you navigate the public transportation to get to the city centre. 
While the tour itself is indeed free, they operate solely on your tips. If you enjoy the tour, be sure to tip your guide. How much you tip is entirely up to you, but I feel like around 20-30 soles ($7-10) per person is fair considering what you get out of it. 
Looking for a more "official" walking tour in Lima? Check out this highly-rated walking tour that includes pick-up from your accommodation, entrance tickets to some main sights, a guide, and a snack. Learn more about this fun experience here.
2. Explore the Plaza de Armas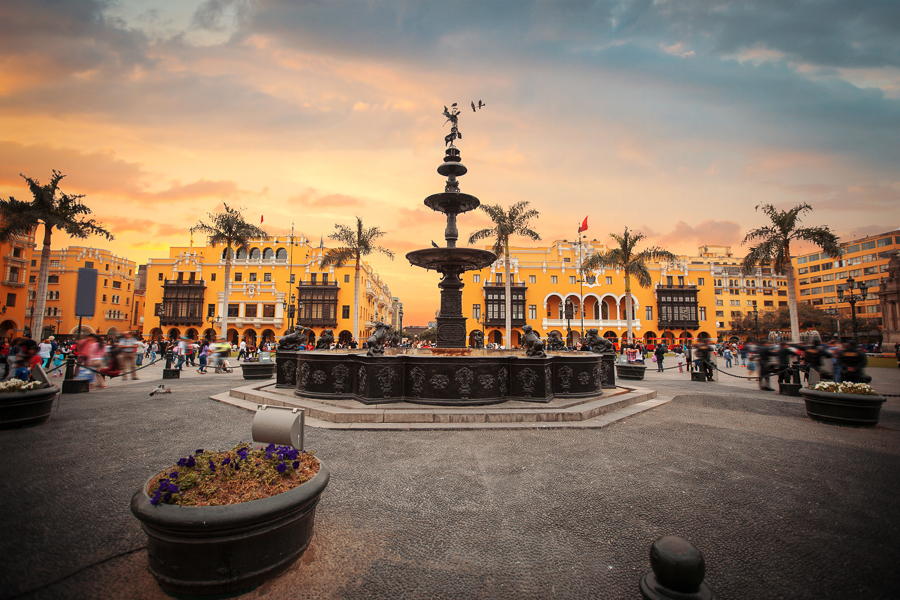 While you'll walk through the Plaza de Armas on a walking tour, you don't have a whole lot of time to take it all in. As such, you'll want to go back there on your own at some point for further exploration. 
Also known as the Plaza Mayor, this was the birthplace of Lima when the Spanish conquistador Francisco Pizarro founded the city in 1535. As per the order of King Charles I of Spain, the city was centered on a square-shaped plaza.
The Plaza de Armas is surrounded by important historical and cultural landmarks, such as the Lima Cathedral and Government Palace. It's a beautiful tree-lined plaza with a fountain in the middle and a great spot to relax for a while.
The cathedral has a gorgeous exterior, but you'll need to go inside to truly appreciate it. It's free to enter to a certain point, but you'll need 10 soles (about $3) to go further inside and see the museum full of religious art. 
As for the Government Palace, it's the official residence of the Peruvian president. Tours are free, but you'll have to arrange them ahead of time by calling the office at +51-(0)1-311-3908.
If you don't get on a tour, at least be sure to catch the daily changing of the guard ceremony at noon. Those who do the early free walking tour will be able to see it. For directions to the Plaza de Armas, click here. 
3. Visit the Catacombs in San Francisco Church
One of the most popular (and eerie) things to do in Lima is taking a tour of the catacombs under the San Francisco Church. This beautiful Spanish Baroque church was built in the late 1600's and is probably the best-preserved in all of Lima.
In addition to the church, there's an adjoining monastery with a very impressive collection of ancient religious texts. Most travellers don't come here to read, though. They come to head underground to see the catacombs.
This was the original cemetery in Lima, and it's estimated that up to 75,000 people were buried here. Many of Lima's wealthy elite chose to be buried here due to the belief that doing so would leave them closer to God. 
In an effort to make visiting the catacombs less terrifying for visitors, the bones have been arranged in artistic patterns. I still think it's a bit creepy, but it's an important part of the city's history and worth a visit unless you're incredibly claustrophobic. 
The Church of San Francisco is open daily from 9AM-5PM. The church is free to visit, but you'll need to join a tour to visit the catacombs. This walking tour of Lima actually includes a visit to the catacombs (and the entrance ticket).
The catacombs are one of the best places to visit in Lima. You can get directions to the church here. 
4. Tour the Aliaga House
Back when Pizarro founded the city in 1535, he gave a plot of land near his palace to one of his trusted allies, Jerónimo de Aliaga. Aliaga built a mansion there, and it still stands to this very day. Obviously, there have been several renovations to the house over the years.
Not only is the house as old as Lima itself, but it's the oldest house in the Americas to be continuously occupied by the same family. His descendants still live on the property in a modern wing, and the mansion is now a museum. 
Inside the house, you'll see a very impressive collection of Peruvian art and artifacts. Visiting the Casa Aliaga is definitely one of the top things to do in Lima Peru. 
Tours of the house need to be arranged at least 24 hours in advance by calling +51-(0)1-619-6900 or sending an e-mail to reservas@casadealiaga.com. They're not cheap (about $40 per person), but they're well worth it if you're interested in art and history. You can find the Aliaga House on the map here.
5. Sample Peruvian Cuisine (one of the top things to do in Peru!)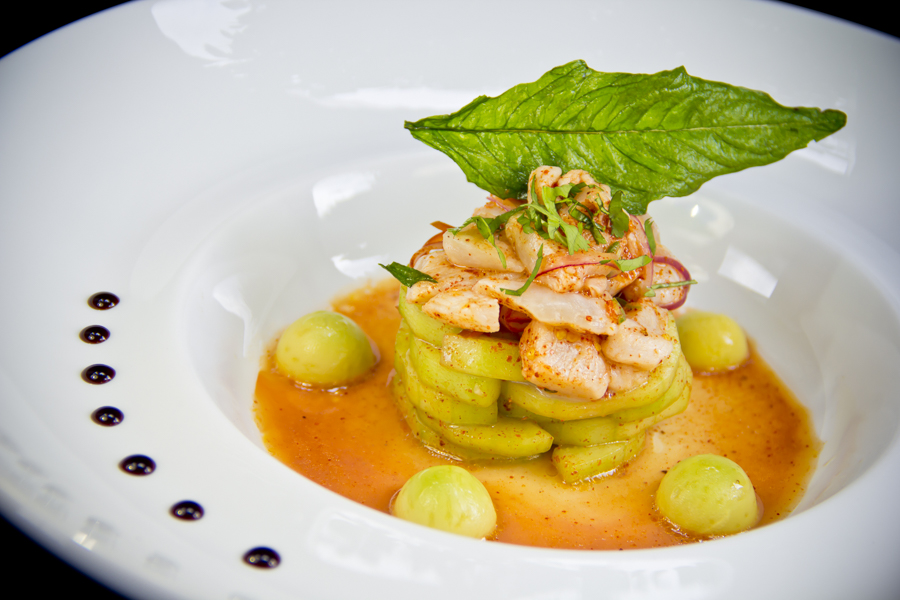 I've said it before and I'll say it again — Peruvian cuisine is the best in all of South America. Your taste buds are in for a real treat when you travel to the Peruvian capital.
This highly-rated food tour in Barranco includes stops at 15 unique food stalls. You'll sample the true flavors of Peru with your local guide. Learn more about the food tour here.
Thanks to its long multicultural history, Peruvian cuisine has fused flavors from many corners of the globe using local ingredients. From the Spanish conquistadors to Chinese immigrants, there have been many different influences on Peruvian cuisine over the centuries.
Eating your way around the city is a major highlight of a visit to Lima. If you're not sure what to do in Lima, go sit down in a local restaurant and plan your day as you enjoy a fantastic meal. 
Perhaps the most famous dish in Peru is ceviche.
This dish of raw fish marinated in lime juice is so important in Peru that it even got its own holiday. That's right, Peru celebrates National Ceviche Day every year on June 28th! Eating a fresh plate of ceviche is definitely one of the tastiest things to do in Lima. 
In addition to ceviche, other must-try dishes include lomo saltado (stir-fried beef with onions, tomatoes, and French fries), aji de gallina (a spicy chicken stew), and Chifa (Peruvian-Chinese food). 
6. Take in the Views from San Cristobal Hill
If you'd like to admire the Centro Historico from above, be sure to include a trip up to San Cristobal Hill to your Lima itinerary. At 400 meters above sea level, this is the highest natural point in the city.
The hill is revered as an apu – a mountain deity that protects the city. As they tended to do, the Spanish conquistadors imposed their beliefs on the indigenous people by planting a cross here.
People still make offerings to the mountains, and a massive pilgrimage of Christians occurs here during Semana Santa. 
While you may be tempted to hike up the hill, that is ill-advised. This isn't the safest part of Lima, so it's not the best place to be walking around on your own.
The best way to get up the hill is by catching the bus in the Plaza de Armas. It costs 10 soles ($3) round-trip and gives you enough time to enjoy the views and take photos. 
San Cristobal Hill is located just northeast of the Plaza de Armas, on the other side of the Rimac River. You can check its location on the map here. 
7. Hang Out in the Cat Park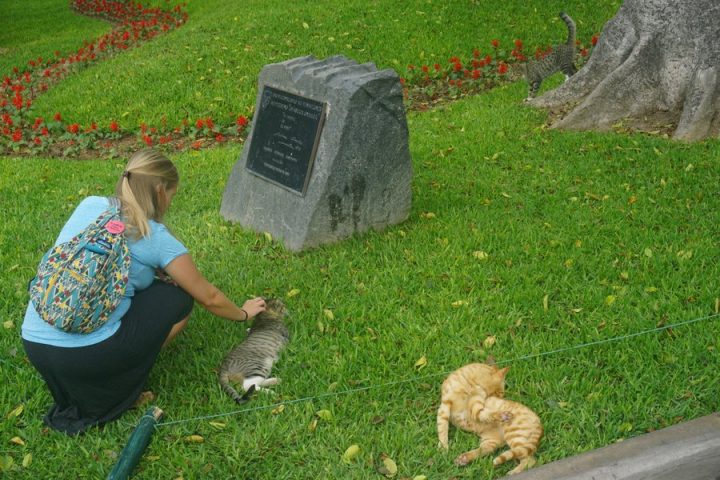 If you're a cat-lover, then you'll definitely want to check out Parque Kennedy while in Lima. While the park is actually named after John F. Kennedy, many people simply refer to it as the Cat Park these days.
Nobody is quite sure where they came from, but the park is home to well over 100 stray cats. One common theory is that it started when a few cats escaped from a church where they were being used to catch mice. 
However they got there, the famous felines made themselves quite comfortable in the park. While many residents despise them (some have even been poisoned), there is thankfully a great non-profit here that feeds the cats, spays and neuters them, and helps find a home for them.
Parque Kennedy is located right in the heart of the Miraflores district of Lima, which is basically backpacker central. There are several hostels around the park, making this a very popular place to stay. You can find the exact location of the park here. 
8. Stroll or Bike Along the Malecon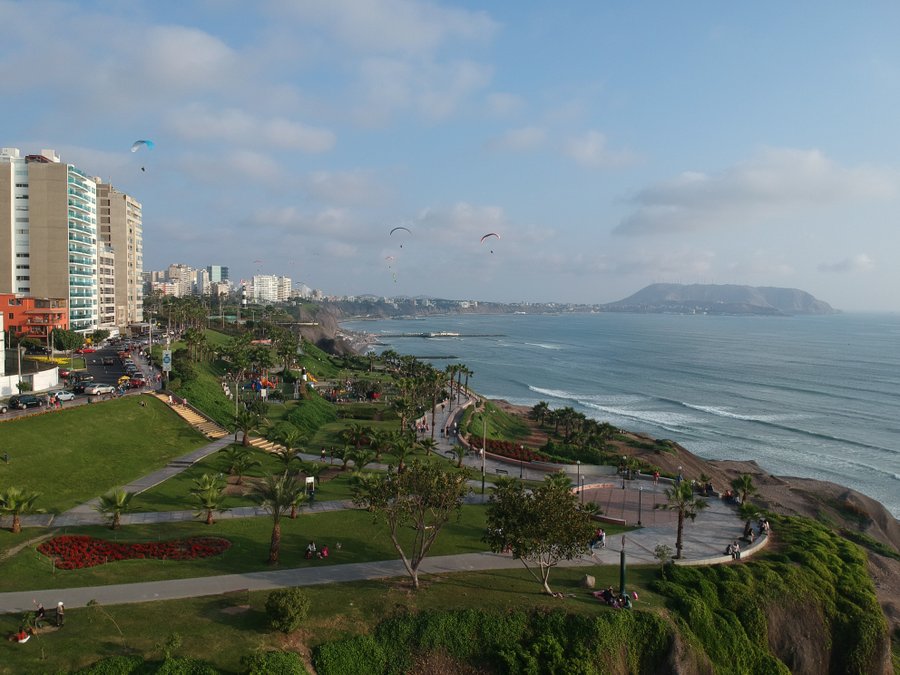 Lima is known as the Garden City, and that's thanks in large part to the beautiful, cliffside Malecon. It stretches for several kilometers high above the Pacific Ocean in Miraflores and contains several different parks.
Taking a walk or riding a bike along the Malecon is easily one of the most fun things to do in Lima. The views of Lima's Costa Verde (Green Coast) off to the side are incredible, and there's a lot to see and do along the way.
One of the highlights of strolling the Malecon is the Parque del Amor (Park of Love). Here you'll find the huge sculpture called El Beso (The Kiss), which depicts the artist smooching his wife. You'll also find many young Peruvian couples re-enacting the scene themselves. 
For an easy, informative and fun bike tour of the city, check out this tour , which takes you around Miraflores and Barranco.
9. Go Paragliding (one of the more adventurous things to do in Lima)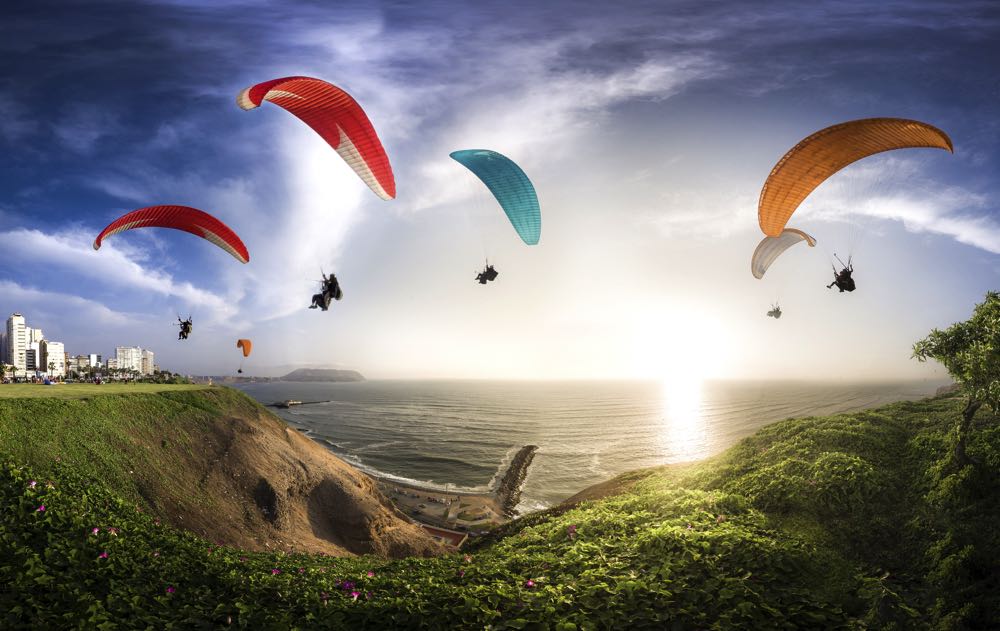 For adrenaline junkies wondering what to do in Lima, the choice is easy — go paragliding! Thanks to the tall cliffs and strong winds that prevail in Lima, this is the perfect spot for it. 
Just north of the aforementioned Park of Love, you can sign up for a quick flight above the Malecon and the Pacific Ocean. It's hard to beat the views from this vantage point, that's for sure.
To reserve your spot, click here. It's about $75 per person and you'll need to sign all the necessary documents. You'll also get the video and photos from the flight so you can show them off on social media later.
While it's very safe, make sure you've got travel insurance before jumping off a cliff in Peru! Learn more and book your flight here.
10. Beach Hopping and Surfing
While they aren't exactly the nicest beaches in the world, it's still fun to hit la playa when you're traveling in Lima. Doing so is quite easy, as all you need to do is walk down the stairs from the Malecon to access Playa Waikiki. 
The shores are rocky and the water can be downright frigid, but that doesn't stop people from pulling up a lounge chair, cracking a cerveza, and enjoying the views of the ocean. Lima's beaches are always bustling during the busy summer months of December-April. 
For those who need a bit more excitement than a beach chair, surfing is one of the most popular things to do in Lima Peru. While you'll need to travel 1-2 hours outside of the city to find the really good beaches and killer waves, the beaches in Miraflores and Barranco will have to do if you're short on time. 
You can find boards for rent and sign up for classes with Team Surf Peru. Check out this experience with an expert, local surfer Alberto who will show you the best places for surfing. The tour includes board, wetsuit, and instructor. Learn more about surfing in Lima here.
☞ SEE ALSO: Reflections and Highlights – Our Two Month Trip in Peru and Ecuador
11. Shop and Dine at Larcomar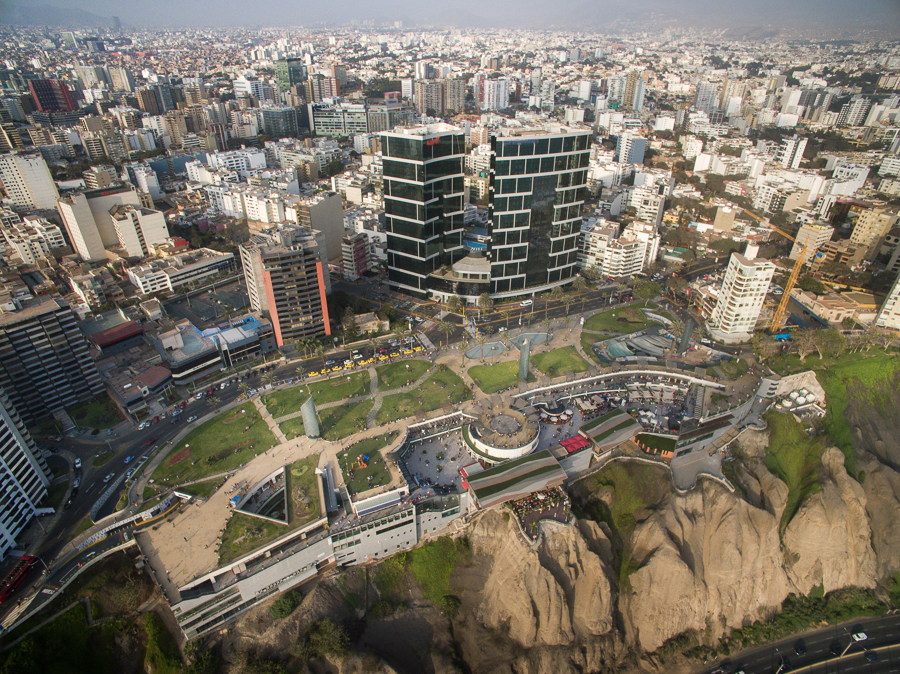 Normally, I wouldn't dare put a shopping mall in a travel guide. Just ask my wife, and she'll be quick to tell you how much I loathe going to malls. That being said, the Larcomar mall is pretty freaking cool and deserves its spot on this list of things to do in Lima.
Their claim to fame is being the only shopping mall built into a cliff. How cool is that?! Thanks to this unconventional location, there are some incredible views from this open-air mall. 
Inside Larcomar, you'll find 17 restaurants and over 70 shops, so there's plenty to do here to keep you occupied. When we stayed in Lima in December, I even got my picture taken with Papa Noel (Santa Claus) here!
When you're out exploring the Malecon, it's definitely worth it to drop by Larcomar just to check the place out. It's a quick walk here from the center of Miraflores. It's open from 10AM-10PM every day and can be found here.
12. Ancient Ruins in the Modern City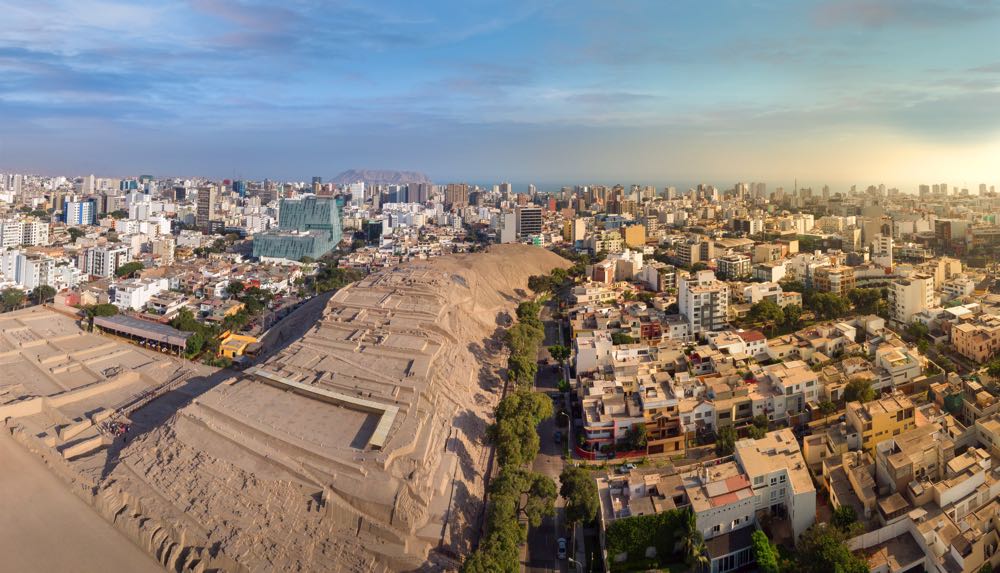 While more and more high-rises are going up in Lima, the city still does a great job of preserving its past. There's no better example of that than the ancient ruins of Huaca Pucllana, which are located right in the heart of Miraflores.
Constructed back in the 5th century during the time of a civilization known as the Lima Culture, Huaca Pucllana is a sacred, 7-tiered temple made of adobe. It was built for the elite clergymen who were in charge to show their authority and control over the natural resources of the area.
A visit to Huaca Pucllana only costs 6 soles ($2) and includes a guided tour, which runs very often in both Spanish and English. It's not going to knock your socks off like Machu Picchu, but it's a good warm-up for those headed on to the ancient city of the Incas.
The ruins are open from Wednesday to Monday from 9AM to 5PM. You'll have to get there by 4:15 or so to make sure you get on a tour. If you're interested in cycling, this bike trip passes by these ancient ruins.
Another option is visiting at night to eat at the restaurant on site. The temple is lit up, making for a very special dining experience. You can find directions to Huaca Pucllana here.
13. Check Out the Larco Museum
If you don't know what to do in Lima on a foggy, drizzly day (there are many of them), just head to the Larco Museum. Housed in a former mansion and full of thousands of pre-Columbian artifacts, this is definitely the most impressive museum in the city.
There are a few things about the Larco Museum that make it stand out. For one, it was one of the first museums in the world to actually open up its storerooms. You can peruse tens of thousands of ancient ceramics that aren't on display in the museum.
What most people know the Larco Museum for, though, is its vast collection of erotic ceramic art. The Spanish were aghast when they found it, but you'll probably just giggle at seeing the Kama Sutra in clay.
The Larco Museum is open every day of the year from 9AM to 10PM. An entrance ticket costs 30 soles ($10), and you can also sign up for guided tours in Spanish or English. Get directions by heading here. 
14. Study Spanish
Many travelers begin an extended trip around South America in Lima, as the city has great flight options from North America and Europe. If you're going to be spending some time in this part of the world, it's well worth taking the time to pick up some español. 
While it's totally possible to get by in Peru with just English and body language, you'll have a much more enjoyable and rewarding experience if you can interact with people in Spanish. Thankfully, you've got several choices for Spanish lessons in the Peruvian capital.
A majority of the Spanish schools are centered around Miraflores, which is convenient since it's also the biggest tourist hub. You can sign up for anything from a few hours of private lessons up to intensive group classes that meet five days a week for a month or more.
If you want to stay in Peru longer, signing up for Spanish lessons is the best and easiest way to handle the visa situation.
I can personally recommend El Tulipan, as I took classes there for a few weeks during our month-long stay in Lima. It's only 165 soles (about $50) for six hours of small group lessons a week, which leaves you plenty of time to explore the city. Contact them in advance or just drop in to talk to them about signing up.
15. Search for Street Art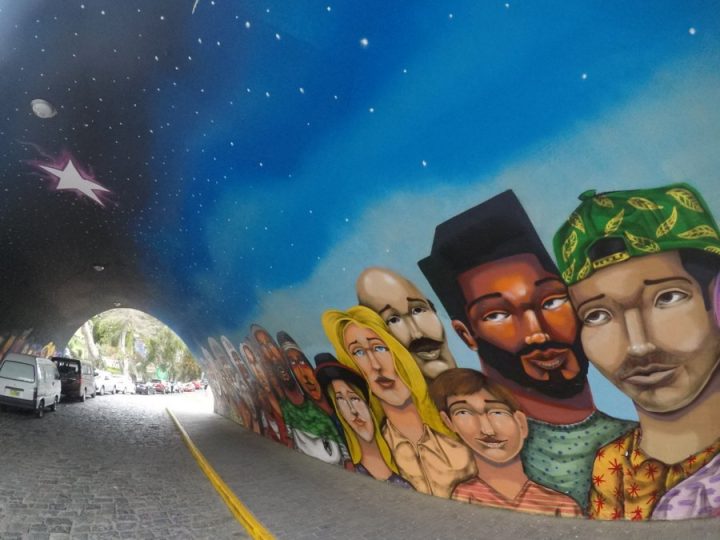 I don't know about you, but I absolutely love seeking out street art when I travel. Museums are great and all, but it's nice to get your art fix outside of a stuffy room with uppity guards following you around.
Street art lovers are in for a real treat in the Peruvian capital. Since it's a UNESCO World Heritage Site and all, the local government definitely frowns upon graffiti in the historic center.
That being said, there are some hidden gems if you poke around for a while there and get away from the Plaza de Armas and all its protected landmarks.
Without a doubt, the best place to search for street art in Lima is Barranco. The best way to find the incredible art, and learn the backstory behind the pieces is to join a street art tour with a local. During this fun experience, you'll explore the neighborhood with an expert, while finding lots of street art along the way.
Barranco just so happens to be the next item up on our list of the best things to do in Lima.
16. Visit Barranco – Lima's Hippest 'Hood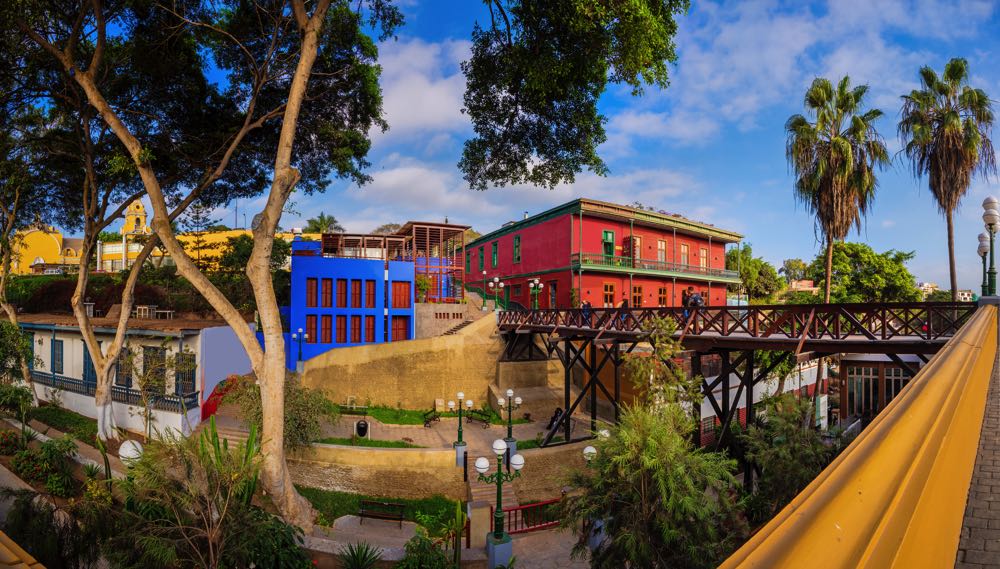 Long a favorite of Lima's artistic community, Barranco is gaining ground among travelers as a popular alternative to its more trendy and upscale neighbor Miraflores. Even if you don't stay there, you should definitely take some time to go explore this bohemian enclave.
Barranco was originally built up as a beach destination for well-to-do Limeños, a fact that is made evident by the numerous palm trees that line the streets along with pastel-colored mansions. These days, it draws in curious travelers in search of a more laid-back, artsy vibe. 
There's plenty to see and do in Barranco to keep you busy for a while — this is my favorite neighborhood in Lima.
In addition to all the street art, the scenic plaza, and the stunning architecture, the area is home to plenty of unique shops, restaurants, cafes, and bars. Plus, if you're a Digital Nomad like myself planning to get caught up on work while in the city, there are some awesome co-working spaces in this neighbourhood.
Also, make sure you take part in the local legend by holding your breath as you cross the Puente de los Suspiros (Bridge of Sighs). Make a wish and make it across the bridge successfully, and it will come true!
While Barranco is easy enough to visit on your own, this walking tour takes in the neighborhood, plus other areas of Lima.
17. Drink Pisco Sours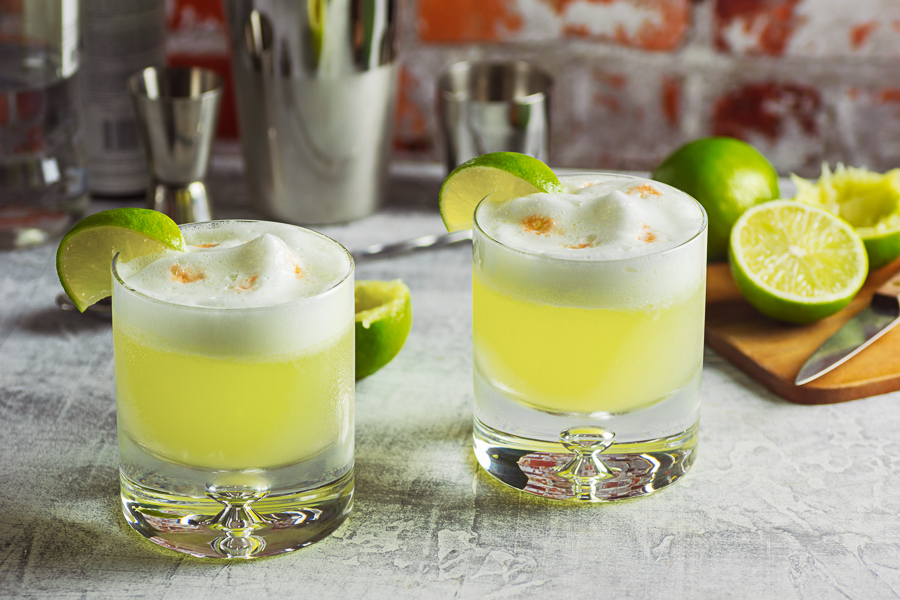 You know that old saying "When in Rome…"? Well, in Rome you drink wine, and in Lima you drink pisco. This high-proof spirit is made by distilling fermented grape juice, and it's definitely the booze of choice in Peru.
Seeing as the famous cocktail actually originated here, one of the top things to do in Lima is definitely trying a Pisco Sour (or three). This amazing drink is made by mixing pisco with lime juice, simple syrup, egg white, ice, and Angostura bitters.
A great way to sample this drink and learn how it's made is to join this top-rated food tour. You'll sample many traditional dishes, plus drink a pisco sour. Click here to learn more and reserve your spot.
Peru loves Pisco Sours so much that they have a national holiday for it. The first Saturday of February is celebrated as Día del Pisco Sour. Salud!
I was a bit hesitant because of the egg white, but let me tell you something — after a few sips, this became my new favorite cocktail. It really is a fine beverage, especially when paired with a nice plate of ceviche. Forget wine and cheese, I'd much rather go with Pisco Sours and ceviche.
18. Learn About Peruvian History
While you're in the capital city of Peru, you might as well learn something about the country's history. There's no better place to do that than the city's Natural History Museum. 
Just last year, the Natural History Museum of Lima celebrated its 100th anniversary. There are several different exhibitions here, with some of the highlights including the skeleton of a sperm whale and fossils of giant ground sloths. 
One great thing about this museum is that they're open every day of the week, just with different hours. It's open from Monday to Friday from 9 AM-5:15 PM, 9-4:30 on Saturday, and 10-4:30 on Sunday. You can find it on the map here. 
There are several other great museums worth checking out to learn a bit about the history of Peru. You can also visit the National Museum of Archaeology, Anthropology and History and the Museum of the Nation, for example. 
19. See the Magic Water Circuit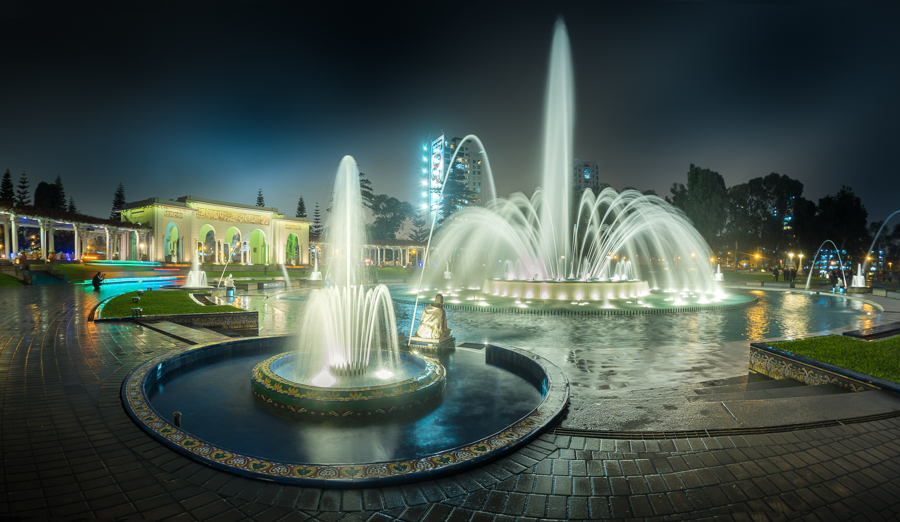 Without a doubt, one of the coolest things to do in Lima Peru is to see the Magic Water Circuit in the evening. It really is a magical show, with several fountains, music, and plenty of laser lights.
Located inside the Parque de la Reserva, there are 13 different fountains that are all illuminated at night, making for quite the spectacle.
While it's fun just wandering the park and checking out all the fountains, you'll want to make sure to time your visit to see the special show with Peruvian folk music. The show times are 07:15, 08:15, and 09.30 PM. 
The park is right next to the National Stadium and is accessible by the Metropolitano bus. You can find it on the map and get directions here.
If you'd rather join a tour and not have to figure out the logistics of transport, click here for a tour that includes a guide, transportation, and entrance fees. Or, if you'd like to make a night out of it, check out this tour which includes transport, guide, entrance fees, dinner, and a dance performance.
20. Dance All Night
People in Lima definitely know how to have a good time. No matter what night of the week it is, there's something fun going on in this bustling city of 10 million. Indulging in the nightlife is a must when traveling to the Peruvian capital.
There's something for everyone when it comes to nightlife in Lima. You can find craft breweries, dive bars, classy cocktail joints, music venues, trendy clubs, and more. To really experience a night out in Lima the local way, though, you'll want to find one of the city's peñas. Check out this fun pub crawl.
Peñas are small, often hidden bars where the party revolves around Peruvian criollo music, lots of dancing, and plenty of Pisco. It doesn't even have to be in an actual bar, as some of them operate out of people's living rooms.
These are the kinds of places where the tables get pushed out of the way after a few songs so that everyone can bust a move. 
For the uninitiated, these can be hard to find and perhaps a bit awkward to try to attend. Your best bet is heading to Don Porfirio in Barranco, which is only open on Friday nights. You'll have to wait in line and pay a cover charge of 25 soles ($8), but it includes a Pisco Sour and is well worth it! Find Don Porfirio on the map here. 
21. Take a Day Trip
Once you've gotten your fill of all the awesome things to do in Lima, it's time to set out to see more of this amazing country. Rather than fly straight to Cusco for your Machu Picchu trip, why not take it slow and experience some of the surrounding areas of Lima?
A few of the nearby must-visit spots include the ruins of Pachacamac (1 hour away), Palomino Islands (located just off the coast at Callao), the fishing village of Pucusana (1 hour'ish away), and the beach destination of Punta Negra (1 hour away).
Don't miss seeing penguins, sailing and swimming with sea lions! This is an incredible experience in Peru you won't want to miss. Check out the tour of the Palomino Islands here, and for an awesome day trip to Pachacamac, click here.
There are many more sights that are a bit further away, but it's best to visit them and spend the night, rather than trying to do a day trip from Lima. 
Where to Stay in Lima
Lima has three main neighborhoods for travelers, here are the best places to stay when visiting tourist attractions.
1. Miraflores: this is the best neighborhood in Lima for first-time travelers to the city. It's the more upscale district, is a safe area, and many of the fun things to see and do in Lima will be right at your doorstep. Have a look at this apartment with ocean view.
2. Historic Center: this part of Lima is a good option for those on a budget. Many of the main sights and historical places are found here, such as Plaza de Armas, Government Palace, and the Convent of San Francisco. Check out this great apartment in the historic center.
3. Barranco: this neighborhood can feel a little rough around the edges, but it's the bohemian area of Lima, filled with street art, cafes and cool vibes. It's the place to stay if you are looking to party as well. Have a look at this highly rated, modern apartment in Barranco.
Best Things To Do in Lima: FAQs
Here are answers to some commonly asked questions about the places to visit and things to do in Lima.
Is Lima worth visiting?

Yes, Lima is worth visiting. Some people just quickly stop here on their way to other popular places in Peru, but make sure to spend at least 2 days enjoying all of the amazing restaurants and bars, and tourist attractions in Lima.
Is 2 days in Lima enough?
Yes, 2 days in Lima is enough time to see some of the top sights, and eat at amazing restaurants. Don't miss doing a walking tour, drinking Pisco Sours, and strolling along the Malecon. With 2 days in Lima, you won't be able to do a day trip, but you'll be able to get a good feel for the city.
What is Lima famous for?
Lima is popular for paragliding off the amazing cliff right in the city, dancing the night away at the bars, the high-class restaurants, awesome surf spots, and the historic center.
Is Lima Peru safe for tourists?
Yes, Lima is safe for tourists, especially if you stay in Miraflores. Of course, like in any major city, there is a risk of pickpockets and theft. Be mindful at night and take transportation rather than walking.
Now You Know What To Do in Lima
While many skip out on Lima in favor of heading straight to Cusco, hopefully by now you can see that the city is worth at least a few days on your trip to Peru.
With a solid game plan and a bit of motivation, you can cross off plenty of these great things to do in Lima in just a weekend.
Just think about the diversity of activities on offer in the City of Kings. In one day, you can visit ancient ruins, go paragliding above the ocean, see a magic water fountain show, eat some of the best food you've ever had, wash it all down with a few Pisco Sours, and dance until the wee hours of the morning. Welcome to Lima, amigos!
Many of the images in this article are courtesy of Shutterstock. Check them out for royalty-free images and videos.
Like This Article? Pin it!