NEW DELHI: Turkish President
Recep Tayyip Erdogan
on Monday won a historic run-off election to extend his two-decade rule to 2028.
Erdogan, who is
Turkey
's longest-serving leader, brushed aside a powerful opposition coalition, a biting economic crisis and widespread anger following a devastating February earthquake to
beat secular challenger Kemal Kilicdaroglu in Sunday's vote.
Erdogan's narrow victory against his opponents has left the West deeply divided due to Turkey's strategic importance in Europe.
US and allies are concerned over the Turkish President's close ties with Russian President Vladimir Putin and his fluid stance on the ongoing war in Ukraine.
The Kremlin appears to be happy over Erdogan's hard-fought victory, saying that it is eyeing "very ambitious goals" in its ties with Turkey.
Concerns in West
Due to its strategic location, Turkey has always been known as the bridge between the Europe and the Middle East.
It is also a key member of the Nato military alliance, taking part in all its missions.
Turkey's role in the region became rather important after Putin launched an all-out invasion of Ukraine last year.
Though Erdogen has maintained close ties with Putin, he has also provided military support to Ukraine as part of the Nato alliance.
However, Erdogan's unpredictability and frequent tirades against the West has left officials in some Western capitals wondering whose side he was on in the war in Ukraine.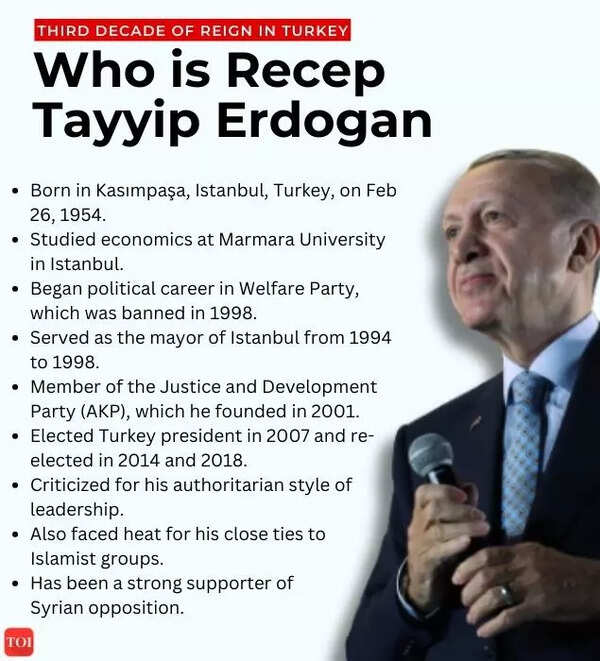 In fact, according to several reports in western media, many in the West were privately hoping he would lose the election this year.
But the world leaders also understand Turkey's significance, which is why they rushed to congratulate Erdogan on his electoral victory.
This included US President Joe Biden, who despite his discomfort over Erdogan's friendship with Putin, said he hoped to work with the Turkish leader on "shared global challenges". Notably, Biden had earlier described Erdogan as an "autocrat".
A shifty president
While the Turkish leader has condemned the Russian invasion of Ukraine, he has refused to join Western sanctions to isolate Putin.
On the contrary, he increased Turkish trade with Moscow.
Erdogan has also hampered Nato efforts to expand by delaying the admission of Finland and still refusing to admit Sweden.
The US has made no bones about the fact that it wants Erdogan to approve Sweden's Nato membership.
With the Turkish leader coming back to power, the West will have to persuade him to lift Turkey's veto on the Nato membership of Sweden.
Geopolitical balance
Under Erdogan, Turkey is joining a growing list of countries that are pursuing their independent foreign policies.
Despite its Nato roots, Turkey is conscious of not pandering to Western interests.
A New York Times article noted that during his election campaign, Erdogan indicated that he was comfortable with his stance on Ukraine.
He described Turkey's mediation at times between the conflict's warring parties as "not an ordinary deed." And he said he was not "working just to receive a 'well done' from the West," making clear that the desires of his allies will not trump his pursuit of Turkey's interests.
"Erdogan operates on the understanding that the world has entered the stage where Western predominance is no longer a given," Galip Dalay, a Turkey analyst at Chatham House, a London-based research group, told NYT.
The article said that this view has led regional powers like Turkey to benefit from ties with the West even while engaging with US rivals like Russia and China.
Dalay said the idea is that "Turkey is better served by engaging in a geopolitical balance between them."
Close ties with Putin
Another thing that bothers the west about Erdogan is his bonhomie with Putin, whom he describes as a "friend".
For the Kremlin, Erdogan is a known quantity who has collaborated closely with Russian President Vladimir Putin over the past 20 years.
On the other hand, his rival Kemal Kilicdaroglu had recently blamed Moscow for meddling in the country's election.
After the first round on May 14 in which Erdogan took the lead, a Western diplomat had said that "Russia must have breathed a sigh of relief."
Erdogan and Putin — despite backing opposing players in conflicts in the Middle East and the ex-Soviet Caucasus region — have developed close ties over years of working together.
Even the Turkish leader himself hailed his "special relationship" with Putin during a recent interview with US broadcaster CNN.
"Russia and Turkey need each other in every field possible," Erdogan said.
In a world where Moscow and Ankara are both sceptical of Western military, political and economic dominance, Putin and Erdogan see each other as reliable partners.
"They are incredibly similar to each other with respect to their political mentality, their style and their relation to the outside world," independent political analyst Arkady Dubnov told AFP.
They both "sincerely despise the West's liberal values", he added.
This relationship has naturally irked the western powers who rely heavily on Turkish support to counter Russia in the region.
(With inputs from agencies)