Dozens of members the US Congress and European Parliament called for Sultan Al Jaber to be removed as COP28 president-delegate.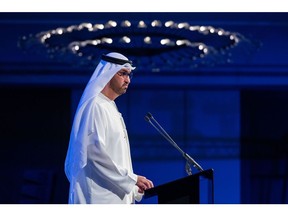 Article content
(Bloomberg) — More than 100 US and EU lawmakers appealed to the leaders of their countries and the United Nations to oust oil executive Sultan Al Jaber as head of this year's COP28 climate summit.
Article content
Read More:  A Kingdom Built on Oil Now Controls the World's Climate ProgressThe politicians also asked that further steps be taken to limit the influence of fossil-fuel companies at the talks to be hosted by the United Arab Emirates at the end of the year. The appointment of Al Jaber, who runs state-owned Abu Dhabi National Oil Co., to lead a conference whose goal is to increase global action to cut carbon emissions, has been controversial from the start. 
Article content
The letter, seen by Bloomberg Green, was addressed to US President Joe Biden, European Commission President Ursula von der Leyen, UN Secretary General Antonio Guterres and UN's climate chief Simon Stiell. It was signed by 99 EU and 34 US lawmakers. 
"For billions of people, the outcome of COP28 and following international climate negotiations will make the difference between life and death, chaos and solidarity," said Manon Aubry, a member of the European Parliament and one of the signatories. "Corporate greed and lobbyists' lies have led us into this climate crisis. We must prevent private interests from interfering in politics and regain ownership of our future."
Article content
This isn't the first concerted effort to remove Al Jaber. In January, more than two dozen US lawmakers called on the country's climate envoy John Kerry to apply diplomatic pressure on the UAE to replace him as COP28 chief. In February, green EU lawmakers also made the same case in a letter addressed to UN's Stiell.
Under Al Jaber, Adnoc is set to boost oil and gas production, which is something the International Energy Agency and climate scientists agree could cause the world to blow past limits for global warming set through the COP process. The organizers of COP28 did not immediately respond to a request for comment.
Listen to a conversation between Bloomberg Green's Aaron Rutkoff and Akshat Rathi on the Zero podcast about Sultan Al Jaber's leadership of COP28.