A quick Google search for low-carb recipes will usually result in a lot of meat-based options. This can be challenging if you're a vegetarian like me or just love eating plant-based. But the good news is that there are plenty of low-carb vegetarian recipes that are light on carbs but still filling, thanks to protein-packed ingredients, healthy fats, and fiber-rich veggies.
With the warmer months ahead, I'm sure many of us are craving fresh, healthy foods that don't skimp on flavor. So we did some digging for you and curated a stellar list of 18 low-carb vegetarian recipes that meet our criteria. Read on for some major cooking inspiration. Low-carb vegetarians, unite!
Featured image by Suruchi Avasthi.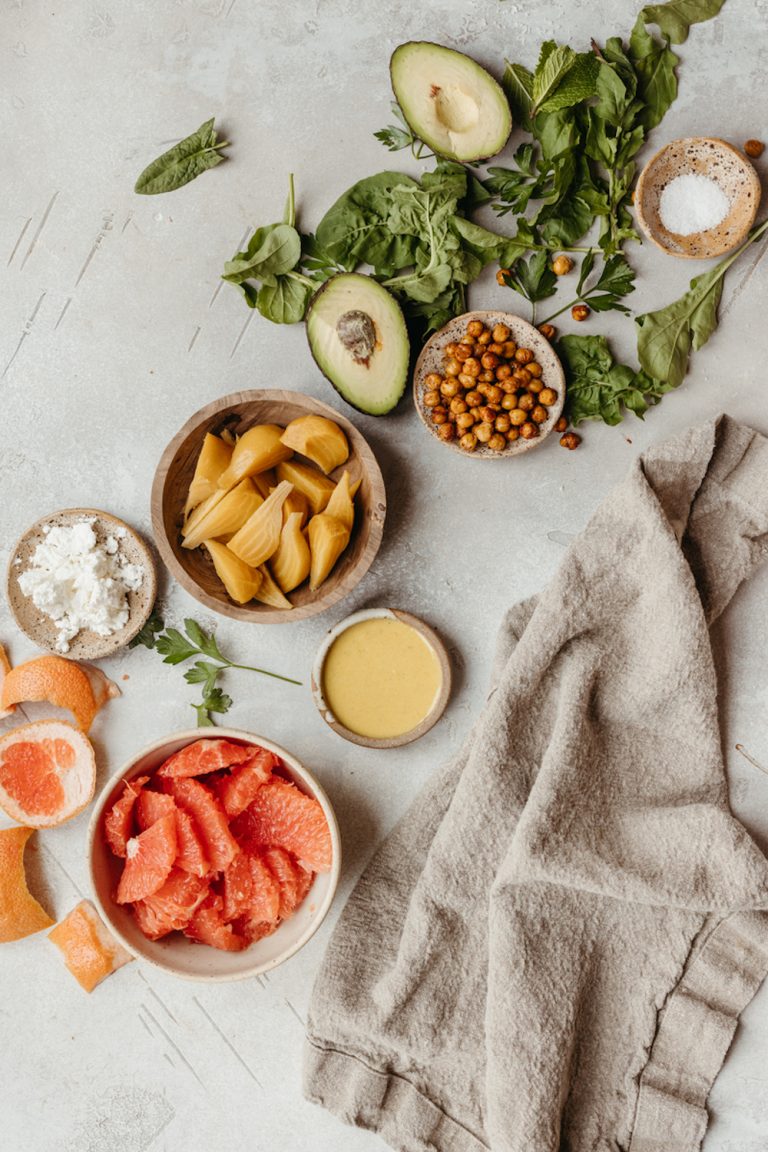 What plant-based foods are low in carbs?
It's no secret that the magic mix of plant-based, low-carb foods can be hard to come by. Many vegan or vegetarian eating patterns can lean high-carb because they rely heavily on grains and legumes. However, we can't overlook the importance of flexibility when it comes to following a diet that supports your body best. To emphasize: low-carb doesn't mean no-carb. Many of the vegetarian foods containing more carbohydrates (sweet potatoes, quinoa, chickpeas!) provide key vitamins and nutrients our bodies need.
That said, here's a handy list of plant-based foods that are low in carbs:
Leafy greens. 1 cup = 1 gram
Eggs. 1 large = 0.6 grams
Zucchini. 1 medium = 6 grams
Cauliflower. 1 cup, chopped = 5 grams
Strawberries. 1 cup = 11 grams
Cottage cheese. 1 cup = 8 grams
Tomatoes. 1 cup = 7 grams
Plain Greek yogurt. 1 container (156 grams) = 5 grams.
How can vegetarians eat more protein?
Ah, the ephemeral, ever-elusive question. If you follow a vegetarian diet, it's likely that you've been asked this many times before. The good news is that there are plenty of plant-based protein sources. However, when comparing animal versus plant protein, plant foods are often referred to as "incomplete" protein sources—meaning they don't contain all nine essential amino acids. The simple solution? Prioritize variety! So long as you're getting a healthy mix of plant-based proteins, you should have no problem working a sufficient amount of all amino acids into your diet. (For more high-protein vegetarian recipes, consult our list of favorites.)
18 Low-Carb Vegetarian Recipes That Are Bursting With Flavor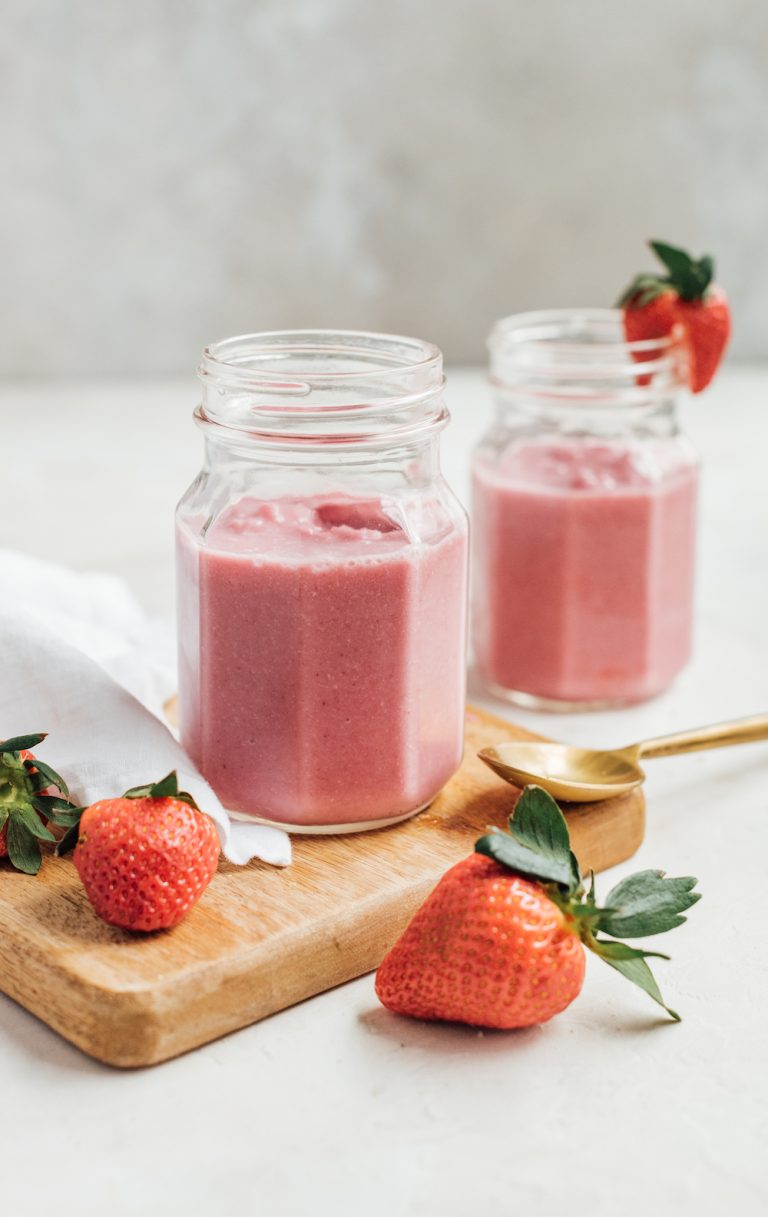 Low-Carb Vegetarian Breakfast Recipes
Why We Love It: If you're looking for a fresh and easy, grab-and-go breakfast, nothing satisfies quite like a smoothie. This strawberries and cream blend tastes just like dessert. The catch? Strawberries boast the fewest carbs of all berries and are rich in antioxidants like vitamin C. You're getting omega-3s from the flaxseed, healthy fats from the coconut milk, and plenty of fiber from the frozen cauliflower. It's a powerful way to start your day.
Hero Ingredient: Frozen cauliflower's biggest secret? You can thank the cruciferous veg for this smoothie's super creamy texture.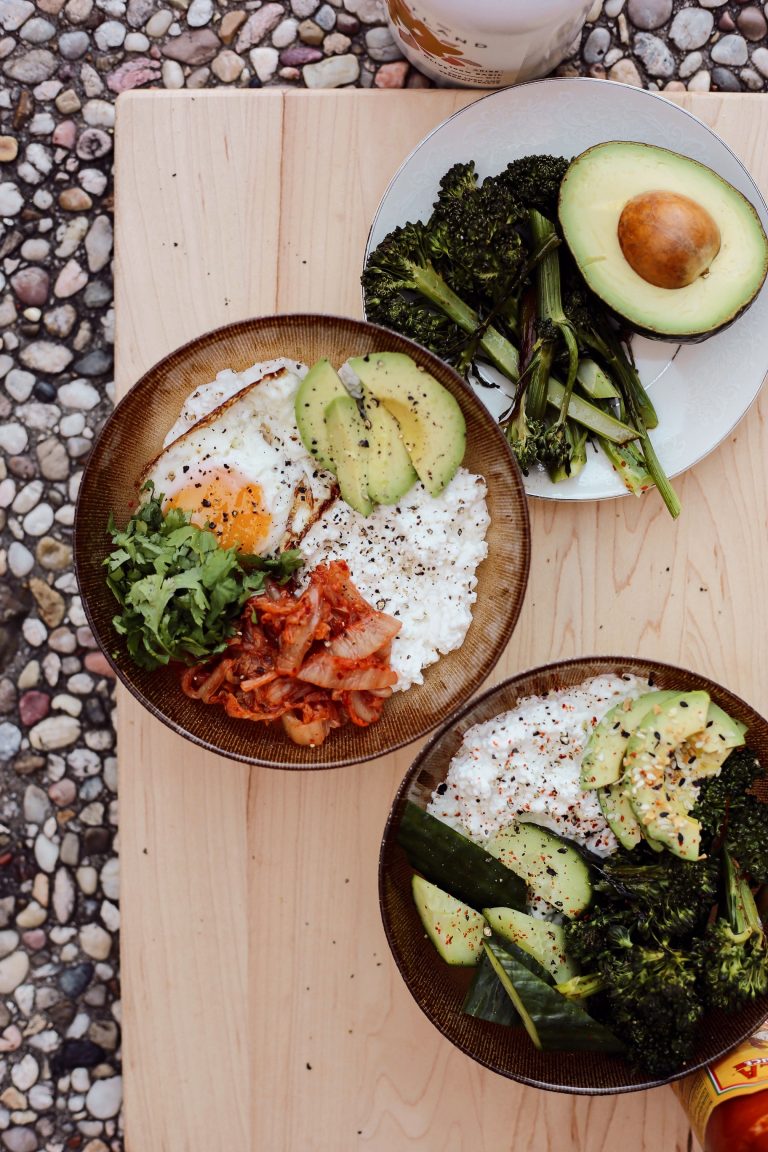 Why We Love It: This protein-packed breakfast will keep you full for hours. Cottage cheese is an excellent source of protein, calcium, and vitamin B12 with just eight grams of carbohydrates per cup. You can play around with your toppings here but this recipe calls for other low-carb ingredients, avocado, chopped cilantro, egg, and kimchi.
Hero Ingredient: Be sure to use the full-fat version of cottage cheese here. Brands like Nancy's and Good Culture are mild in flavor with a creamy texture that makes the eating experience feel so much more luxurious and rich.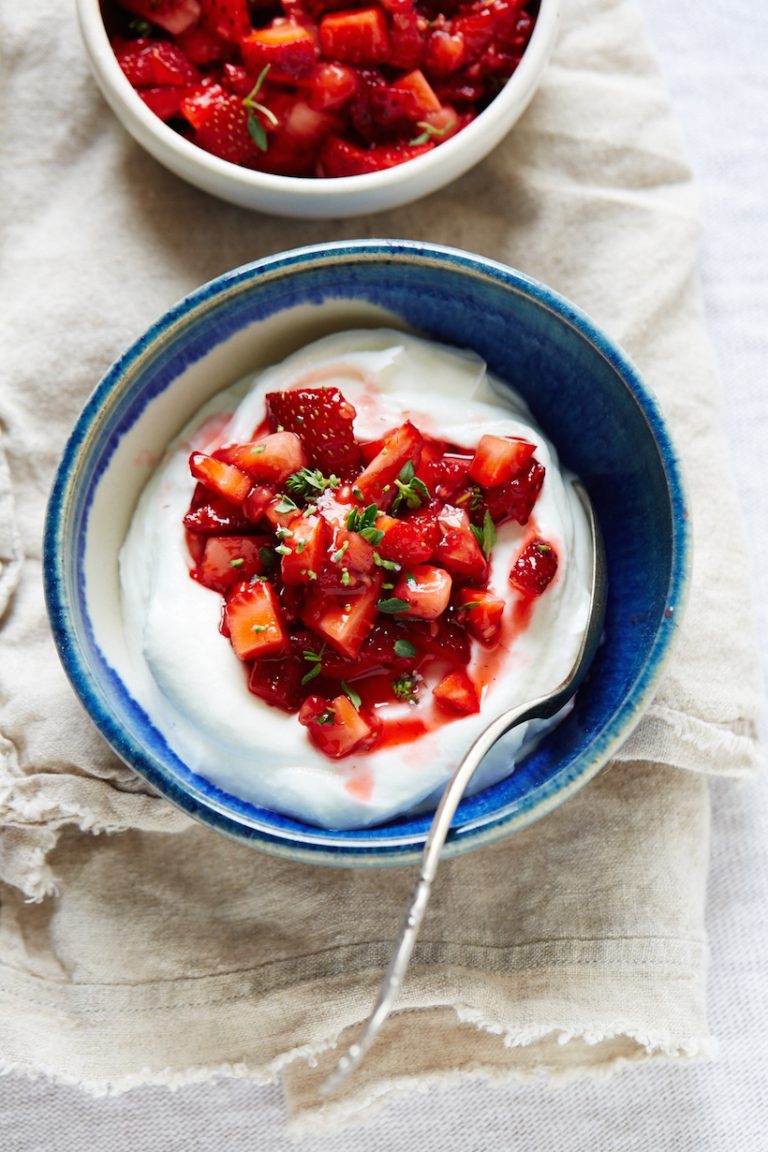 Why We Love It: This simple sweet breakfast is perfect for summer. Strawberries are at their peak and you can bet we'll be finding any way we can to avoid turning on the stove. The bowl calls for only seven ingredients and two easy steps. Low-carb and definitely low-stress.
Hero Ingredient: A mix of fresh, in-season berries is exactly what I'm craving at every meal. This recipe makes the most of strawberries and raspberries, giving your breakfast bowl a beautiful, vibrant color.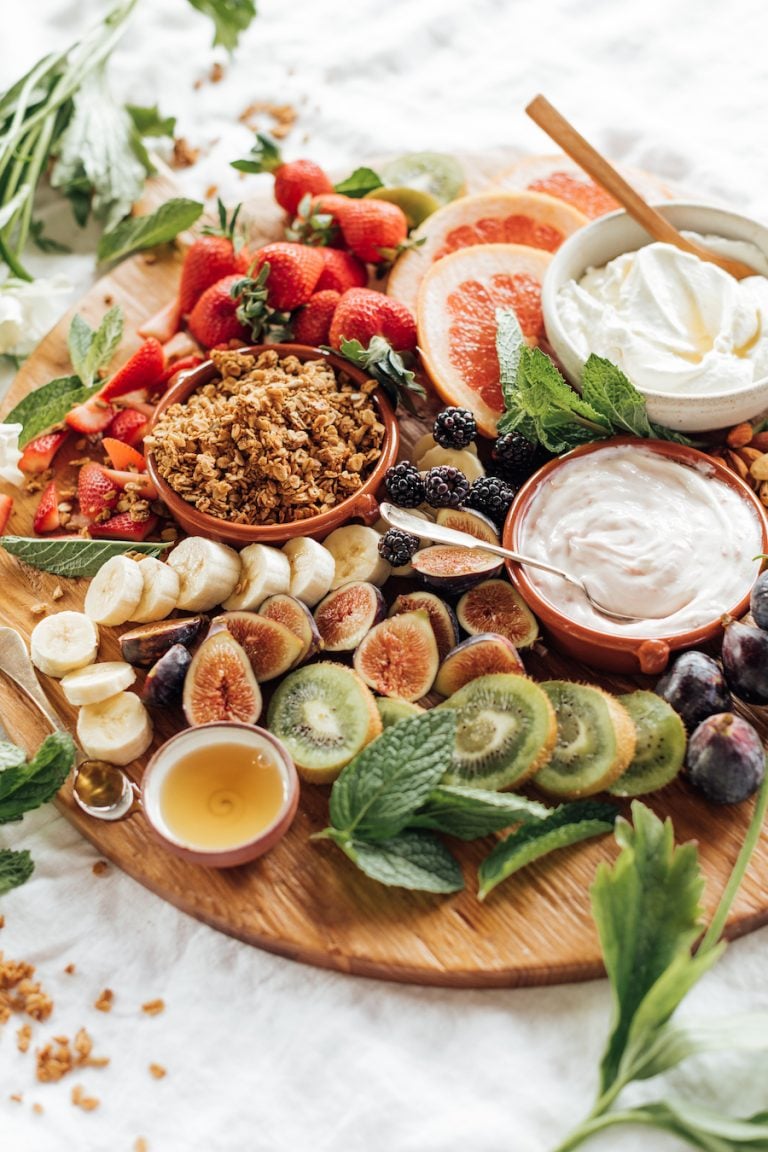 Why We Love It: This grazing board is perfect for morning meal entertaining—and it couldn't be simpler. Arrange any variety of low-carb fruits on a serving board as you please, sneaking in sprigs of mint here and there. Dollop Greek yogurt and low-carb granola into bowls for your guests to serve themselves. It's such an easy and beautiful brunch trick that'll satisfy plant-based and non-vegetarians alike!
Hero Ingredient: When it comes to the fruit, go with your gut—but the fresher, the better. Figs are a beautiful, low-carb option as are berries, cantaloupe, or peaches.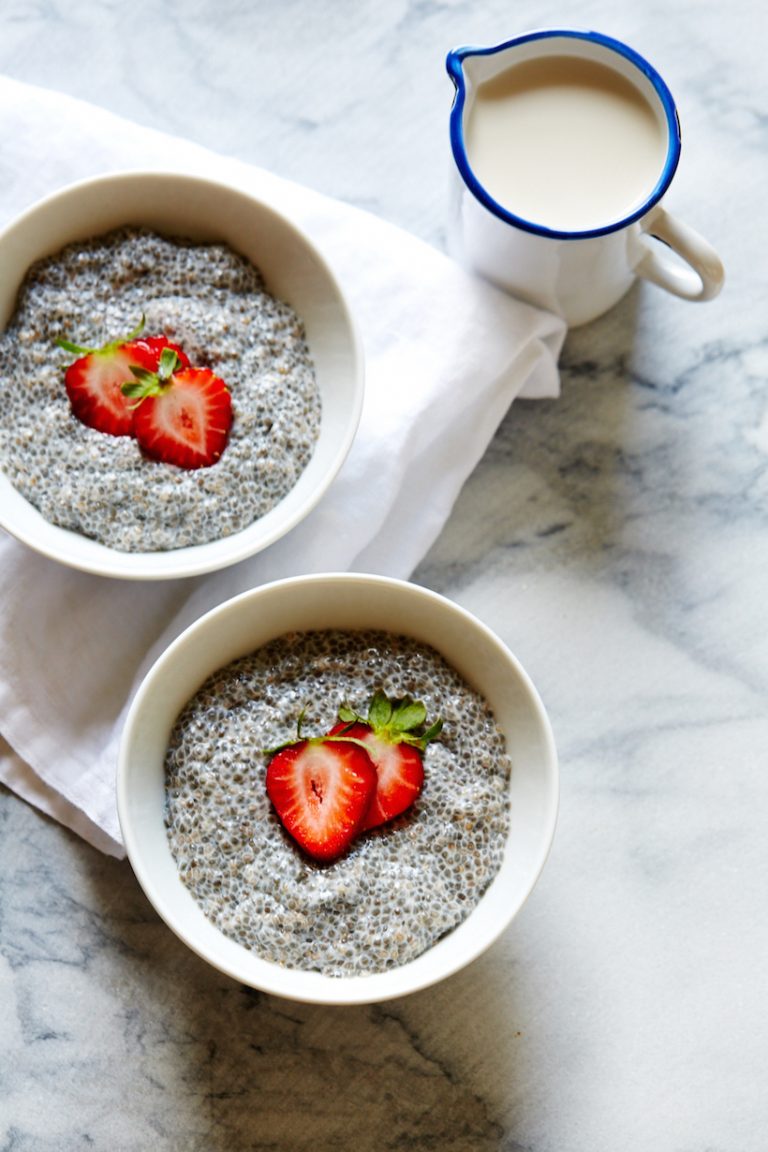 Why We Love It: This plant-forward meal is perfect for a quick breakfast that'll power you through your morning. It's simple enough to enjoy as-is and elegant enough to dress up with a few additional toppings. A drizzle of peanut butter or a sprinkle of granola—anything goes. Basically, whatever vibe you're aiming for, this recipe has you covered.
Hero Ingredient: Chestnut honey is the floral and oh-so-flavorful drizzle that takes this chia pudding up a notch.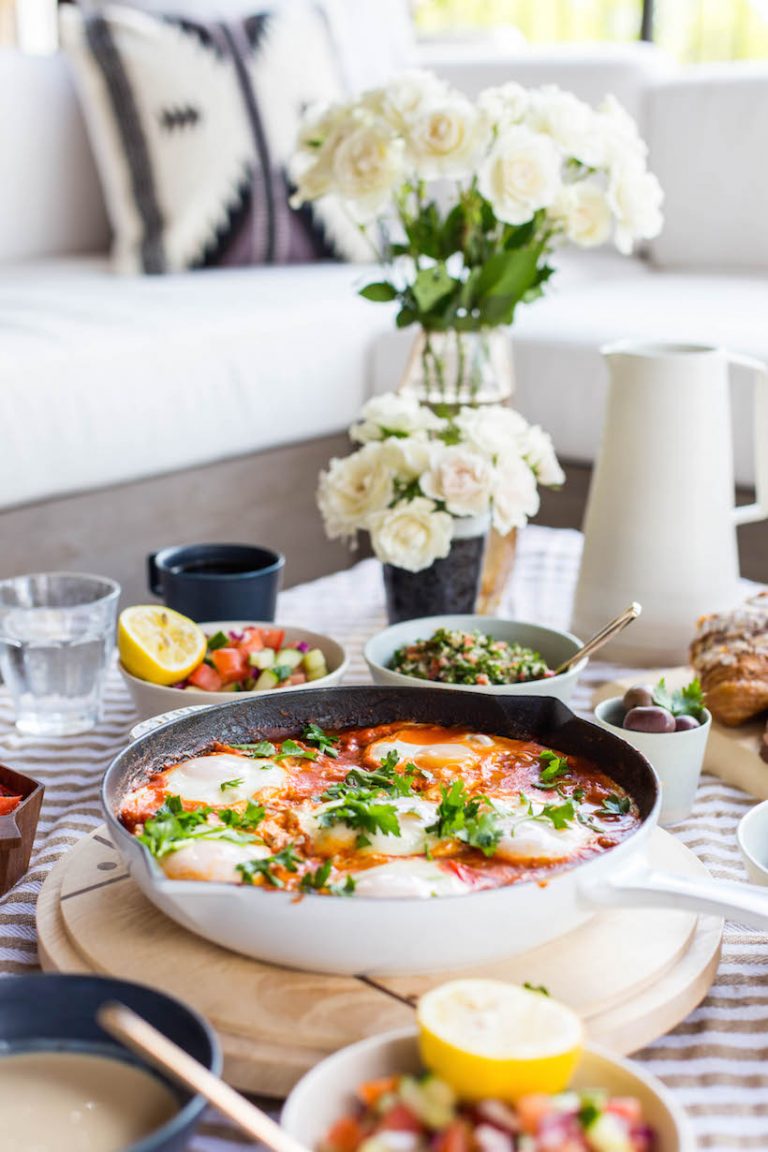 Why We Love It: This one-pot shakshuka recipe is the ultimate comfort food meal—baked eggs in a delicious tomato sauce served with flat-leaf parsley is a recipe for deliciousness. While it's traditionally served with bread to sop up the sauce, you can skip that and opt for a side of vegetables or avocado for additional healthy fats. This recipe is the ultimate low-carb vegetarian option—a total crowd pleaser!
Hero Ingredient: Cumin and paprika create a smoky profile that perfectly flavors that tomato sauce.
Low-Carb Vegetarian Appetizers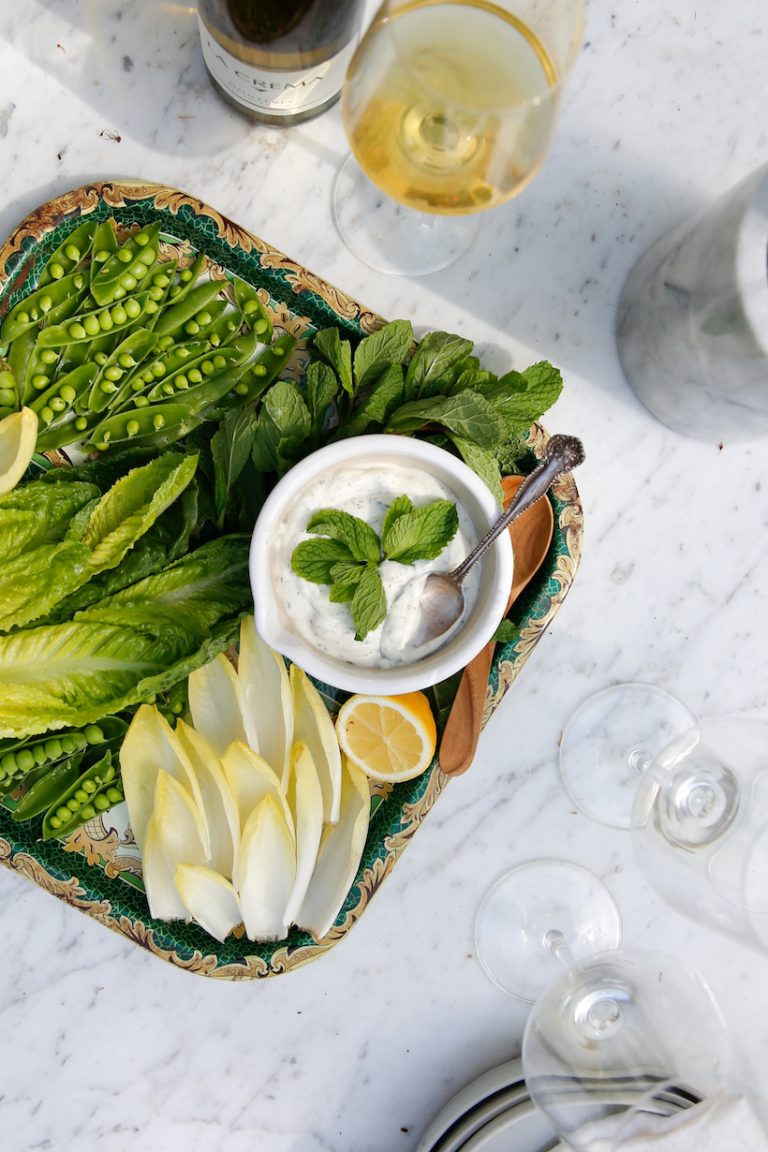 Why We Love It: Whether you're entertaining or headed to a potluck, tzatziki always delivers. It's fresh, tangy, and screams summer. Serve alongside sugar snap peas, sliced cucumber, zucchini, or any seasonal veggie you prefer. This recipe defines low-effort, high-reward.
Hero Ingredient: I'll take all the chopped, fresh mint you've got.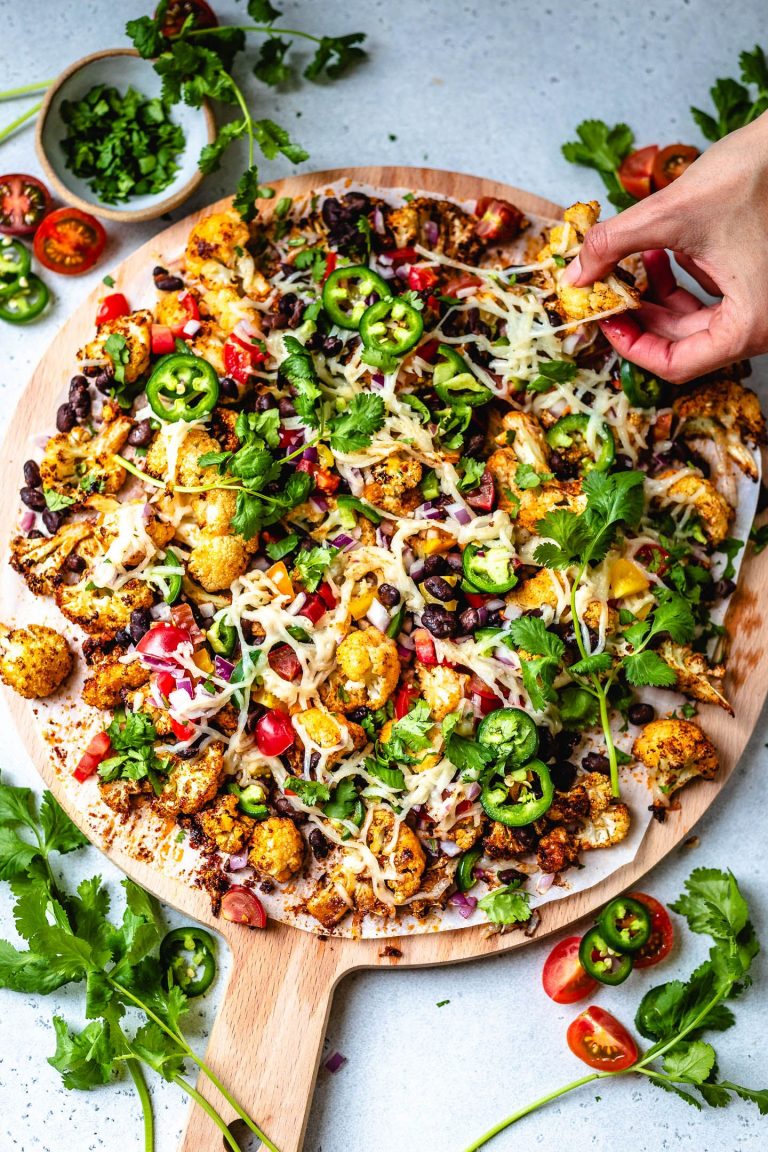 Why We Love It: Yes, nachos made the low-carb vegetarian cut. That's right, cauliflower can do it all—and here, the much-loved veggie takes the place of tortilla chips. They get roasted with a crave-worthy mix of spices: cumin, garlic powder, onion powder, chili powder, and some nutritional yeast for a plant-based, cheesy flavor. Then, load them up with all of your classic nacho faves: tomatoes, black beans, jalapeño, cilantro, and vegan mozzarella. It's a sheet pan recipe, making it low-fuss and doubles as both a healthy dinner or a simple appetizer. Win-win!
Hero Ingredient: I'll say it again: cauliflower does it all.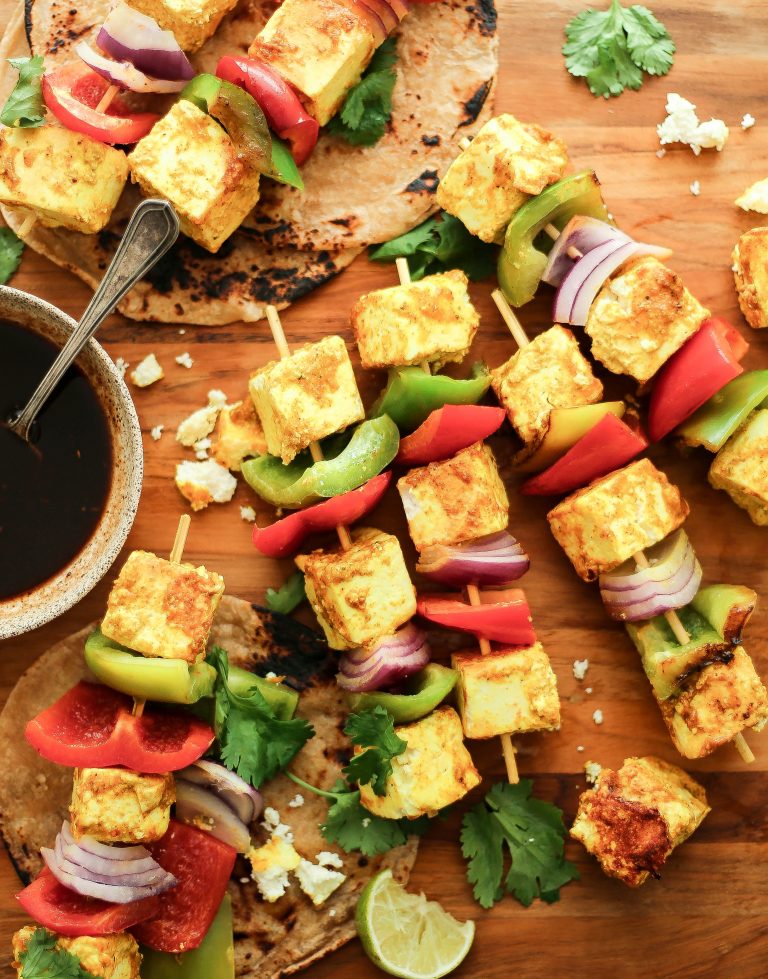 Why We Love It: If you haven't started cooking with paneer, now's the time. Paneer is a non-melty cheese with an addictively chewy texture. While it doesn't have much flavor on its own, this recipe boasts a tangy, yogurt-based marinade that packs plenty of spice. Let the paneer soak up all of those delicious flavors overnight and grill alongside slices of red onion and a mix of bell peppers. It might just be the most colorful summer dish you'll eat this season.
Hero Ingredient: The marinade's spice mix is unmatched. Turmeric, chili powder, coriander, cumin, and garam masala bring the heat.
Low-Carb Vegetarian Soups and Salads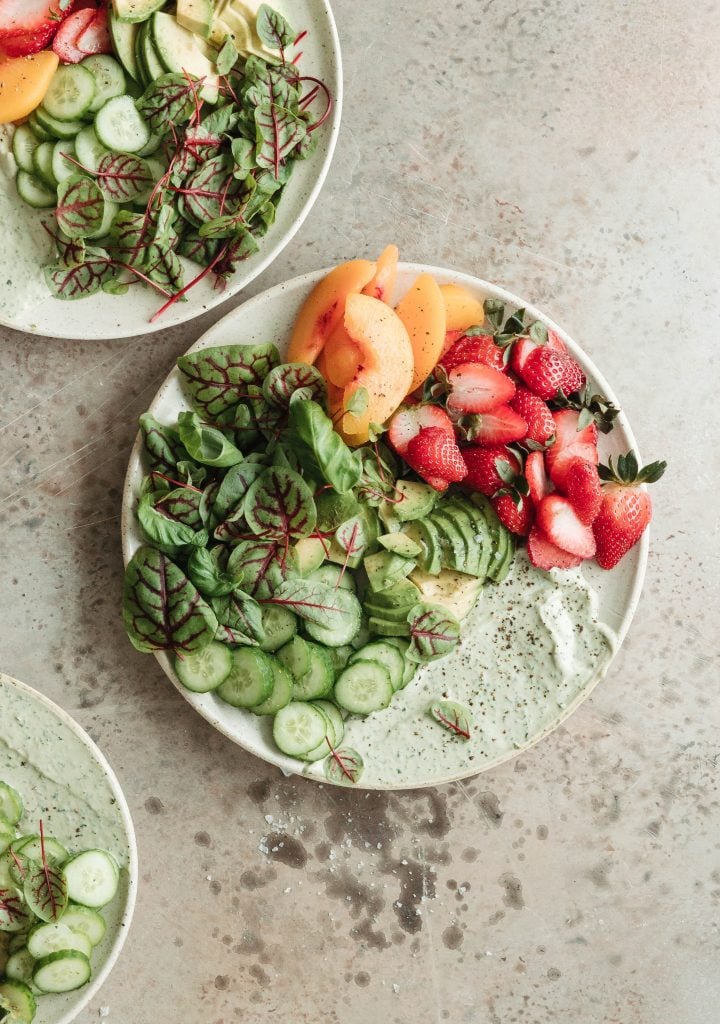 Why We Love It: When summer hits, you can bet we have salads on repeat. But in an effort to keep ourselves from getting bored, we prioritize a mix of colorful ingredients, a variety of textures, and a dressing that ties everything together. The herbed ricotta cuts the fruits' sweetness perfectly and brings a nice creamy element to the mix. We recommend serving this alongside your favorite veggie burger.
Hero Ingredient: You'll want to double your batch of herbed ricotta, trust me. It's incredible spread over crusty bread with a drizzle of olive oil or used as a dip for crunchy, raw veggies.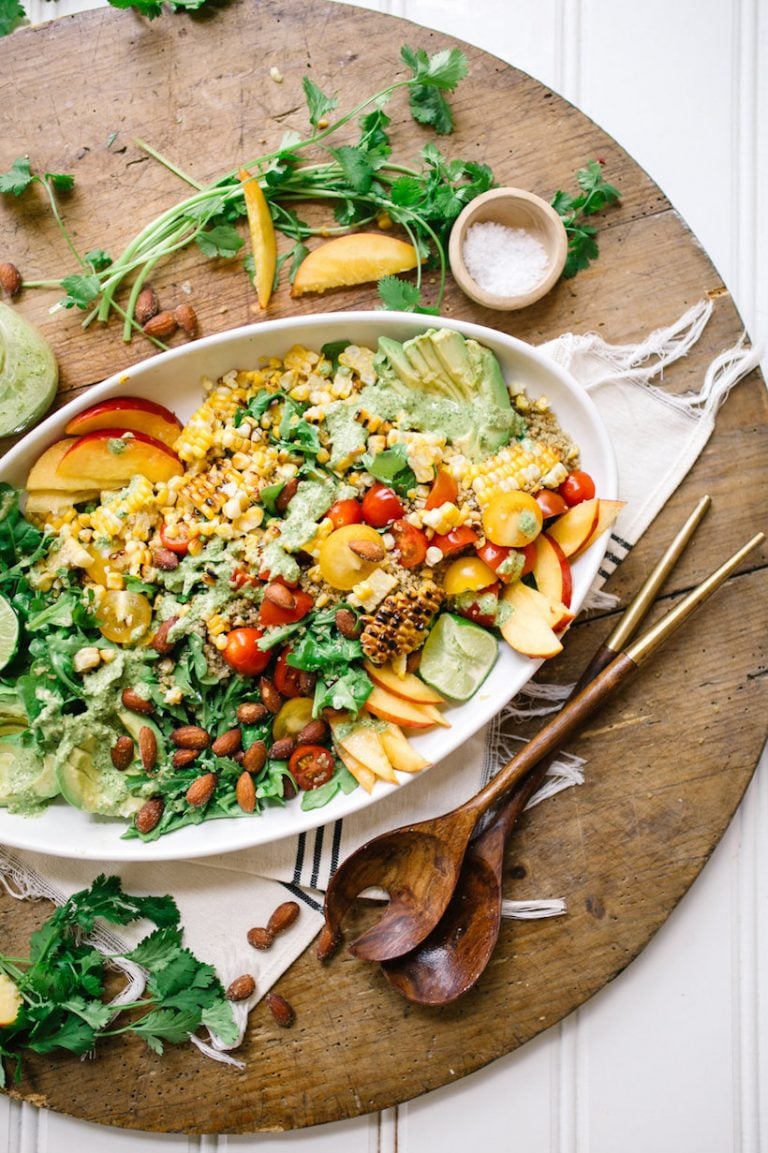 Why We Love It: Does it get any prettier than this salad? This delicious dish is basically a rainbow on a plate. It's bursting with all kinds of good-for-you ingredients. Tomatoes and peaches bring the vitamin, fiber, and antioxidant punch, and avocado has all the good fat that also makes this salad satisfying enough for the main course.
Hero Ingredient: Since every salad's got to have some crunch. Here, a handful of almonds adds texture and instant layers of flavor—not to mention a plant-based source of protein, vitamin E, and potassium. Plus, they only have seven grams of carbohydrates per 1/4 cup.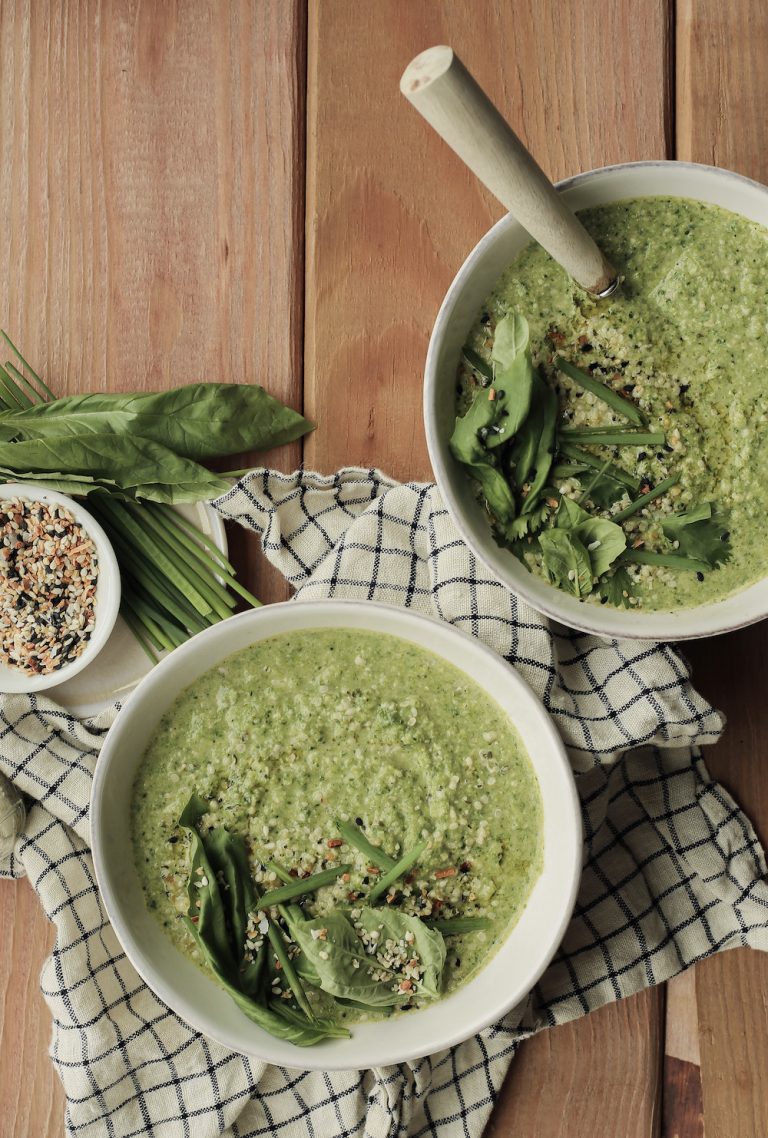 Why We Love It: The great thing about soup is that you can vary your ingredients depending on what you have in the fridge or pantry. For this one, we like to stick with all green veggies because it turns the soup such a beautiful color. Think asparagus, broccoli, spinach, kale, sugar snaps, celery, broccolini… the sky's the limit. But if you really want to throw in some carrots or red bell pepper? We won't stop you. Get ready to be a lean, green, feeling really good machine with this spring-ready soup. It may just become your new favorite Sunday afternoon cooking project.
Hero Ingredient: Oh, ginger. How it never fails to shine through. In the case of this soup, it's packing flavor and anti-inflammatory goodness.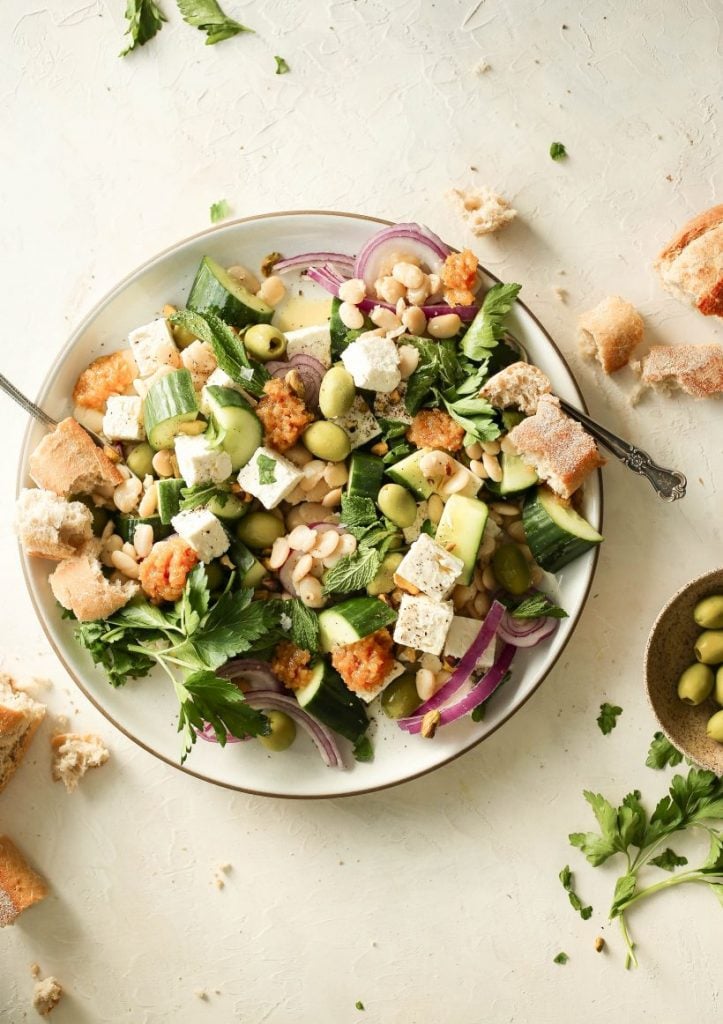 Why We Love It: This simple salad is such an easy no-recipe recipe that you'll fall in love with on the first bite. It calls for crusty bread, but you can leave it out to keep this one low-carb. And with all the flavors from salty feta, creamy white beans, and zesty lemon relish, you won't miss the bread. Trust me.
Hero Ingredient: Lemon relish is the zingy finish that I want on all of my salads.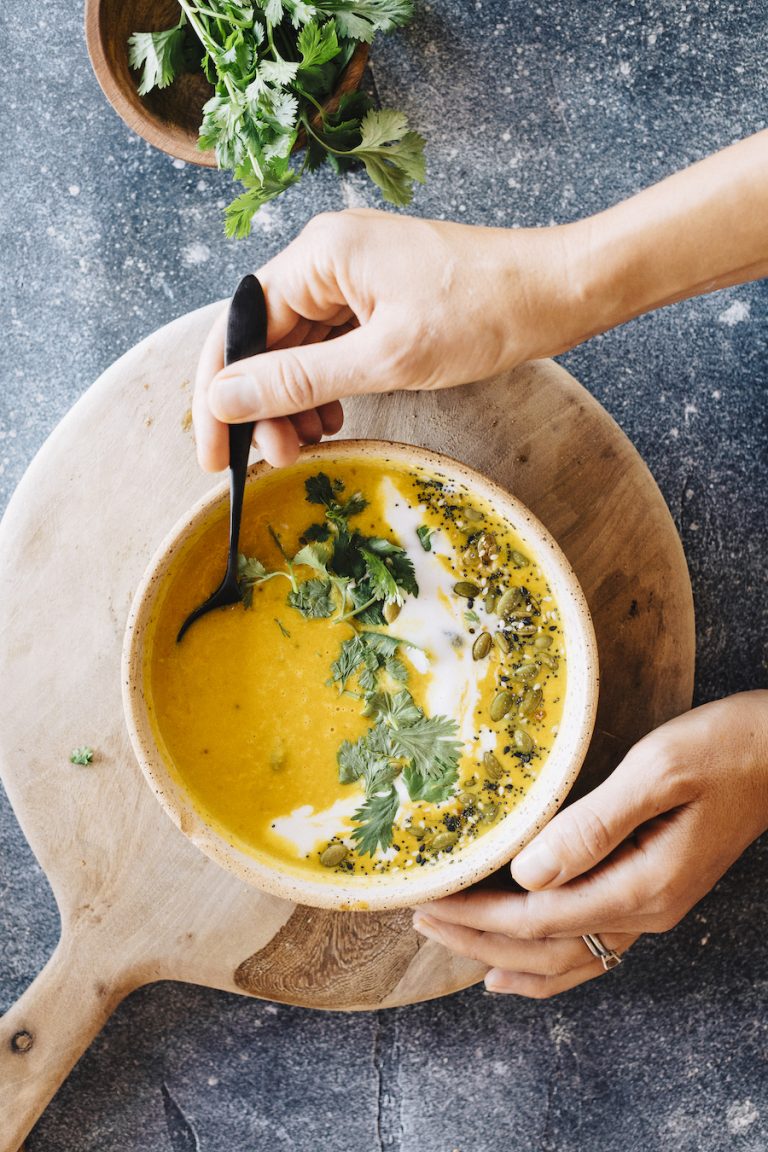 Why We Love It: This deliciously simple butternut squash soup will take you to Flavortown with its spicy kick thanks to the mix of ginger, garlic, and turmeric. While this vegan soup is perfect when your body craves a reset, you can trust that it's far from boring. Butternut squash serves as the sweet and savory base with carrots to complement its flavor. The aforementioned blend of aromatics does its work and the juice of an orange is added at the end to bring a bright citrus flavor to it all. Perfect? It just might be.
Hero Ingredient: Sautéed garlic is the ideal sweet and buttery counterpart to warm and spicy ginger.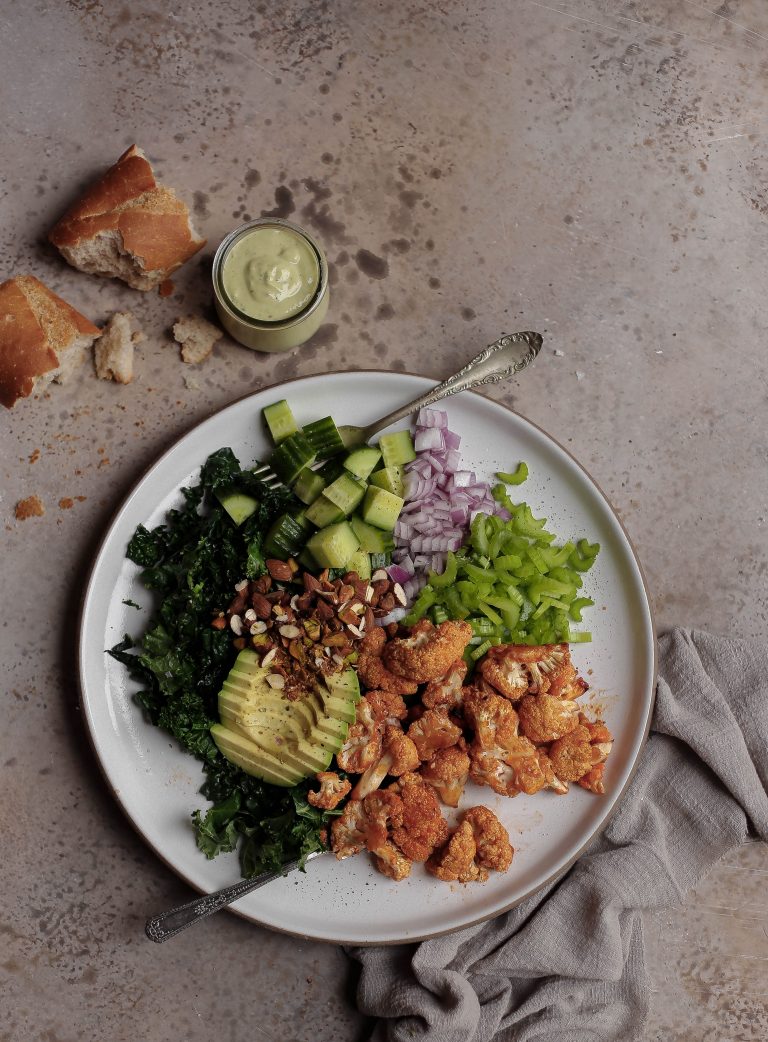 Why We Love It: Another cauliflower superstar, this chopped salad is ready to satisfy all your buffalo-flavor cravings. While I often find it difficult to recreate my takeout faves at home, this recipe is simple and will transform your definition of salad. The homemade buffalo sauce takes an otherwise boring head of cauliflower to new heights. And all the crunchy veggies give this salad plenty of crunch.
Hero Ingredient: The best buffalo sauces bring a little sweetness to the mix. This recipe calls for a tablespoon of honey that seals the deal on its deliciousness.
Low-Carb Vegetarian Main Dishes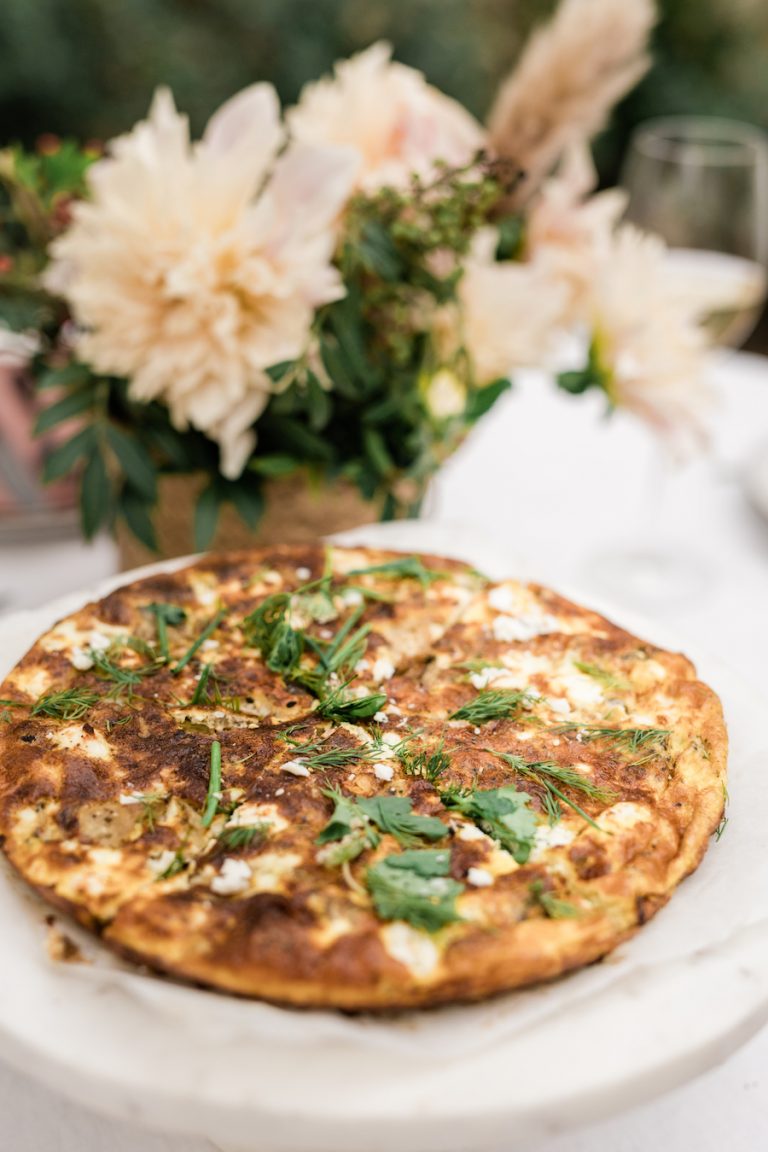 Why We Love It: Not only is this meal deliciously low-carb, but it's also packed with nutritious protein thanks to the eggs, mushroom, and goat's cheese. All you really need to whip up a delicious frittata are eggs and veggies. And we do mean any veggies. We're talking whatever random ingredients you have left in the veg drawer of your fridge: cauliflower, wilted greens, onions, sliced potatoes, those lifeless asparagus spears on their last legs. The world is your err… frittata!
Hero Ingredient: I just can't rave about mushrooms enough. They're nutritious, flavorful, and go well with just about everything. Especially the spinach and goat cheese in this frittata.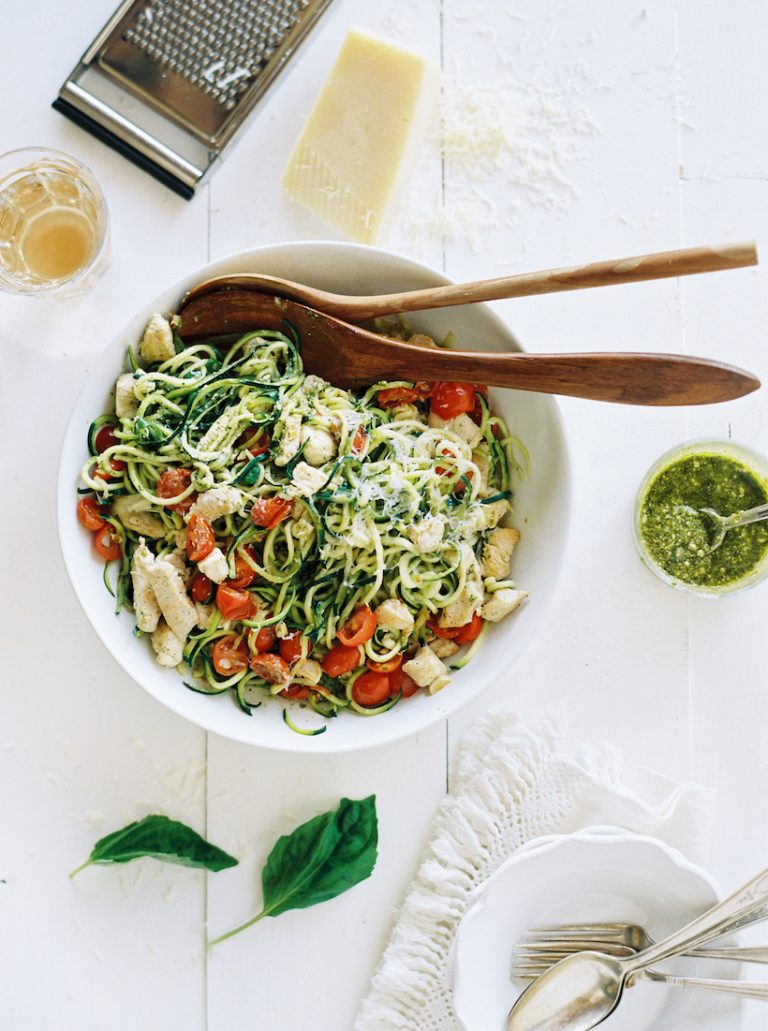 Why We Love It: Obviously, we're keeping this vegetarian by forgoing the chicken breast. The result is a light summer dish that makes for a perfect easy lunch when the weather warms up. While zucchini noodles may no longer be the low-carb darling of our social feeds, we still look for opportunities to work the handy hack into our summer meals. To sneak even more flavor into this summer pasta, make your own (vegan!) pesto—you'll want to eat it on everything.
Hero Ingredient: Grated parm checks all the boxes. It's rich, tangy, nutty, and sharp—with the perfect hint of fruity flavor.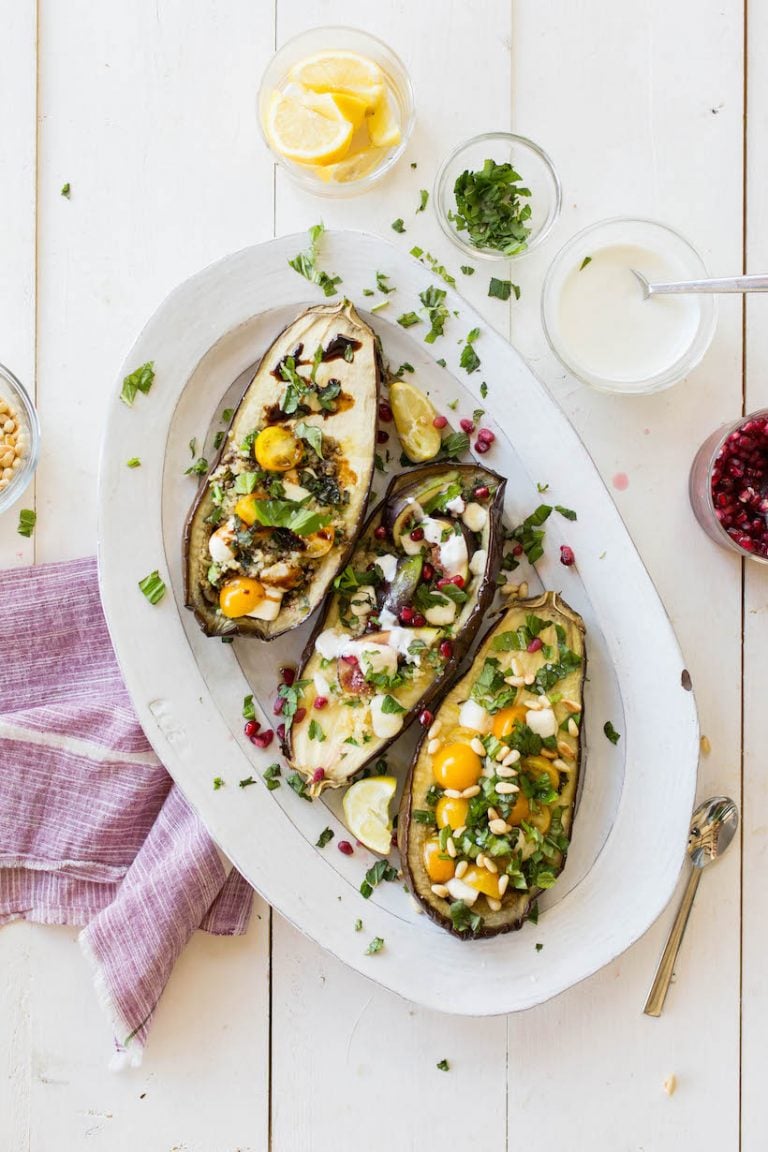 Why We Love It: Eggplant is a perfect ingredient for carb-conscious eating. Not only is it low in carbs, but it's also high in fiber, and loaded with nutrients. You will also eat this recipe with your eyes first thanks to the variety of colorful ingredients and nuts. This one does call for some quinoa which isn't low-carb, so feel free to skip that and swap in more vegetables or some protein like diced tofu or tempeh.
Hero Ingredient: Fresh mozzarella and figs are a match made in heaven. And when they top this roasted eggplant, everything falls into place.
This post was originally published on March 29, 2021, and has since been updated.