Note: All travel is subject to frequently-changing governmental restrictions—please check federal, state, and local advisories before scheduling trips.
Thanks to the pandemic, it may have been a while since you've scurried through any of America's major airports, so be prepared: Some of them may look a little difference since you last flew. Because passenger loads have skyrocketed, security considerations have become paramount, customer demands have changed, and technology has become more sophisticated since the time many U.S. airports were first built, some major overhauling was in order, and some airports already have massive improvement projects underway. As they build toward a shinier, more efficient future, be sure to leave a little extra time when traveling through these five airports.
RELATED: 5-low cost hacks to upgrade your trip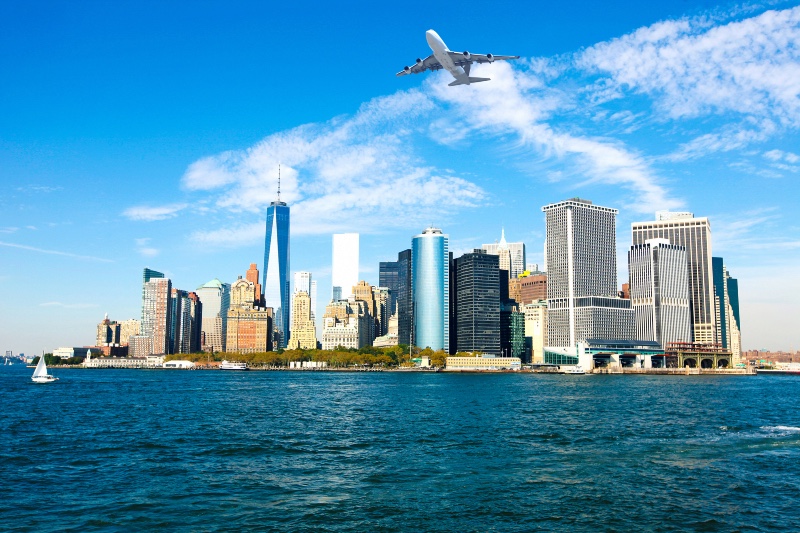 The Problem: LaGuardia is a hot mess. Isolated terminals hinder plane movement, leading to gate delays and passenger hassles. There are limited restaurant and shopping options. It's hard to get into the city by public transportation. And during construction, taxi passengers are being shuttled off-site, while rideshare passengers experience exceptionally long waits.
The Plan: LaGuardia is undergoing an $8 billion renovation. The isolated terminals are being connected through one new central facility. Most of the gates in the new Central Terminal Building are now open. The sunlit new terminal (thanks to floor-to-ceiling windows) houses American, United and Southwest…and Shake Shack!
The Delta terminal is also being upgraded, and will include four concourses and 37 new gates. Modern conveniences will be peppered throughout, including power outlets at all seats and larger restrooms.
In terms of transportation into the city, AirTrain tracks are being built to connect the airport with the Port Washington Long Island Rail Road branch and the Willets Point 7 train station. It's going to be a long slog, though, as the train won't be ready until 2024. Find the latest updates on LaGuardia's overhaul here.
The Problem: This is an airport whose traffic has outgrown it. Salt Lake City International Airport is serving more than 26 million passengers a year in a facility designed 50 years ago for half as many travelers. Plus, as a hub for Delta, more flights have to take off and land simultaneously.
The Plan: The new SLC will be a state-of-the-art facility with one large, central terminal and two linear concourses connected by a passenger tunnel, with more space and conveniences to give passengers a world-class airport experience. The facility will be built in two phases, with the first phase—including the central terminal, parking garage, and parts of the new concourses—expected to be complete this year. The second phase, which is essentially a rebuild of the entire airport, is slated to be finished by 2024. Aiming for LEED Gold Certification, the plan calls for many energy-saving features, along with floor-to-ceiling for solar lighting and mountain views. Find the latest updates on the project here.
The Problem: It's always been difficult for passengers to navigate LAX, both inside and out. Way-finding between terminals is difficult, and there's an overflow of traffic in pick-up and drop-off areas. Right now, the pickup lot for taxis and ride shares is offsite. Personal vehicles are no longer allowed on the inner lanes of the lower/arrivals level. Those inner lanes are now reserved only for Los Angeles World Airport-operated buses and shuttles.
The Plan: LAX is 10 years into a $14 billion capital improvement program. This year is more about constructing and less about finishing. That said, one new addition, the Midfield Satellite Concourse (MSC), is now open, after 6 years of design and construction, adding 15 new gates to LAX, along with nearly two dozen shops and restaurants.
Extensive renovations are being done on many of the terminals, and the start of the major work for an elevated Automated People Mover that will shuttle passengers between a consolidated rental car facility,  intermodal transportation facility, and Central Terminal Area, is well underway. Once the people mover opens in 2023, curbside pick-ups are slated to come back. For the latest updates on LAX improvements, check here.
The Problem: When it debuted in 1972, the three-terminal Kansas City International Airport was at the forefront of modern aviation. But the airport's three-building design is now dated and space is cramped, with passenger traffic having tripled during the past 48 years. There are minimal concessions and amenities inside security. And speaking of security, it's a huge issue, as the circular layout means passengers with connecting flights have to leave secure areas and then go through security again.
The Plan: The $1.5 billion, four-year renovation (the largest infrastructure project in the city's history!) will remake the airport, as all gates will be located in a single building. The aim is to have construction done by 2023. The new, single building airport will feature an atrium, separate levels for arrivals and departures, and more restrooms and outlets for electronics. There will be 39 gates, with the ability to expand to 50 in the future. Efforts are ongoing to repurpose or recycle more than 98% of the materials produced from the demolished Terminal A structure—the first in a series of important steps toward achieving LEED Gold Certification. Other bells and whistles include new inclusive plan areas, service animal relief areas, and live performances by local acts. Find the latest KCI updates here.
The Problem: Charlotte Douglas is yet another airport that's outgrown its 20th-century britches. The current version of the airport opened in 1982, when it served 5.7 million passengers. That number has increased to 44 million, give or take a million or two, making it America's sixth busiest airport.
The Plan: Concourses are being renovated to include more seating with integrated power, LED lighting, and improved wayfinding signage. Terrazzo flooring has been placed in the center walkway of the concourse to better accommodate rolling luggage. Further enhancing the customer experience, new Flight Information Display System (FIDS) monitors are located throughout the concourse and a more user-friendly Wi-Fi system has been introduced.
The Plaza is the most recent renovation project completed as part of Destination CLT, a $3 billion investment in the infrastructure and passenger experience at the airport, that includes plans through 2035. The three-level, 51,000 square foot space between concourses D and E provides passengers with more places to rest, eat, and shop. Also part of Destination CLT is a $608 million, five-year project to rebuild and expand the terminal lobby, scheduled to be completed in 2026. In addition to a larger lobby and ticketing area, baggage claim is being expanded, and there will be new security entrances. Check here for the latest on the Destination CLT airport project.

Tagged: California, Feature, Los Angeles, New York, Utah
Note: Orbitz compensates authors for their writings appearing on this site.