Note: All travel is subject to frequently-changing governmental restrictions—please check federal, state, and local advisories before scheduling trips
When you think of a bucket list destination, you probably think of a dozen exotic locales thousands of miles from the U.S. Over the water bungalows, safaris, wine trips surrounded by cypress all likely come to mind. But there are plenty of incredible destinations right here on U.S. soil and we dug deep to find some unexpected but insanely deserving places to add to the top of your bucket list. So, put the passport away the next time you need an ultra-memorable vacation and consider one of these amazing American destinations.
RELATED: The ultimate Southwest National Park's road trip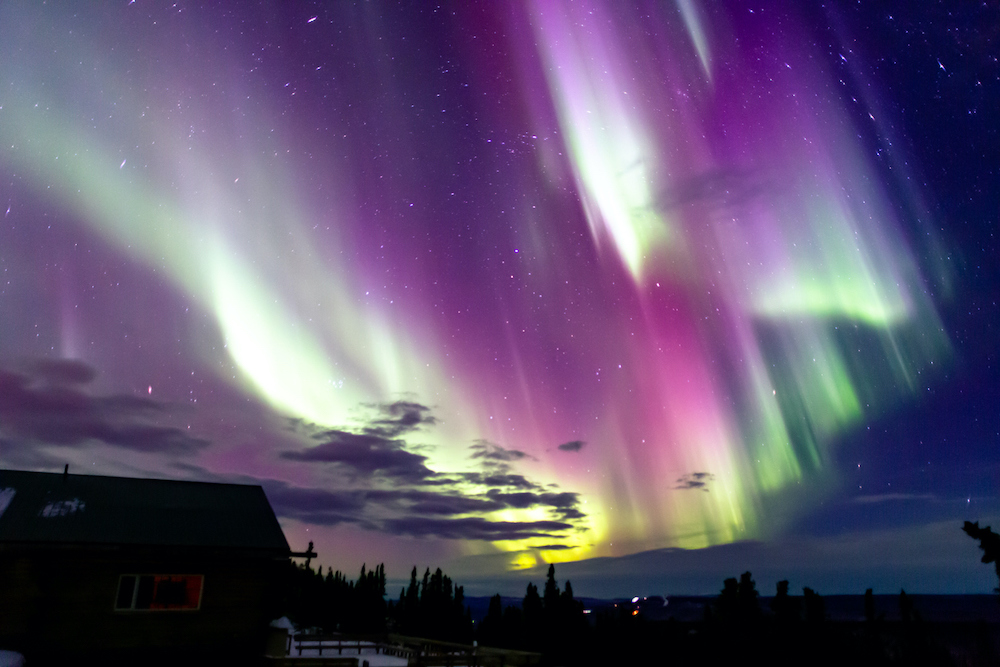 You read that right: You don't have to go to Finland or Norway to see this incredible natural phenomenon. You simply must cross your fingers that you timed your trip to Fairbanks, Alaska right. Try and go between August and April when it's darkest there and hope that Mother Nature is on your side. When you aren't chasing the Aurora Borealis, you can take a dog sled tour with a number of local adventure companies and then warm up in a natural hot spring.
STAY: Hyatt Place Fairbanks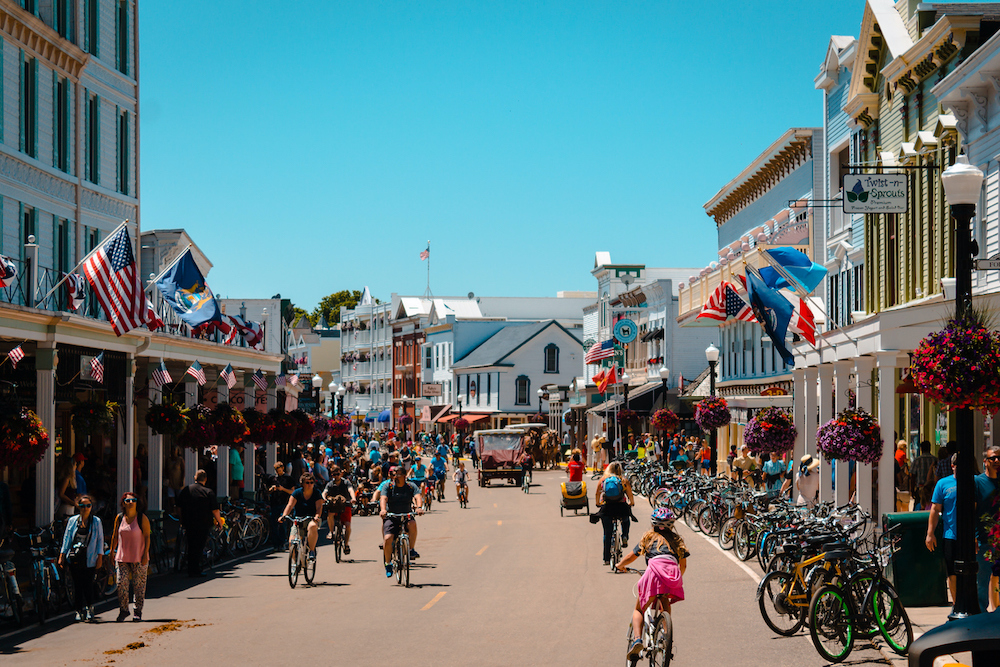 You'll feel transported to a bygone era on beautiful Mackinac Island in northern Michigan. In the off season, there are only about 400 residents but that number swells during the summer vacation months. Mackinac is charming, lovely, and slow paced, and no motorized vehicles are allowed. Instead can get around via horse-drawn carriages and bikes. Don't miss a hike around Arch Rock in Mackinac State Park, a brick of fudge from JoAnn's (there's an entire festival devoted to the stuff every August, and a stroll down Main Street. You're bound to feel recharged while visiting.
STAY: Lake View Hotel
It's one of the most isolated places in the continental United States so don't expect to see too many other tourists. In fact, there are only about 12 year-round residents living in Jarbidge, Nevada. For some, that's reason enough to visit. Nature here is virtually unspoiled which means you're bound to see some wonderful sights. Go off roading, fish for trout in the Jarbidge River, or plan a day drive along Rubies Route. Walk down the dirt road that runs through the middle of this old mining town and you'll find two saloons, a trading post, gas station, and post office.
STAY: West Star Hotel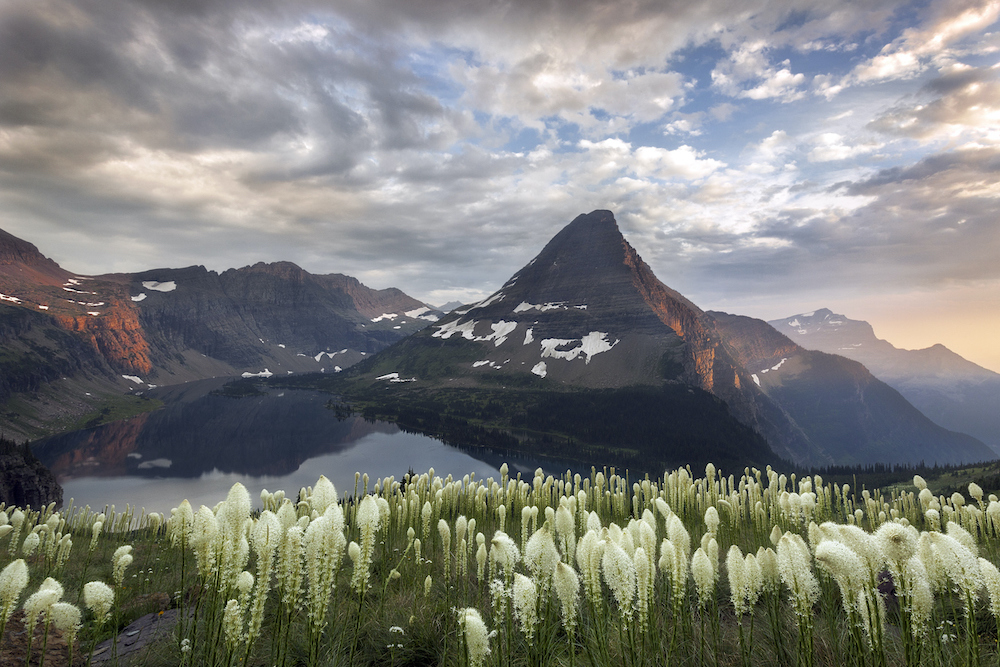 More than 75% of Glacier National Park is pristine wilderness—a huge feat considering the vast stretch of man-made stuff and technology these days. Drive the 50-mile Going-to-the-Sun Road, the only road to traverse the entire park, and see incredible sights like Lake McDonald and Trail of the Cedars among others. The Rocky Mountains are just as majestic as they say and the park is so big (despite seeing 3 million visitors a year) you'll feel one with nature. Hiking, camping, mountain biking, stunning drives, and so much wildlife. Montana here we come!
STAY: Grouse Mountain Lodge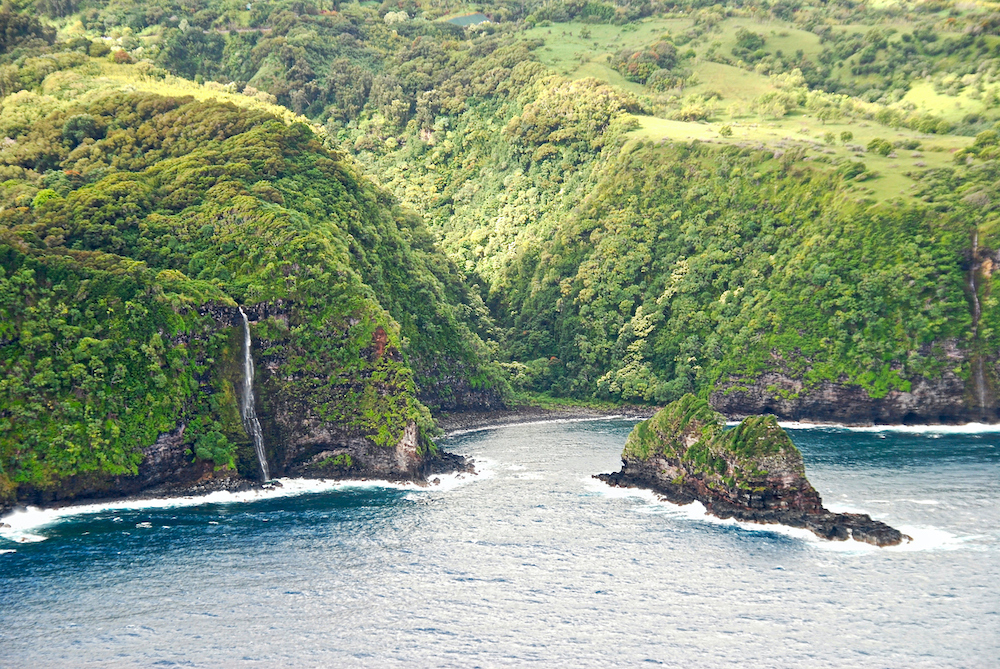 Sounds weird but hear us out…Kalaupapa on the island of Moloka'i is one of the most remote places in Hawaii and is said to have some of the best sunsets in the whole state. Long ago, those with leprosy were quarantined here by law and left stranded, giving this beautiful place a sad but interesting history. Estimates say the colony grew to around 8,000 people at its height. There are hiking and biking trails surrounding the former colony that offer stunning views of the Hawaiian coastline but you can only visit with a guided tour run by Damien Tours LLC. Note: Entry to the park is currently restricted; check the National Parks' site for the latest information.
STAY: Find hotels near Kalaupapa here
If you ever wanted to feel like you've escaped to a remote island, Dry Tortugas National Park might be for you. Set about 70 miles west of Key West, the island chain consists of about 100-square miles, and includes 7 small islands, and Fort Jefferson, one of the largest 19th-century forts in the U.S. There is amazing snorkeling to be had in this area, plenty of history to soak up, and tons of wildlife to spot. The park is only accessible via ferry or by seaplane (try Seaplane Adventures), so be sure to book well in advance. They offer full- and half-day tours.
STAY: Ocean's Edge
Tagged: Alaska, Florida, Hawaii, Key West, Michigan, Midwest, National Parks
Note: Orbitz compensates authors for their writings appearing on this site.