Cleveland Browns: It's impossible to describe the profound love and gratitude we feel for having the opportunity to be a small piece of Jim's incredible life and legacy. We mourn his passing, but celebrate the indelible light he brought to the world.
Last Updated: 19/05/23 10:54pm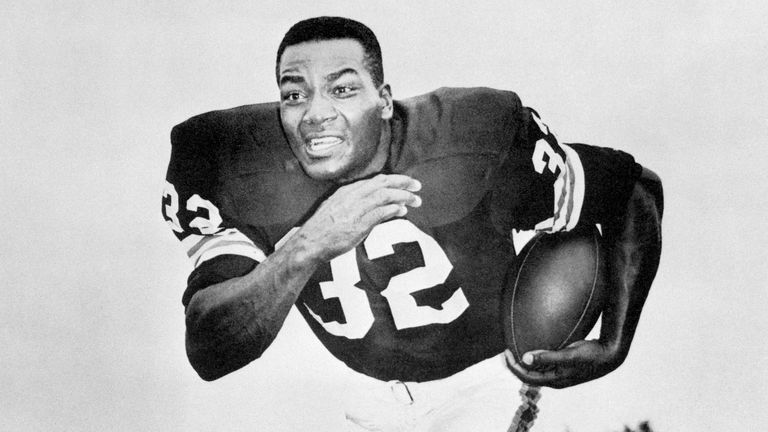 NFL Hall of Famer Jim Brown, the unstoppable running back who retired at the peak of his brilliant career to become an actor as well as a prominent civil rights advocate during the 1960s, has died at the age of 87.
A spokeswoman for Brown's family said he passed away peacefully in his Los Angeles home on Thursday night with his wife, Monique, by his side.
One of the greatest players in football history and one of the game's first superstars, Brown was named the NFL's Most Valuable Player in 1965 and shattered the league's record books in a short career spanning 1957-65.
Brown led the Cleveland Browns to their last NFL title in 1964 before retiring in his prime after the '65 season to become an actor.
He appeared in more than 30 films, including Any Given Sunday and The Dirty Dozen.
An unstoppable runner with power, speed and endurance, Brown's arrival sparked the game's burgeoning popularity on television.
When he finished playing, Brown became a prominent leader in the Black Power movement during the civil rights struggles of the 1960s.
In later years, he worked to curb gang violence in LA and founded Amer-I-Can – a programme to help disadvantaged inner-city youth and ex-convicts.
On the field, there was no one like Brown, who would blast through would-be tacklers, refusing to let one man take him down before sprinting away from linebackers and defensive backs.
He was also famous for using a stiff arm to shed defenders in the open field or push them away like they were rag dolls.
"My arms were like my protectors and weapons," Brown said during an interview with NFL Films.
Indeed, Brown was unlike any back before him, and some feel there has never been anyone better than Cleveland's incomparable No 32.
At 6ft 2ins and 230 pounds, he was dominant, relentless and without mercy, his highlight reels featuring runs around and right through opponents, fighting for every yard, dragging multiple defenders along or finding holes where none seemed to exist.
After Brown was tackled, he would slowly rise and walk even more slowly back to the huddle – then dominate the defence when he got the ball again.
Off the field, Brown was a contentious character.
While he had a soft spot for those in need, and his generosity changed lives, he also was arrested a half-dozen times, mostly on charges of violence towards women.
In June 1999, Brown's wife, Monique, called 911, saying Brown had smashed her car with a shovel and threatened to kill her. During the trial, Monique Brown recanted.
Jim Brown was acquitted of a charge of domestic threats but convicted of vandalism. The Los Angeles judge sentenced Brown to six months in jail when he refused to attend domestic violence counselling.
He also feuded with Browns coach Paul Brown and later with the team's management, although he played his entire career with Cleveland.
Among his films were 100 Rifles, Mars Attacks! Spike Lee's He Got Game, Oliver Stone's Any Given Sunday, and the satire I'm Gonna Git You Sucka, in which he parodied the blaxploitation genre.
In 2002, Brown was the subject of Lee's HBO documentary Jim Brown: All-American.
Brown was an eight-time All-Pro and went to the Pro Bowl in each of his nine years in the league. When Brown walked away from the game at age 30, he held the league's records for yards (12,312) and touchdowns (126).
And despite his bruising style, Browns never missed a game, playing in 118 straight.