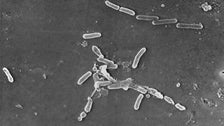 A fourth person has died of a bacterial infection linked to contaminated eye drops, the U.S. Centers for Disease Control and Prevention said Friday.
The CDC recalled three products in February, including EzriCare Artificial Tears — a preservative-free, over-the-counter product that comes in multi-dose bottles — after dozens of people reported aggressive eye infections, according to The Associated Press. The CDC's most recent report brings the number of infections to 81 cases in at least 18 states and four deaths as of May 15.
Additionally, 14 users lost their eyesight and four people needed to have an eye removed surgically.
"These were catastrophic and life-altering infections," Maroya Spalding Walters, who leads the CDC outbreak response investigations, said in an interview, NBC reported.
The infections were all caused by a highly antibiotic-resistant strain of a bacterium called Pseudomonas aeruginosa, which had not been reported in the U.S. prior to this outbreak, according to the CDC.
Infected patients reported using more than 10 kinds of eyedrops, but health authorities indicated that EzriCare Artificial Tears was the most often used.
CDC said the EzriCare products were the only common artificial tears product identified as harmful. Along with two other products, Delsam Pharma Artificial Tears and Delsam Pharma Artificial Ointment, EzriCare Artificial Tears were manufactured in India by Global Pharma Healthcare.
To curb the spread of the outbreak, all three brands have been recalled by the manufacturer.
"These were catastrophic and life-altering infections."

– Maroya Spalding Walters, CDC
Since February, the Food and Drug Administration and the CDC have released semi-regular reports warning consumers and health care practitioners not to purchase the recalled products and to immediately stop using any of them. No other products have been linked to the outbreak, the CDC reported.
The symptoms include yellow, green or clear discharge from the eye, eye pain and discomfort, redness, a feeling of something in the eye, increased sensitivity to light and blurry vision.
The bacteria can also cause infections in the blood, lungs and other parts of the body, according to the CDC.
Cases have been discovered in 18 states: Connecticut, California, Colorado, Delaware, Florida, Illinois, North Carolina, New Jersey, New Mexico, Nevada, New York, Ohio, Pennsylvania, South Dakota, Texas, Utah, Washington and Wisconsin.
Though officials said the bacteria are extremely resistant to standard antibiotics, one medication, cefiderocol, did work in treating some infections, according to PBS.