Why it matters: The iPhone's release in 2007 forever changed how we interact with technology. It ushered in an era of portable, feature-rich, and more connected personal devices that have, for better or for worse, become a mainstay of our everyday lives. Now, two former Apple engineers with deep roots in iPhone history are reimagining how we can better integrate technology without separating from the world around us.
Imran Chaudhri and Bethany Bongiorno are no strangers to disruptive innovation. Chaudhri was behind the iPhone's instantly recognizable and intuitive user interface. Bongiorno previously served as Apple's Director of Software Engineering, overseeing projects for Apple's iOS, macOS, and iPad. The husband-and-wife team left Apple and went on to create Humane in 2018. Since then, the company's efforts have been shrouded in relative secrecy, with some followers criticizing the startup for raising large amounts of capital but delivering no products or results for several years.
Several months ago, video clips of Chaudhri delivering a Ted Talk with a never before seen wearable device began to circulate online. The complete video of the talk was recently released, giving viewers a thorough look at Humane's ambitious new AI-based wearable device. To demonstrate, Chaudhri receives a call from his wife. He seems to answer it with the palm of his hand via a projection from Humane's wearable AI prototype.
Chaudhri and Bongiorno view AI as the driving force behind the evolution of device design, and their goal is to design new AI-driven technologies that make life better. As the video shows, Humane doesn't simply define better as bringing more functionality to the same mobile platforms. The company aims to create technology solutions that feel familiar, natural, and human. The couple wants to introduce technology that relieves our reliance upon devices that, by design, remove us from the world around us.
Chaudhri says the device was built from the ground up to securely serve its intended purpose without reliance on or connection to any other mobile device. It would alleviate any need for users to constantly check mobile device screens for alerts and information while opening up new possibilities previously unavailable due to the inherent limitations of touchscreens and limited accessibility of some users with disabilities.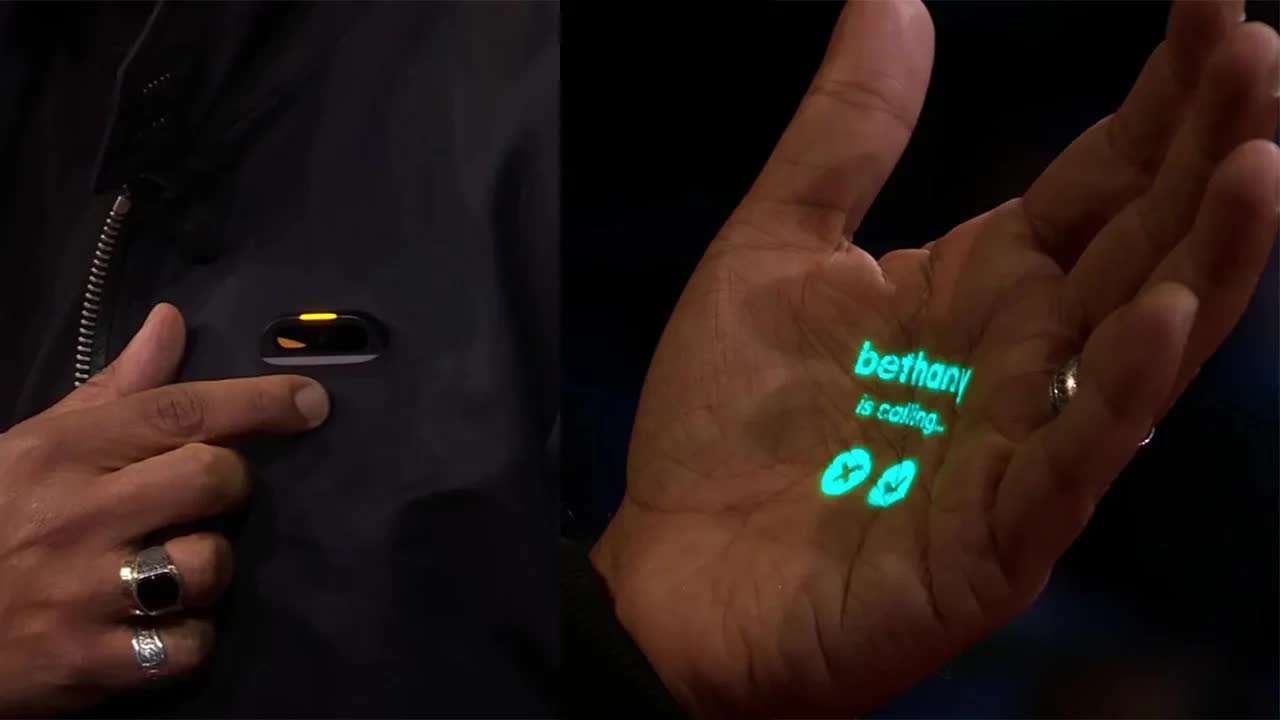 "[The device] interacts with the world the way you interact with the world, hearing what you hear, seeing what you see, while being privacy first, and safe, and completely fading into the background of your life," explained Chaudhri.
Humane's founders want to expand on this concept and believe they've just scratched the surface of what is possible with today's AI technology. If their goal is to reimagine the human/technology relationship, this device could be a massive step toward the next significant shift in wearable solutions.