Liverpool manager Jurgen Klopp does not believe Mohamed Salah will be looking for an escape route in search of Champions League football.
Writing on social media after Manchester United's win over Chelsea on Thursday consigned Liverpool to the Europa League next season, the Egypt forward said he was "devastated" and there was "absolutely no excuse" for not finishing in the Premier League's top four.
Last summer the 30-year-old signed a new contract, making him the highest-paid player in the club's history, but even if next term goes to plan and they regain their place in the Champions League he will be close to entering the final 12 months of that deal.
Asked if he was concerned about Salah's immediate future after his rare public statement, Klopp said: "No worries, no. I only heard what he said but I couldn't read anything that could lead in that direction.
"Obviously Mo loves being here and Mo was part of it. He said apologies for what 'we' did – not apologies for 'what the other guys did, but I had to go with them'. It is all fine.
"If ever a player would come to me and said, 'oh, we didn't qualify for the Champions League, I have to leave', I would drive him to the other club myself.
"I would take the key, [and say] 'come in the car, where do you want to go, I drive you'.
"That would be something I never could understand. It is, I would say, 'oh, we didn't qualify for the Champions League, I need to work in the Champions League so I go'."
Klopp said if that was a mentality he accepted he too would be looking to leave.
"I am responsible for this mess, or whatever, so you cannot go in these moments," he added.
"It is not the case with Mo, not at all, and nobody else told me. They ask if they can have a longer holiday or whatever – but nobody asks me if after the holiday they have to come back.
"So that was not in our conversation. I saw him now in the canteen and he was smiling. I don't know for which reason as I didn't ask him, but he is not in a bad mood. That's it.
"We didn't point fingers at each other. That's all good. If you don't qualify for the Champions League, the best place you can possibly end up is fifth, so that's what we did.
"If you'd have asked me 10 games ago if that was possible, I'd have said no. That the boys did that is really good but it's not perfect.
"We didn't end up fifth because of the last 10 games, we ended up there because of the lack of consistency before that. We didn't deliver what everybody wanted or expected but we are still really united, that's the good thing about it."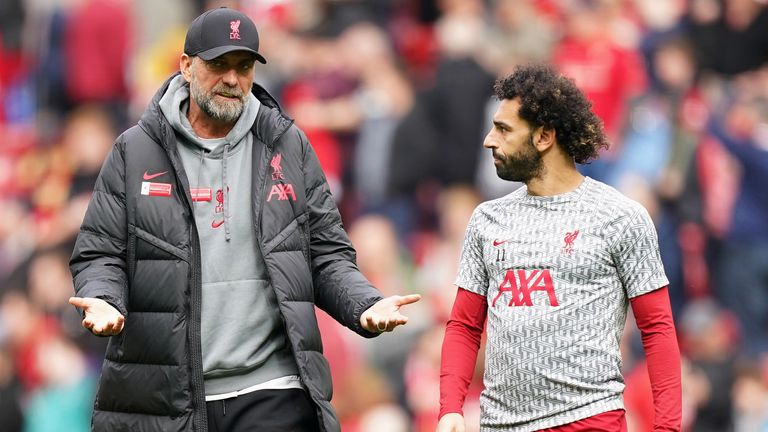 Failure to qualify for the Champions League is set to cost Liverpool at least £50m next season but there may be implications in the shorter term as UEFA's second-tier competition is likely to be less attractive to leading players.
The club have already pulled out of the running for primary target Jude Bellingham after the asking price for the Borussia Dortmund midfielder became prohibitive, and reports this week suggested Chelsea midfielder Mason Mount's preferred destination is Manchester United.
Klopp is keen to get his business done early and is hopeful finishing fifth will not put a spanner in the works of their planning.
"I don't think so but we will see. That is obviously possible, it's always possible things don't go as quick as you want. It's not only possible, it is probably likely," he added ahead of Sunday's final match of the season at Southampton.
Klopp says he will not take any risks with players who are not fully fit for the final match of the season against Southampton

"The better the players you want the lesser is the desire of the other club to let him go and that's exactly what we are prepared for.
"But it's a long window and a long pre-season and a long break in-between so we have time. If we get in players tomorrow or in six or seven weeks it is not a game-changer for me to be honest.
"In an ideal world they all sign tomorrow and I can tell them when to be here and we can start giving them the plans for the summer break but that will not likely happen."