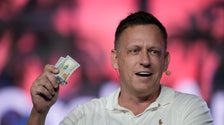 Earlier this week, Thiel admitted to journalist Bari Weiss on her podcast that he's paid to have his body cryonically frozen when he dies ― in hopes he can be revived if and when future generations figure out a solution for whatever causes his future death.
However, he added this caveat: "I think of it more as an ideological statement," before adding that he "[doesn't] necessarily expect it to work."
Still, he thinks, "It's the sort of thing we're supposed to try to do."
Thiel's decision to put his after-life on ice isn't new. He first mentioned it to the Telegraph in 2014, saying that "people have a choice to accept death, deny it or fight it."
I think our society is dominated by people who are into denial or acceptance, and I prefer to fight it."
NBC News estimates a full body freeze costs around $200,000, while you can just freeze the head for a measly $80,000.
You can hear Thiel put his future plans on the ice below.