In context: While virtual reality headsets are still struggling to find their place, they are at least available to users from various companies. However, whatever happened to augmented reality? The complementary technology has barely landed in the consumer space other than a few gimmicky apps and games that use a mobile phone's camera and screen rather than wearable glasses or a headset.
A startup called Sightful wants to change that with a unique laptop called "Spacetop." Founded by former Magic Leap executives Tamir Berliner and Tomer Kahan, Sightful looks to ditch most notebook computers' standard LED or OLED displays and replace them with lightweight AR glasses.
Spacetop consists of a tethered set of AR lenses, a keyboard, and a front-facing webcam. The computer components, powered by a Qualcomm Snapdragon 865 processor and an Adreno 650 GPU, are self-contained within the keyboard. It also comes with 8GB RAM and 256GB of storage.
Spacetop is ultralight, weighing in at only 3.3 pounds. If you want to use your imagination, that's like carrying around a MacBook Air (2.7 pounds) and a 100-inch monitor weighing only 9.6 ounces. Its small footprint also fits nicely into a backpack.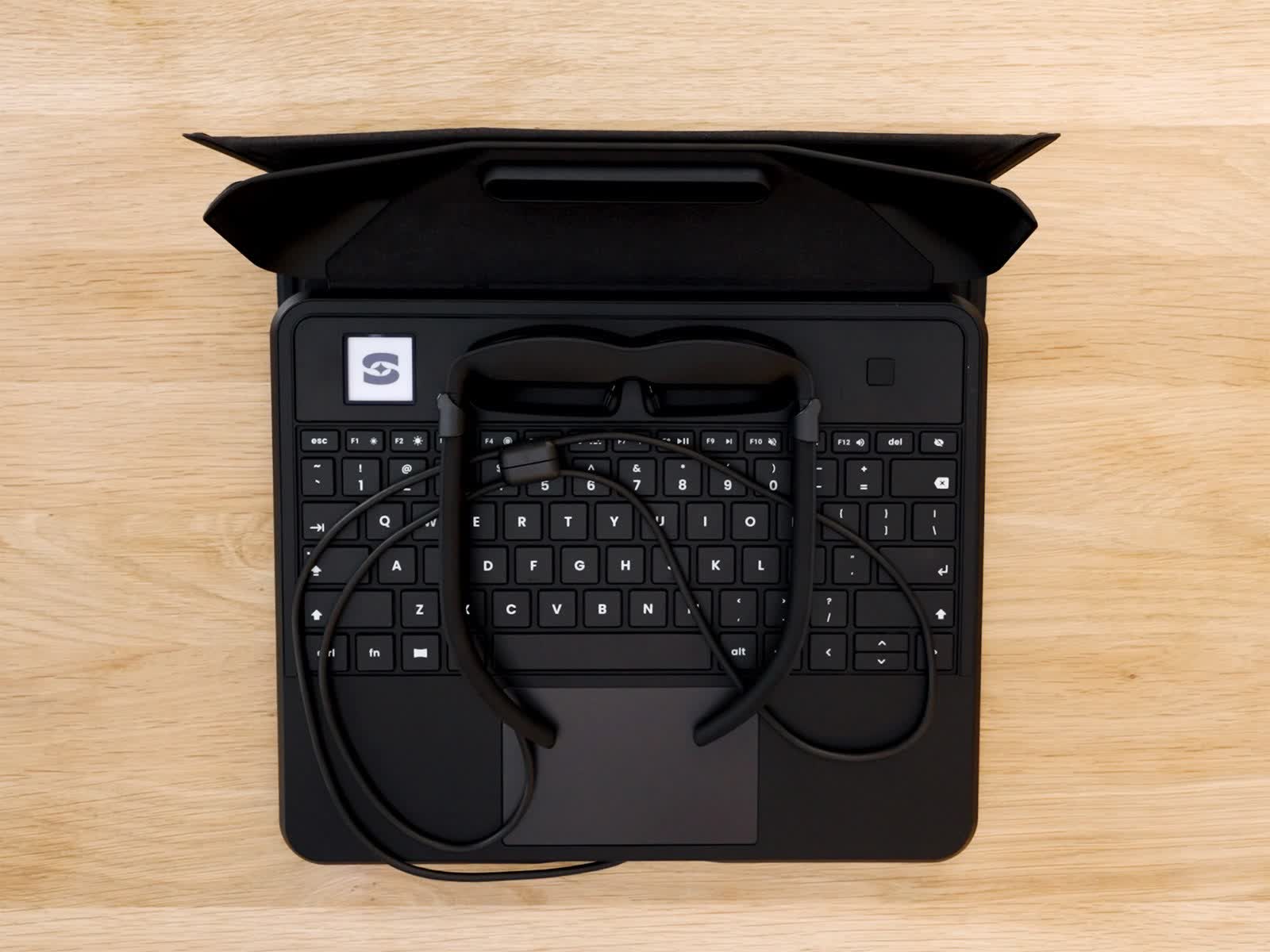 The frames of the Spacetop's glasses underwent many iterations to ensure they were comfortable to wear for extended periods. Wired notes that when it tested the device, the frames didn't smudge makeup, snag hair or leave marks on the face. Customers can even order prescription lenses for free, at least with the "invite-only" early adopter offer.
As mentioned, the device creates a 100-inch virtual display, making multitasking a breeze. I use a 45-inch monitor to have all my programs on one desktop, eliminating the need to tab through them. So 100 inches of real estate should be enough for anybody, leaving room to spare.
For connectivity, Spacetop sports two USB-C ports with 65-watt charging support, one 10 Gbps SuperSpeed USB port, and a DisplayPort 1.4 port for when you want to connect to a physical monitor. It also comes with Bluetooth 5.1, WiFi 6, and 5G (Sub-6) support for wireless connectivity.
One of the Spacetop's most significant drawbacks is its battery life. It can only run for 5 hours of continuous use and charges from 0 to 85 percent in about two hours. Another caveat is that it is not Windows-based. Instead, it runs on a proprietary operating system unimaginatively called "Spacetop OS." Not having the Windows environment might be a deal-breaker for some, but Sightful says that it can still run almost any application.
"If it's accessible on the web, it works with Spacetop."
This includes Google Workspace, Slack, and Microsoft 365, to name a few. It is clearly not meant for everybody. You won't be playing many PC games or doing graphics-intensive work, but it should be just fine for tasks like browsing the web, word processing, messaging, and other low-impact work. Think Chromebook with AR goggles, and that's pretty much what you can expect from Spacetop.
Spacetop is available now, but Sightful only sells them by request and does not advertise the price. However, Wired said they go for about $2,000. Interested customers should fill out an application on Sightful's website, which includes questions regarding personal needs and computing habits (nothing too invasive).