Ooh la la! Famous for the Eiffel Tower, an impeccable sense of fashion and art, and a long list of delicious foods, France is an ideal place to hold corporate events—and not just because you're guaranteed some tasty pastries for your coffee breaks. 
France's beautiful cities and towns offer delightful scenery that is the perfect backdrop for your corporate meetings. Between the many quirky little hotels, grandiose conference venues, or full-luxury palaces that there are in France, you have a lot to choose from. 
If you've ever organized a corporate event, you'll know that it's no mean feat. Getting it right involves a great deal of research and planning. With multiple factors to bear in mind, a successful, smooth-running event depends on finding the right venue. But worry not, to make things easier for you we've compiled a list of the ten best corporate venues in France. 
What to look for when sourcing a venue
Finding the right venue involves juggling several factors. First, the venue must accommodate the right number of attendees and have suitable meeting spaces with the right equipment and facilities. The location should also have good transport links (not usually a problem in the country of TGV) and sufficient parking if required.
If you're hosting a drinks reception or a conference of several days, it's important to think about food and beverage options, as well as accommodation if required. The overall cost, including any additional fees (important to keep an eye out for hidden costs), will also determine your venue hire.
The venue you ultimately pick will also be determined by the type of event you're hosting. Some of the events companies hold at corporate meeting venues might include:
Meetings with clients or customers: a meeting venue can provide a professional setting creating a positive impression and helping to build constructive relationships.
Internal meetings or training sessions: an external venue can provide a neutral location for team meetings or training sessions, supporting productive discussions and encouraging participation.
Conferencing or events: the right space can provide the facilities required for larger-scale hybrid events such as seminars, lectures, or product launches.
Team building activities: the ideal location for off-site training or group activities, helping to develop team cohesion and boost morale.
Let's see what France has to offer.
Need help organizing your team event or corporate meeting?
TravelPerk's Group Travel and Meetings & Events team can help you book venues and get exclusive discounts on group travel. Schedule a demo to find out more.
1. Joya Lifestore Salles De Réunion: hold your event in the beautiful city of Nice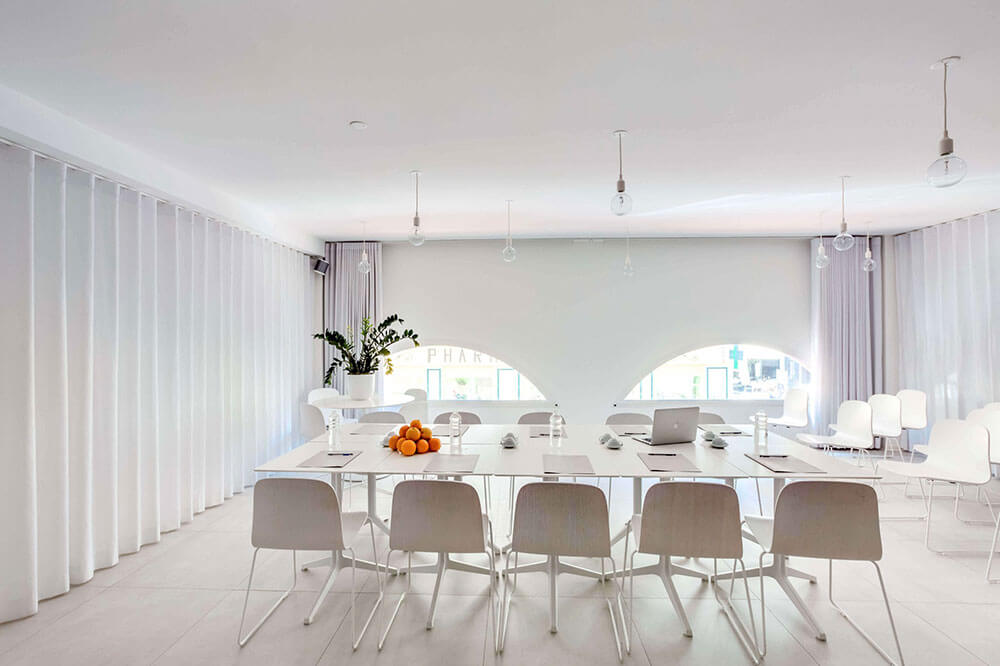 Joya Lifestore Salles De Réunion is a cozy and well-lit coworking space situated in Nice. There are different meeting rooms and coworking spaces perfect to suit all types of events, from bright white meeting rooms to more intimate, colorful, plant-filled offices. 
At Joya Lifestore they're experts at welcoming teams from all over the world for events like seminars, training sessions, cocktail parties, and large group meetings. Additionally, they have partnerships with nearby hotels to make your event planning that much easier. They can also organize airport pickups and catering for your event. 
Location: Nice
Capacity: up to 30
Cost: €€
2. Le Méridien Etoile: for professional meetings, a stone's throw from Paris' best highlights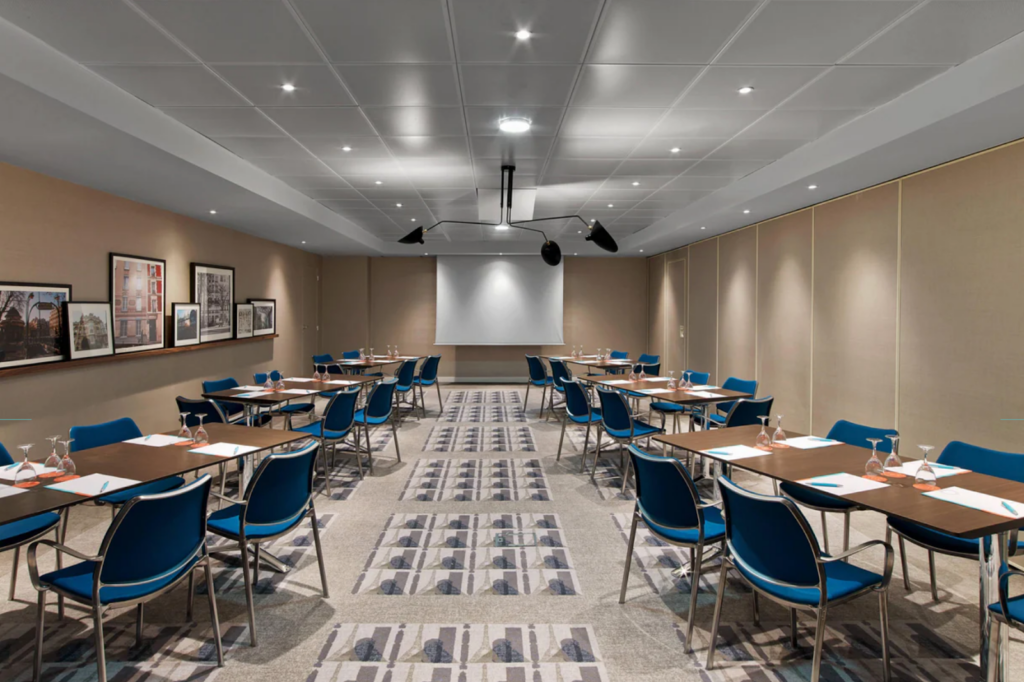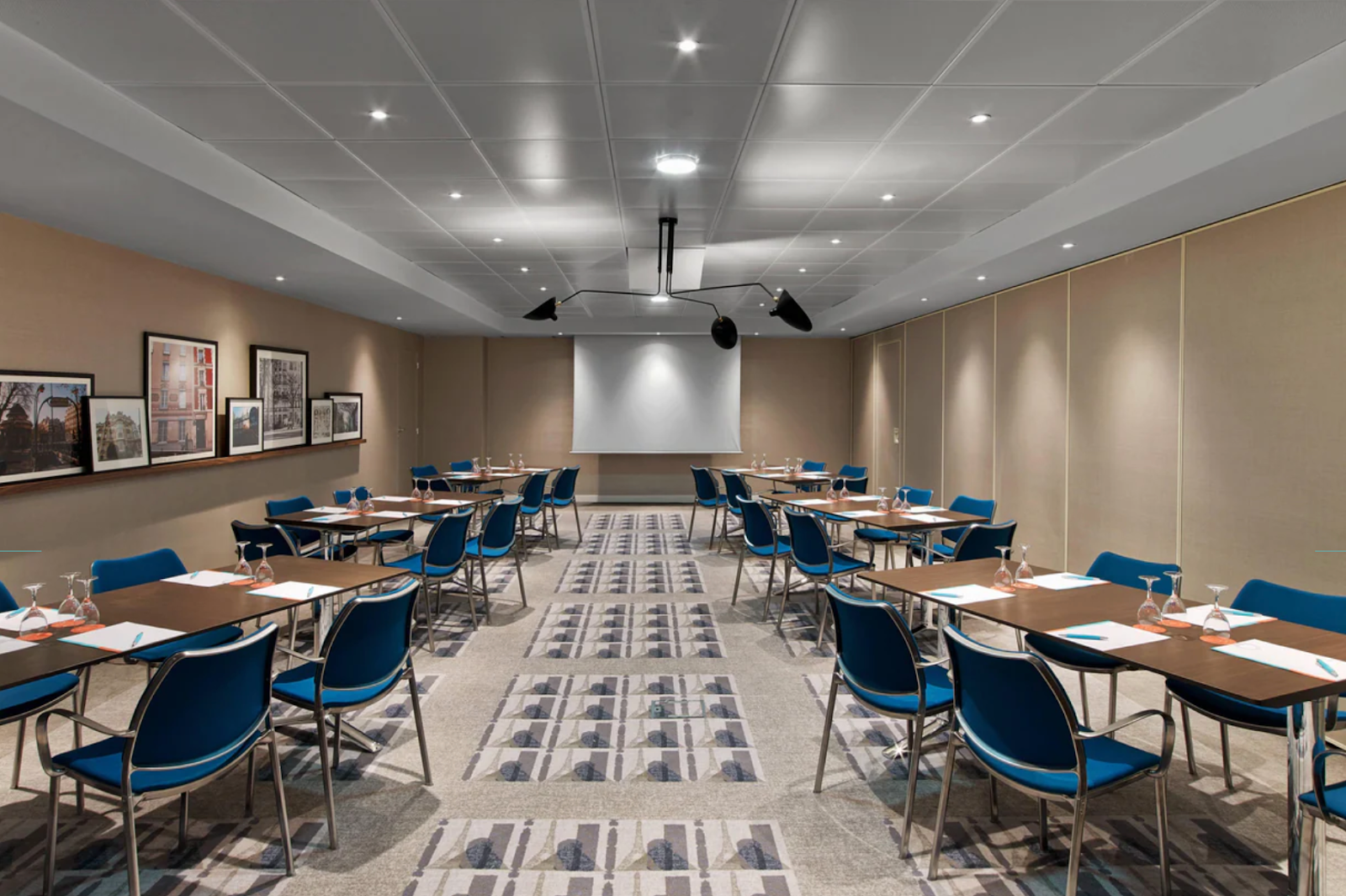 Le Meridien Etoile, a Marriott hotel, offers elegant and exceptional service. It's a great choice for corporate travelers seeking top-quality conference and meeting spaces and being near all of Paris' highlights. 
It is located near popular attractions such as the Champs Élysées and the Arc de Triomphe, and across from the Palais des Congrès—perfect if your team is visiting a tradeshow or exhibition there. Plus, it only takes 15 min by car to visit the Eiffel Tower. The hotel features a captivating modern design and offers high-speed wifi and AV facilities. Their flexible event spaces, ranging from creative spaces to big and small meeting rooms and boardrooms, can accommodate groups of any size for a memorable event.
Location: Paris
Capacity: up to 1000
Cost: €€€
3. Novotel Strasbourg Centre Halles: bring convenience and elegance to your next corporate event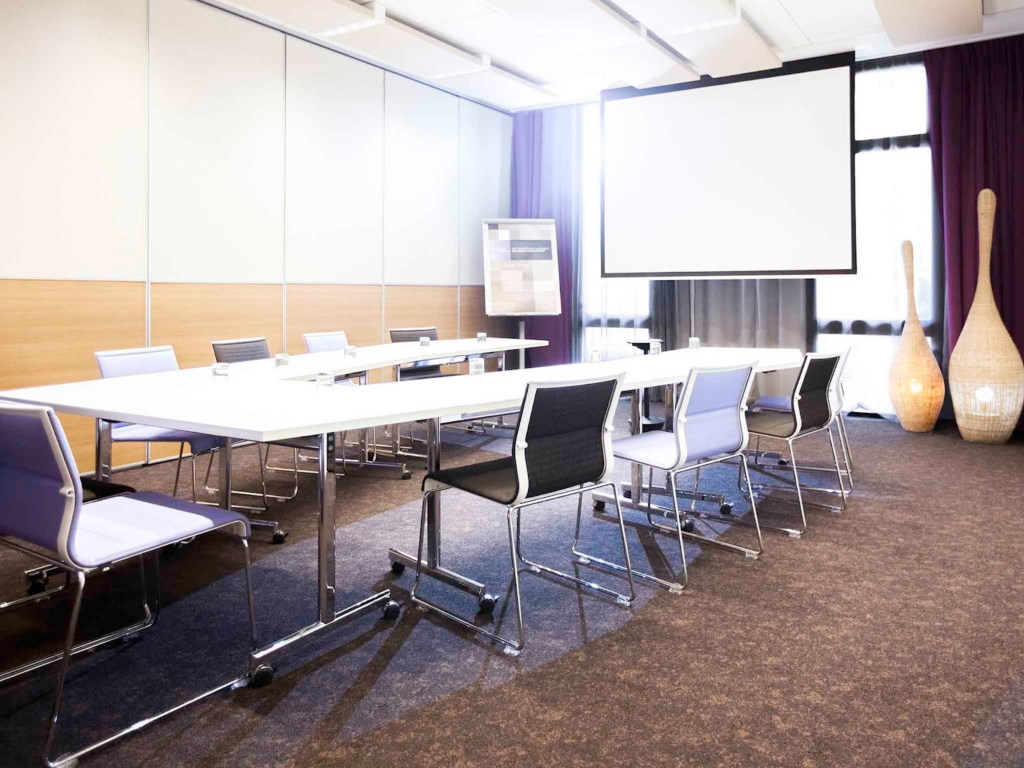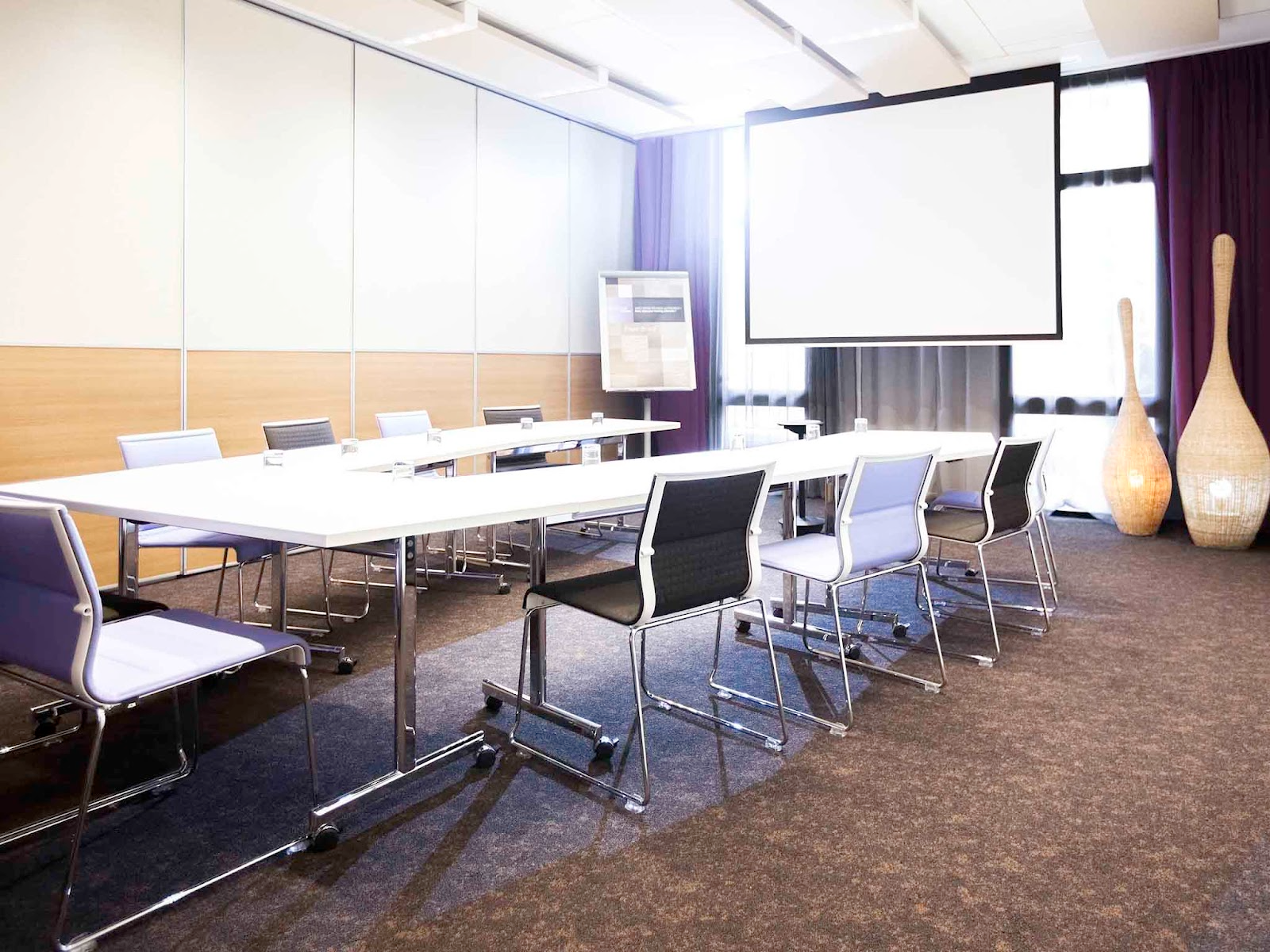 The Novotel Strasbourg Centre Halles offers a modern urban experience with amenities perfect for your next corporate event. Business guests can take advantage of 4 meeting rooms and a coworking area accommodating up to 100 people.
Located near Place des Halles and a 10-minute walk from Central Station, the Novotel Strasbourg has easy access to trams and buses. Stepping outside, your team will be able to explore Strasbourg's historic Petite France quarter and Strasbourg's popular attractions such as the European Parliament, Notre-Dame Cathedral, the German Quarter, Kammerzell House, and the Covered Bridges. There's free parking in place, high-speed wifi, and it's fully wheelchair accessible–plus, the hotel offers delicious food and catering services for your meeting. 
Location: Strasbourg
Capacity: up to 100
Cost: €€€
4. Sofitel Arc de Triomphe: the perfect combination between work and play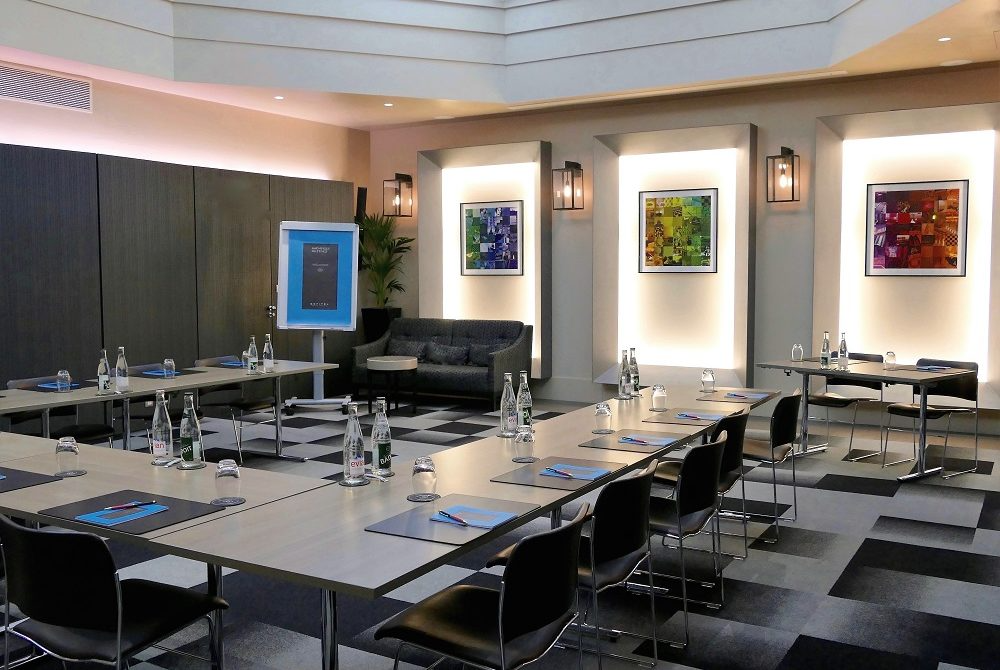 Sofitel Paris Arc de Triomphe is a prime location for corporate events in Paris due to its exceptional amenities and convenient location—and it's right by the Arc the Triomphe. This 5-star hotel offers a range of flexible meeting and event spaces, including a large ballroom of 72 square meters and several smaller rooms for more personal meetings. Each meeting room is equipped with state-of-the-art technology and can be adapted to suit a variety of needs, for example, hybrid meetings.
The intimate Putman Salon has a fireplace and private art collection–making it ideal for a working lunch or cocktail party designed to impress. The Verrière Salon is perfect for a conference, seminar, or product launch. For your business meetings and training sessions, choose from the different lounges they offer, each with a decor inspired by French famous artists.
Location: Paris
Capacity: up to 232
Cost: €€€
5. Best Western Aramis Saint-Germain: the Parisian charm within everyone's budget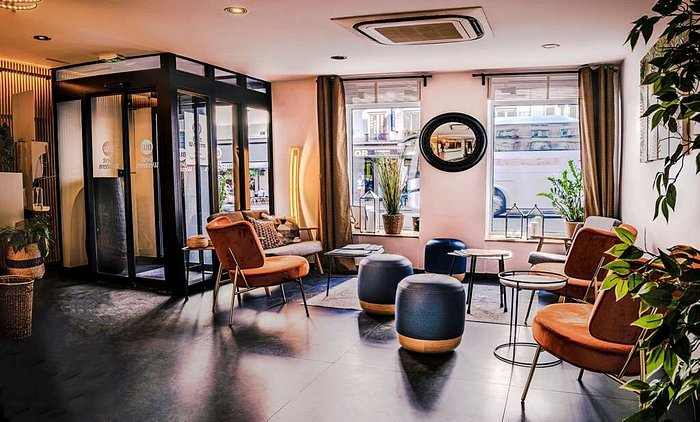 Close to Montparnasse, a buzzing business hub in central Paris, the Aramis Saint Germain hotel is a convenient choice for corporate events in Paris. It offers two fully equipped seminar rooms that can hold up to 15 people each, complete with free Wi-Fi, a video projector, a screen, mineral water, paper board, paper, and pencils for meetings. Best Western is a budget-friendly option, offering both competitive prices and quality facilities with a professional vibe. 
Location: Paris
Capacity: up to 30
Cost: €€
6. Mama Shelter Lyon: hold your meetings in a trendy venue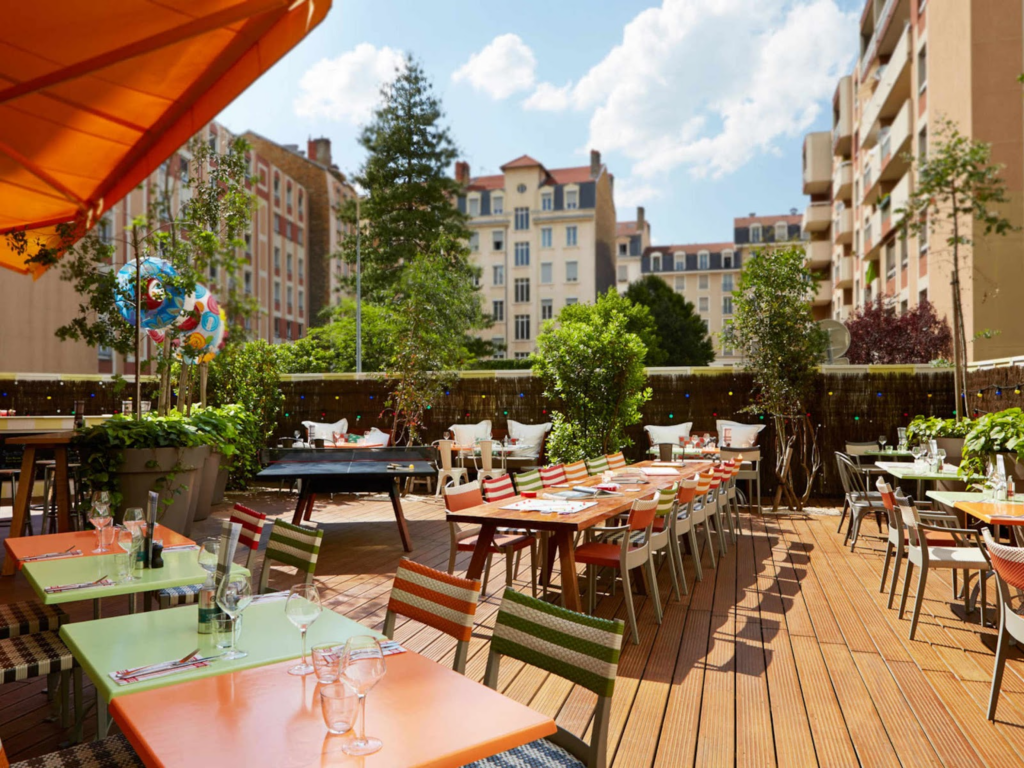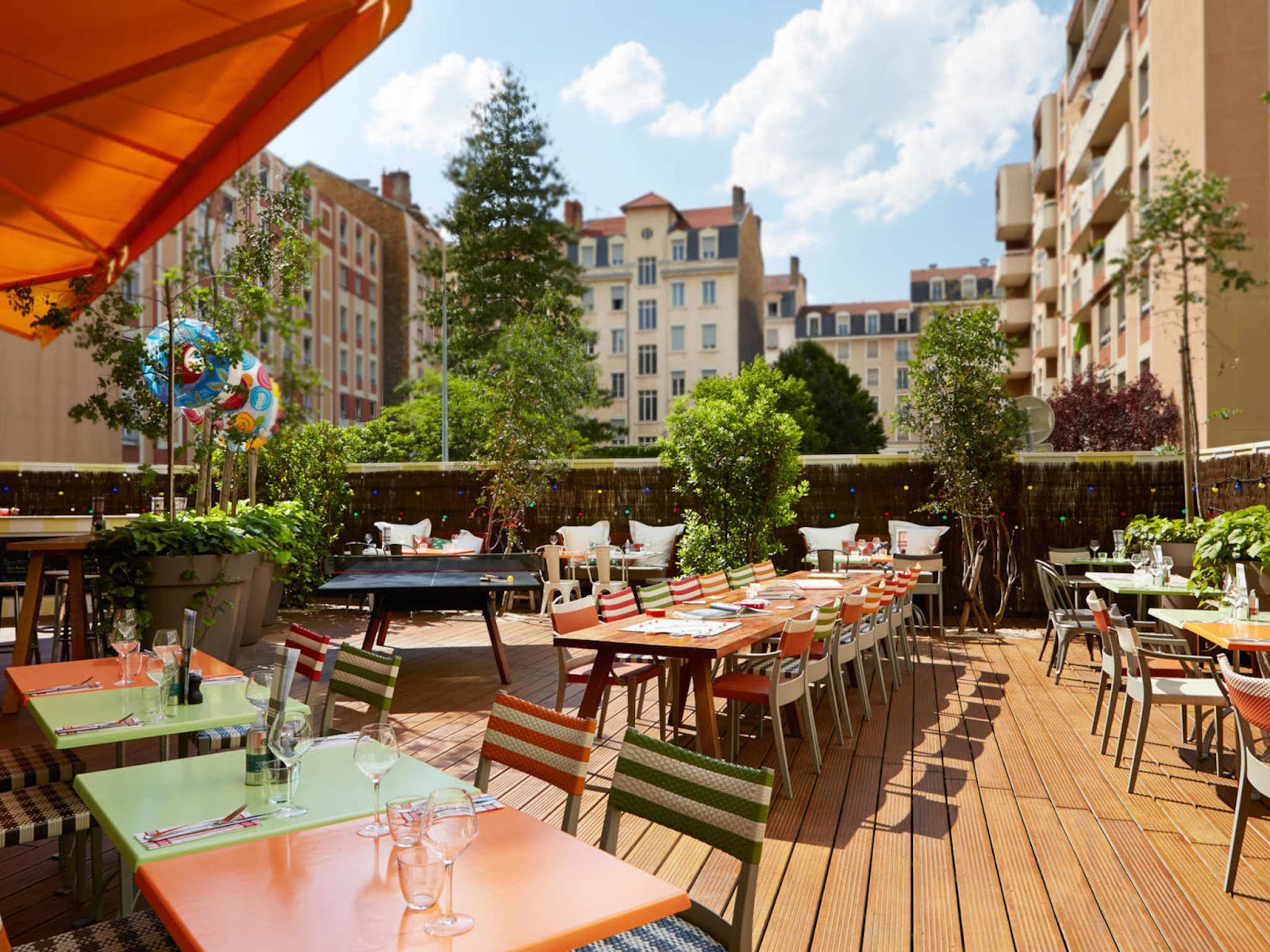 The Mama Shelter Lyon is a fun, friendly, and economical venue for your next company event. Located just 25 minutes from the airport, and close to train, tram, and bus stations, it's highly accessible. It offers outdoor spaces, as well as convenient meeting rooms that can be wide open or closed for a more personalized meeting. Great for younger, dynamic teams, you can all enjoy Lyons' highlights after business is all wrapped up, thanks to its central location in the heart of the city.
Location: Lyon
Capacity: up to 100
Cost: €
7. La Salle FORUM: stand out from the crowd and hold your event at France's beautiful French Riviera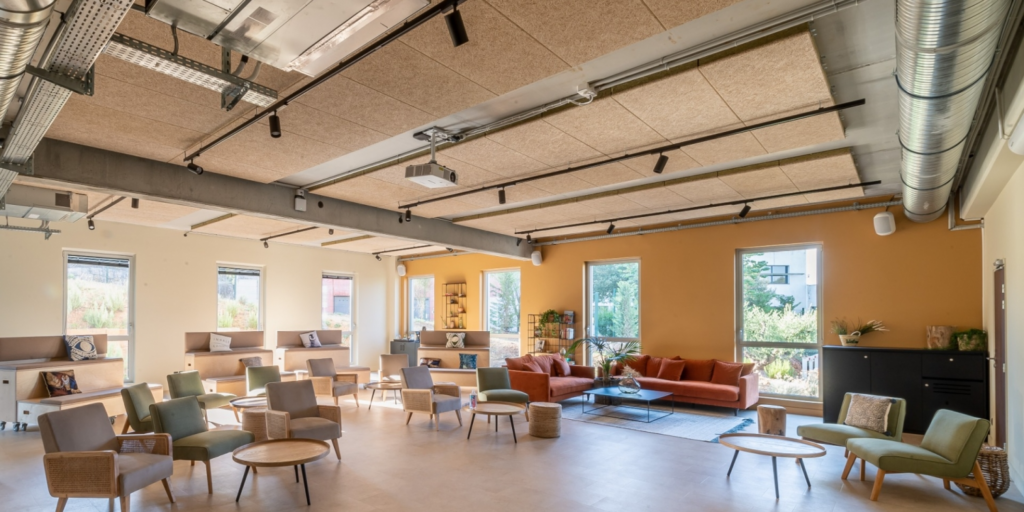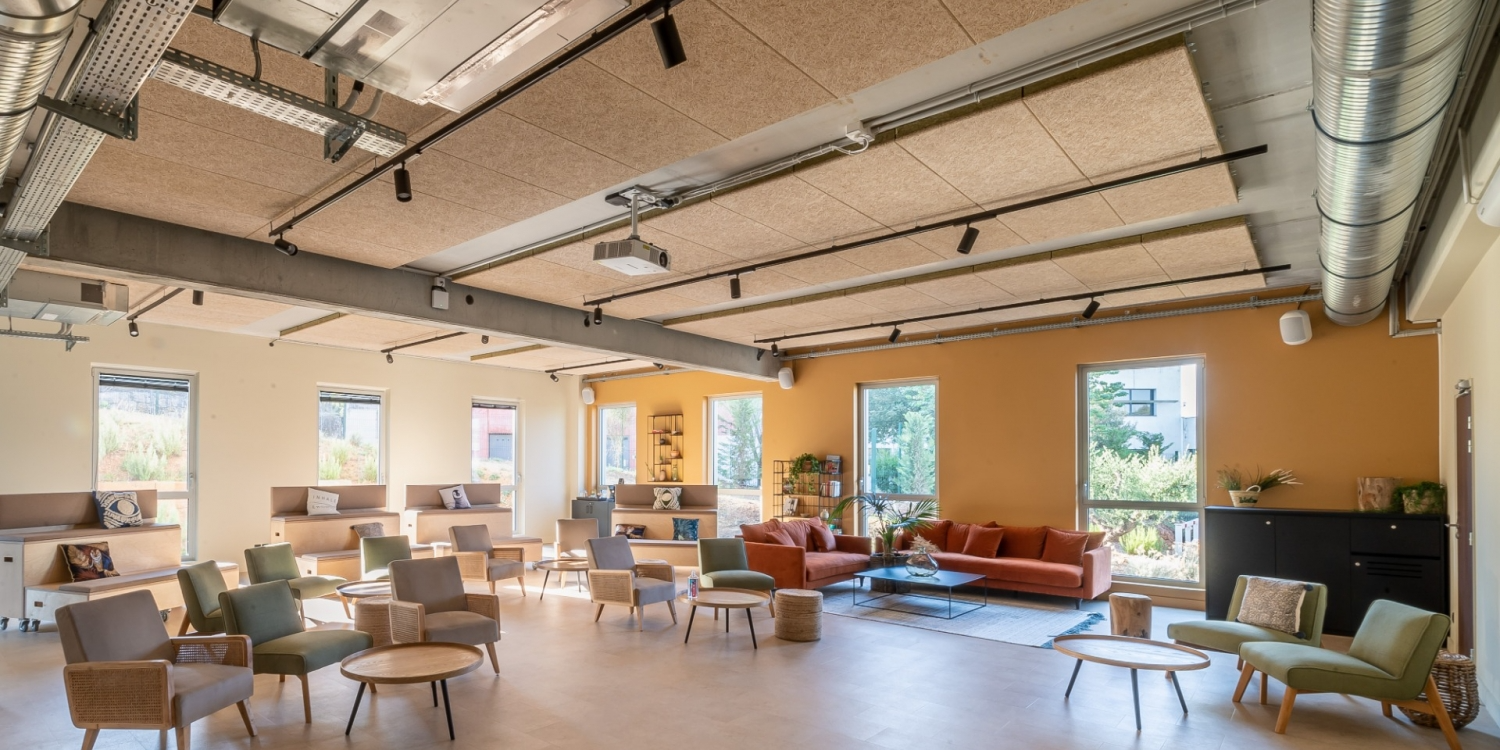 La Salle FORUM is a beautiful space that can hold up to 80 people. It offers six bathrooms, AV facilities, high-speed internet, disabled access, private parking, and air conditioning–plus some stunning decor. 
Its wide and open space beautifully decorated sits at the heart of the French Riviera in Cannes. Surrounded by greenery, a stone's throw away from the beach, and a fully equipped kitchen, you know your team will be happy to come to this venue.
Location: Cannes
Capacity: up to 80
Cost: €€€
8. Château de La Napoule: bring your team to a real French castle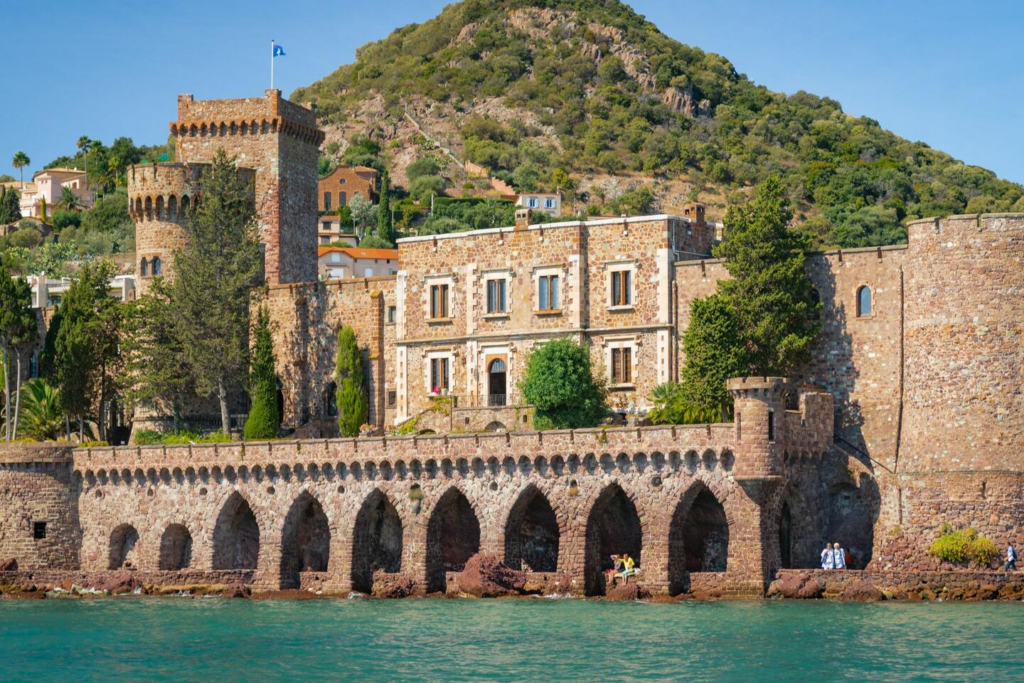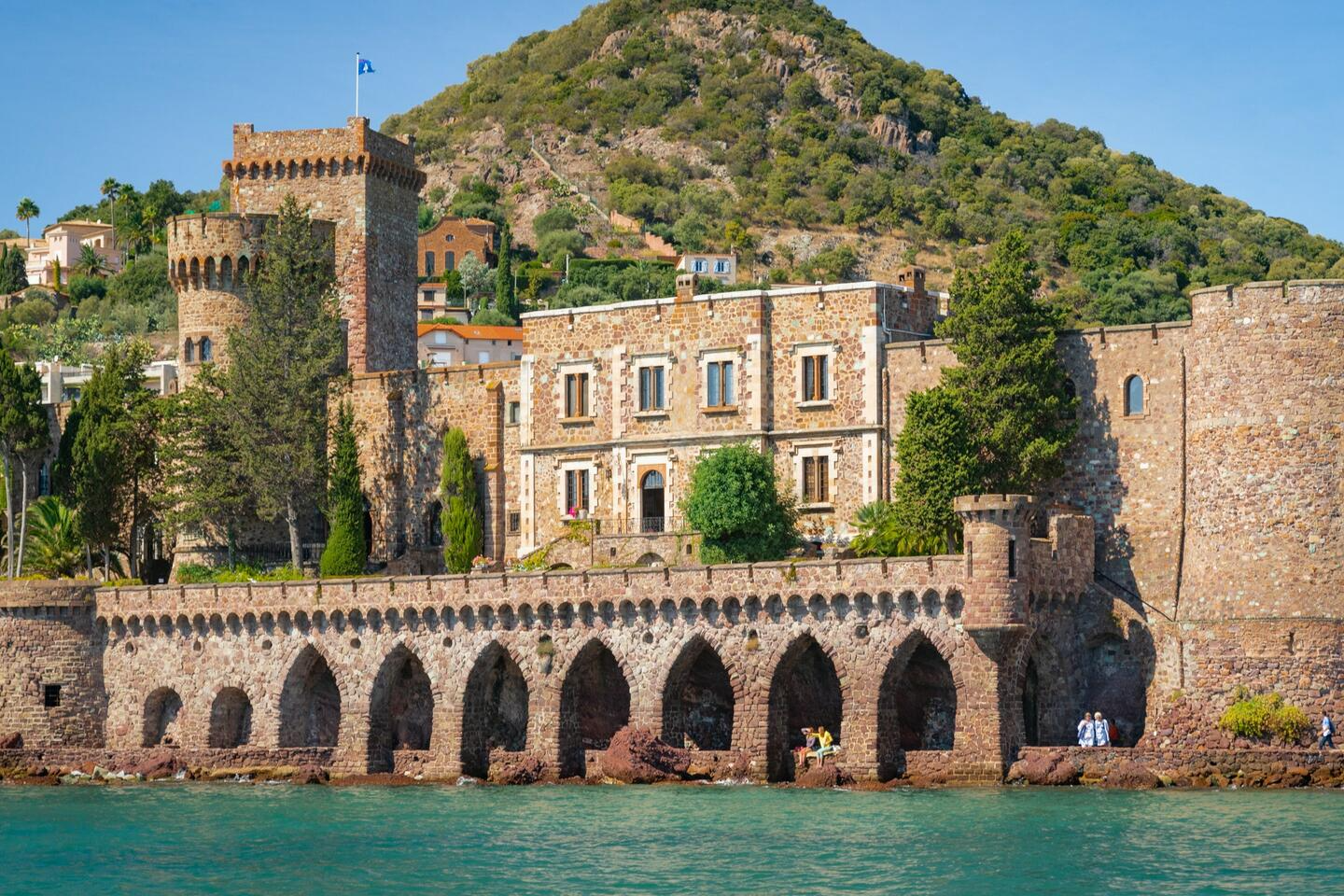 Château de La Napoule is one of the most enchanting spots on the Cote d'Azur, which makes it the perfect place to host an unforgettable corporate event. With access by bus and train from Cannes, the Chateau boasts both an exclusive, tucked-away location while being highly accessible.. 
With an outdoor terrace overlooking the waterfront and four meeting rooms, it can hold up to 400 people, which makes it an ideal event venue for conferences, team-building activities, and corporate retreats. Although most people would think of this beautiful castle for a wedding or party event, they are experienced in holding corporate events for teams from all over the world. 
Location: Mandelieu, near Cannes
Capacity: up to 400
Cost: €€€
9. Weréso Marseille Saint-Charles: a funky fresh coworking space for events of all sizes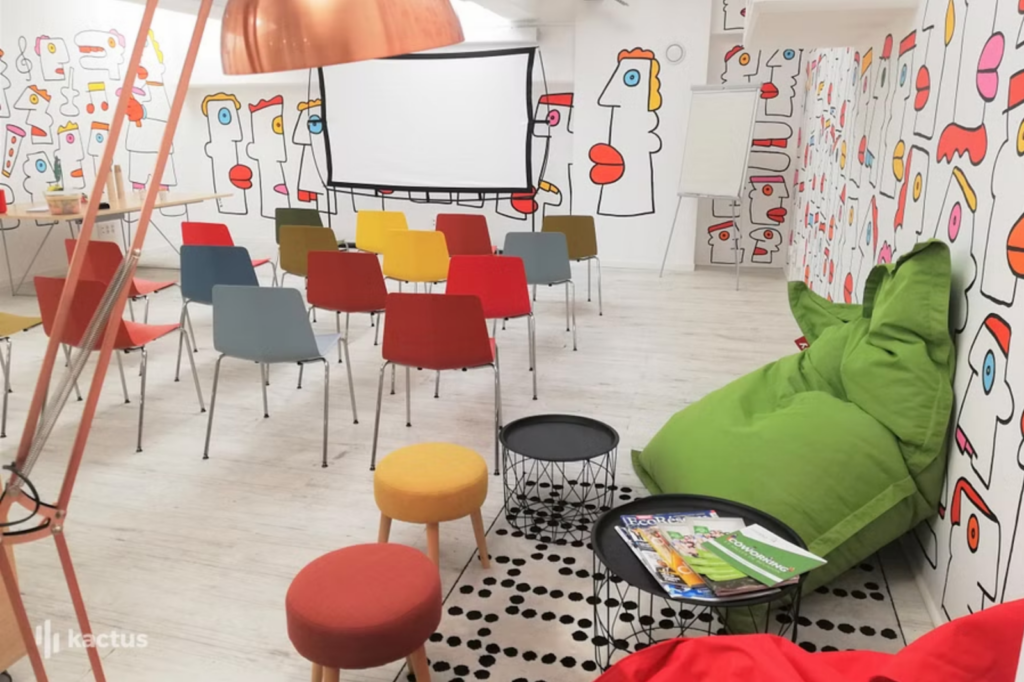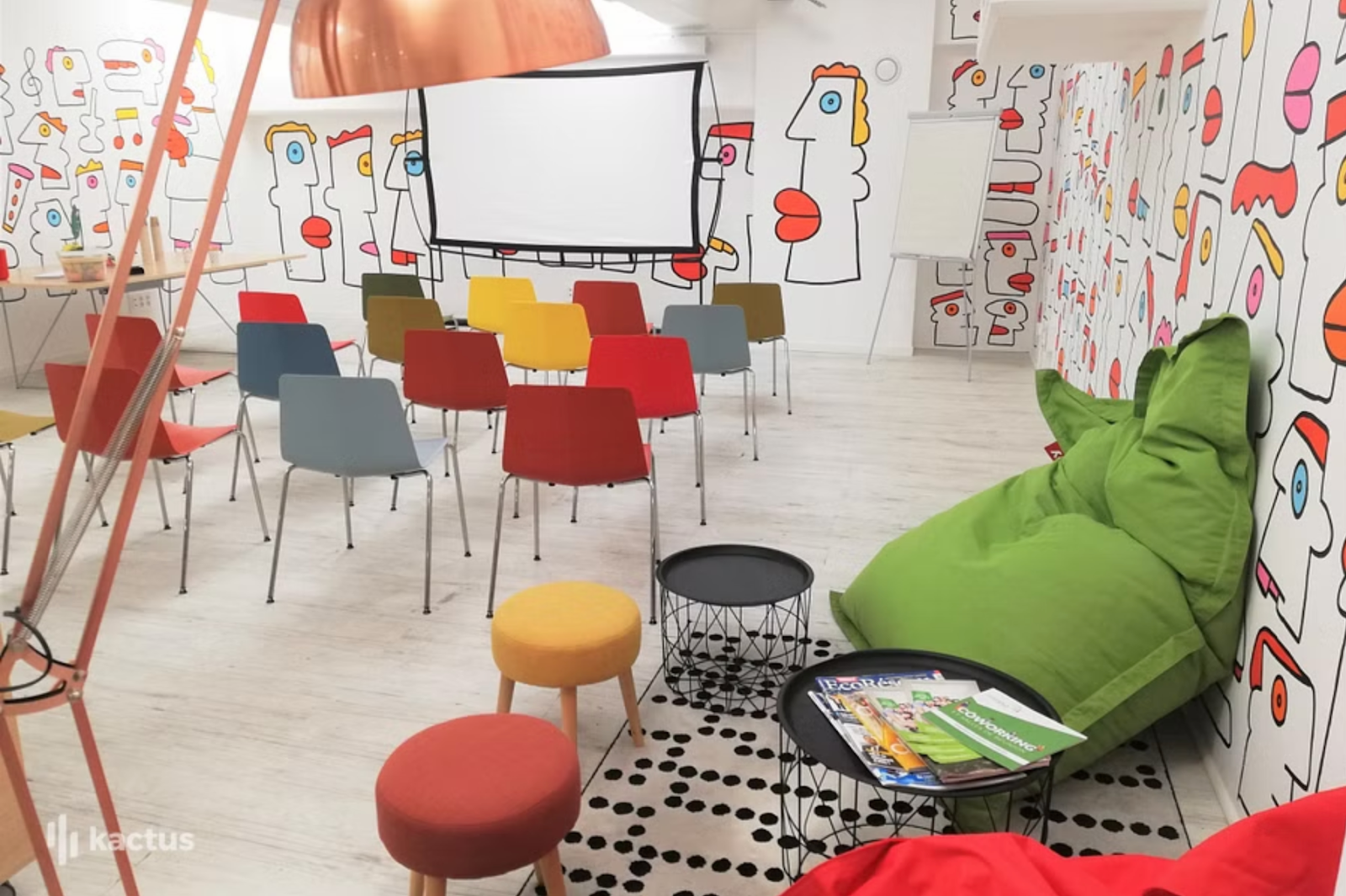 Wereso Marseille Saint-Charles is a coworking space that offers multiple rooms of all sizes to hold meetings and corporate events of up to 100 people. Each space is colorfully decorated which will help make your event more modern and fun. 
You can rent just a room or the entire venue for a few hours or the whole day, which makes it great for suiting all sorts of budgets. This is an excellent space for training sessions, workshops, conferences, and networking events. Additionally, you'll be able to just walk outside and enjoy the Marseille city center, or even take your team to the seaside when the business is out of the way. 
Location: Marseille
Capacity: up to 100
Cost: €€
10. Planet Ocean Montpellier: submerge your team in an unforgettable event at an aquarium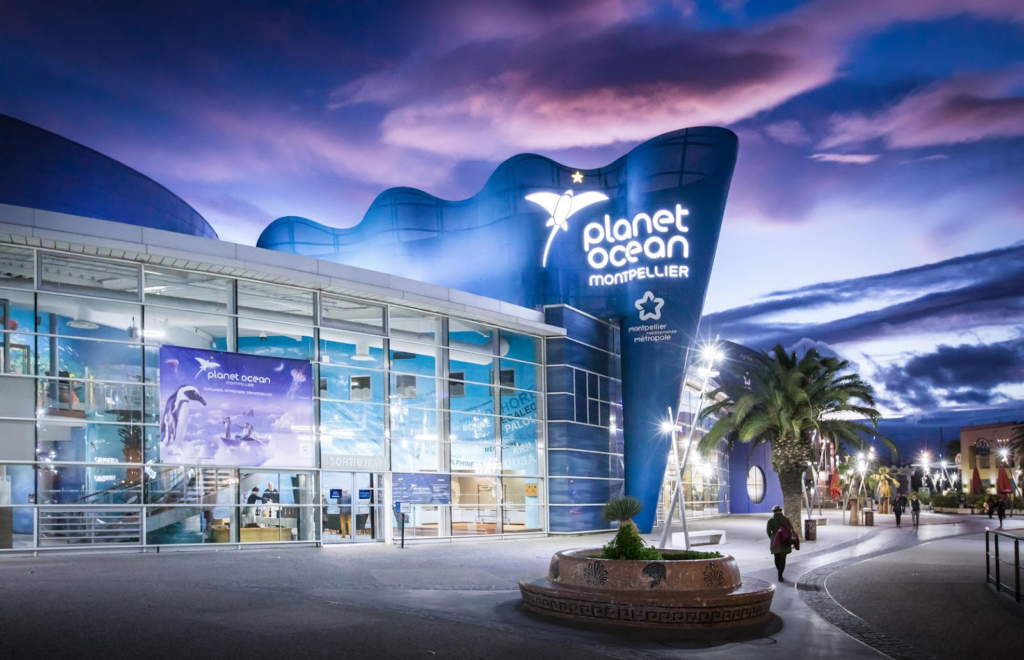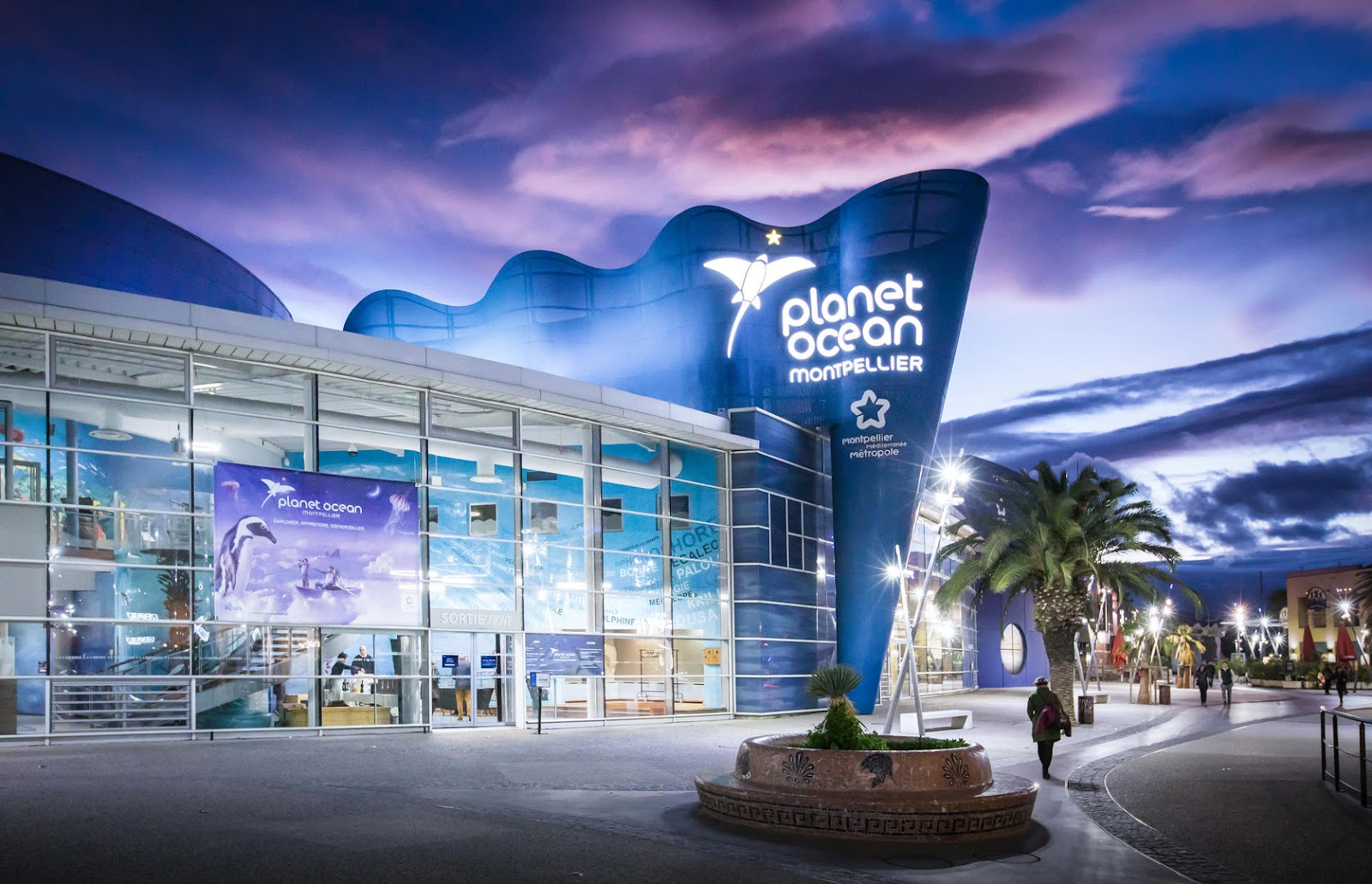 Located in the Odysseum neighborhood of Montpellier, just minutes away from the city center, the Planet Ocean is an aquarium and an amazing corporate events venue. With 10 meeting rooms that range from auditoriums to small 20-person rooms, you'll find the perfect size for your event. 
An aquarium will make for a brilliantly memorable experience for your team. You'll be able to hold your meetings or conferences, and then have a team-building visit through the aquarium—what more could you ask for!
Location: Montpellier
Capacity: up to 300
Cost: €€€
Get ahead and start organizing your corporate event today
Whatever event you're hosting, whenever you're hosting it, it's never too early to start planning—and you can use TravelPerk's event management checklist to ensure you're ticking all the boxes. 
If you feel you could benefit from support with the organizational side of things, TravelPerk can help with the book and management of your event, taking the administrative weight off your shoulders. You pick the venue, let TravelPerk take care of the rest! Pack your bags and say au revoir as you and your team head to the most delicious and fashionable country on earth.