As one of Europe's leading business hubs, Germany is a top choice for corporate meetings and events. If you've ever organized a corporate event, you'll know that it's no mean feat. Getting it right involves a great deal of research and planning. With multiple factors to bear in mind, a successful, smooth-running event depends on finding the right venue.
Cities such as Berlin, Hamburg, and Munich are home to some of the best conference centers and event spaces in Europe. We've compiled a list of the top corporate event venues in the country, so you don't have to spend time searching for the perfect venue. 
From Frankfurt to Cologne to Düsseldorf, all locations are reachable by public transport and offer high-speed wifi access. Whether you're looking for a large conference center or convenient meeting rooms, we've got you covered.
What to look for when sourcing a venue
Finding the right venue involves juggling several factors. First, the venue must accommodate the right number of attendees and have suitable meeting spaces with the right equipment and facilities, from video conferencing equipment, to exclusive lounges, to gourmet catering options. 
If you're hosting a drinks reception or a conference over several days, it's important to think about food and beverage options, as well as accommodation if required. The overall cost, including any additional fees (important to keep an eye out for hidden fees) will also determine your venue hire.
The venue you ultimately pick will also be determined by the type of event you're hosting. Some of the events companies hold at corporate meeting venues might include:
Meetings with clients or customers: a meeting venue can provide a professional setting creating a positive impression and helping to build constructive relationships.
Internal meetings or training sessions: an external venue can provide a neutral location for team meetings or training sessions, supporting productive discussions and encouraging participation.
Conferencing or events: the right space can provide the facilities required for larger-scale hybrid events such as seminars, lectures, or product launches.
Team building activities: the ideal location for off-site training or group activities, helping to develop team cohesion and boost morale.
Let's see what Germany has to offer.
Need help organizing your team event or corporate meeting?
TravelPerk's Group Travel and Meetings & Events team can help you book venues and get exclusive discounts on group travel. Schedule a demo to find out more.
1. Design Offices Hamburg, Domplatz: a venue that offers every possibility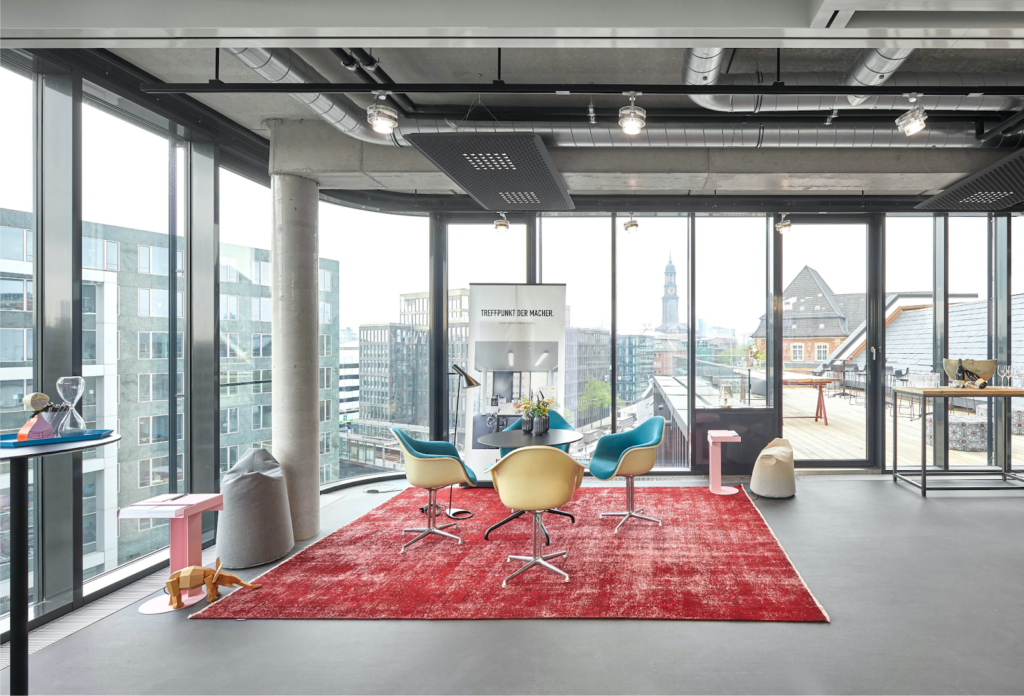 With 5-star ratings across the board, this venue couldn't be more ideal for your next corporate event, if you're heading to picturesque Hamburg. Design Offices offers a huge variety of meeting spaces, from cheaper training rooms (from €59/hour) to larger event spaces (up to €150/hour). Its high ceilings and natural daylight give it a spacious feel, and it's a great option for brainstorming events, with breakout rooms, blackout blinds for presents, and magnetic walls to visualize ideas. All-day catering options are also available upon request.
Location: Hamburg city center 
Capacity: up to 90
Cost: €€€
2. H10 Berlin Ku'Damm: a stylish corporate meeting space in the city center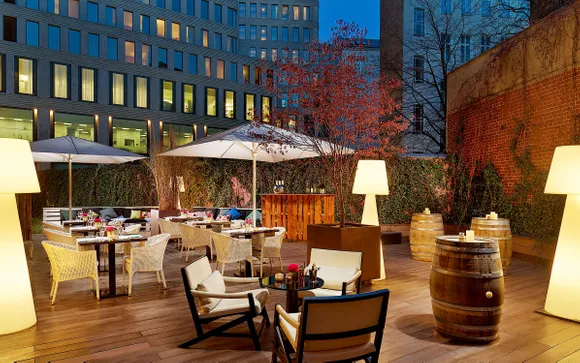 With seven event spaces available, this hotel is an ideal option for corporate meetings in the heart of the capital. It's just a short walking distance from Kaiser Wilhelm Memorial Church and the Zoologischer Garten, two of the city's top attractions. The hotel's historic facade contrasts with the modern facilities inside, which include five conference rooms, and all are equipped with the latest and greatest technology designed to help your event run as smoothly as possible.
Location: City West
Capacity: up to 90
Cost: €€€
3. Courtyard by Marriott Hotel: an unparalleled location in Munich city center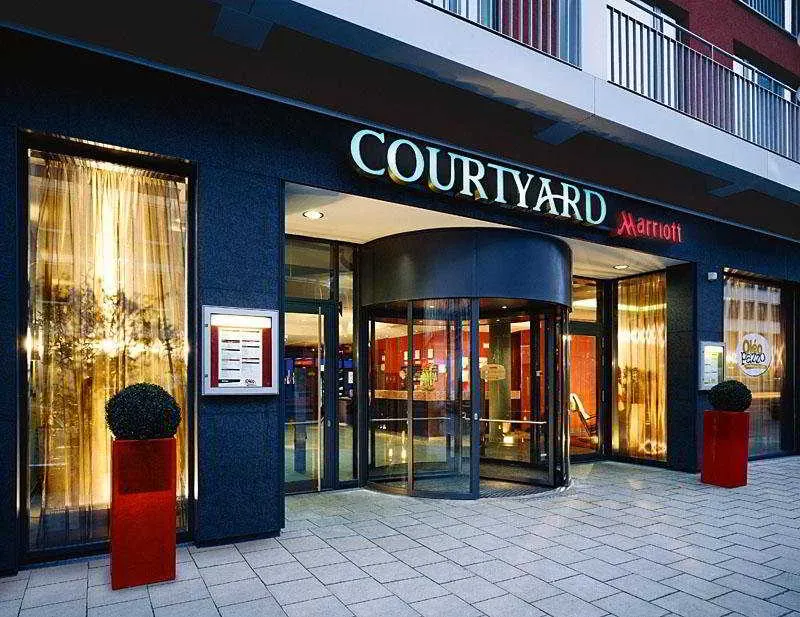 Just a stone's throw away from world-famous landmarks including Marienplatz and Hofbrauhaus, Courtyard offers a choice of four meeting rooms, and 250 bedrooms for attendees needing accommodation. With an on-site restaurant, bar, and fitness center, it has all you need for a successful—and comfortable—corporate event. It's accessible for wheelchair users and offers event catering if necessary.
Location: Munich city center
Capacity: up to 50
Cost: €€€
4. SPARK Europe: an impressive modern venue in the heart of Frankfurt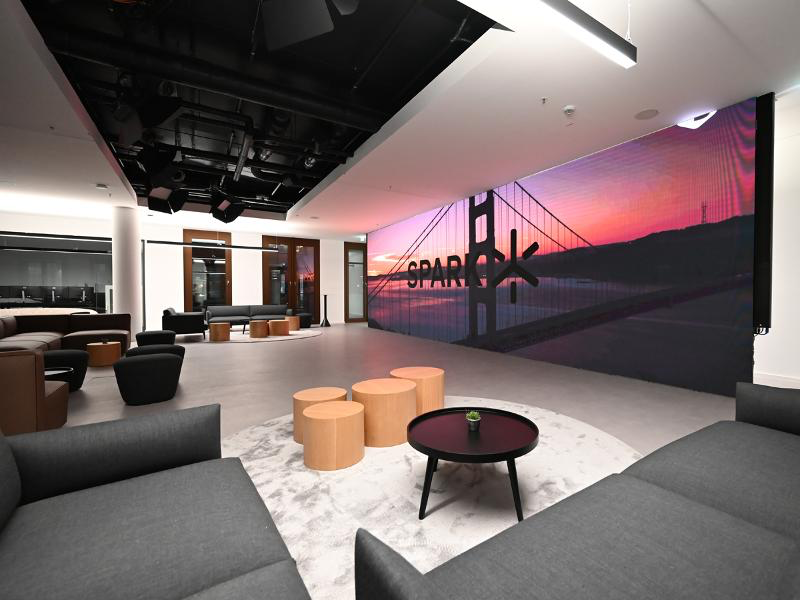 We've covered the birthplace of the hamburger, so let's move to the frankfurter. With plans to expand the chain to Amsterdam, Vienna, and London, SPARK is an up-and-coming corporate space, with coworking areas, meeting rooms, and boardrooms on offer. 
Based in one of the newest buildings in Frankfurt, SPARK is a highly-accessible venue in the city center, reachable by air, car, train, or underground. With a range of spaces and additional extras, it's a brilliant option for your next corporate event. 
Location: Frankfurt city center
Capacity: up to 100
Cost: €€€
5. AXICA Kongress: the most exclusive event space in Berlin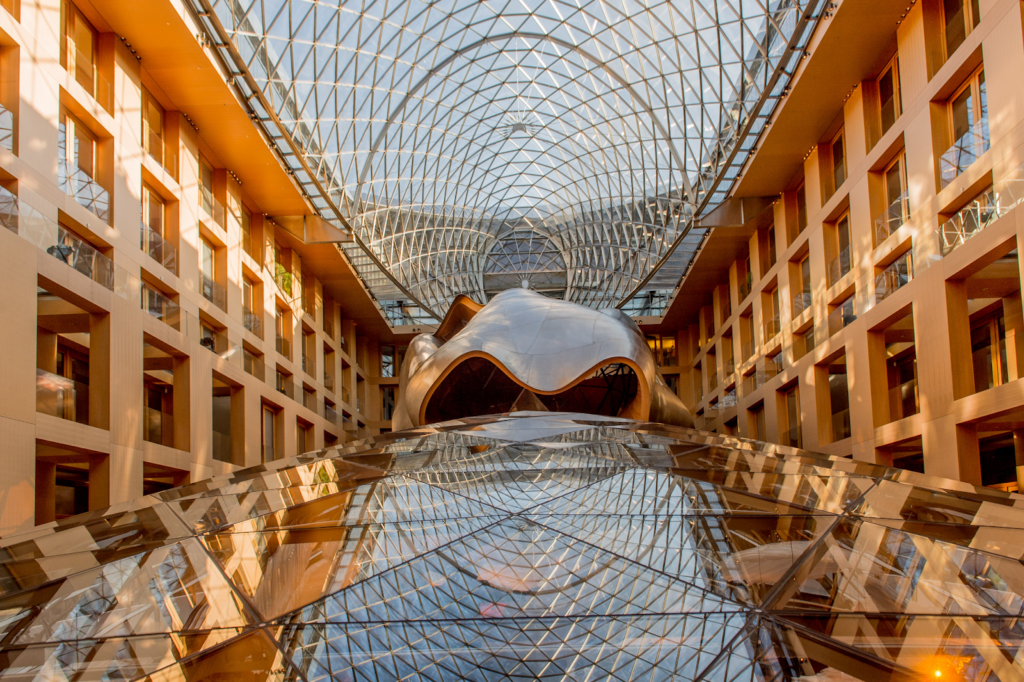 When it comes to finding the perfect event location, you can't get more impressive than AXICA. Berlin's most exclusive conference and congress center, it boasts the architecture of award-winning architect Frank O. Gehry, and can host all types of corporate events. 
AXICA is highly adaptable: whether you're seeking an exhibition hall, conference center, or gala dinner, it ticks all the boxes. With various spaces available, from smaller meeting spaces to a vast event hall accommodating hundreds of attendees, you won't be short on choice.
Location: City West Berlin
Capacity: up to 600
Cost: €€€€
6. Hilton Dusseldorf: everything from boardrooms to ballrooms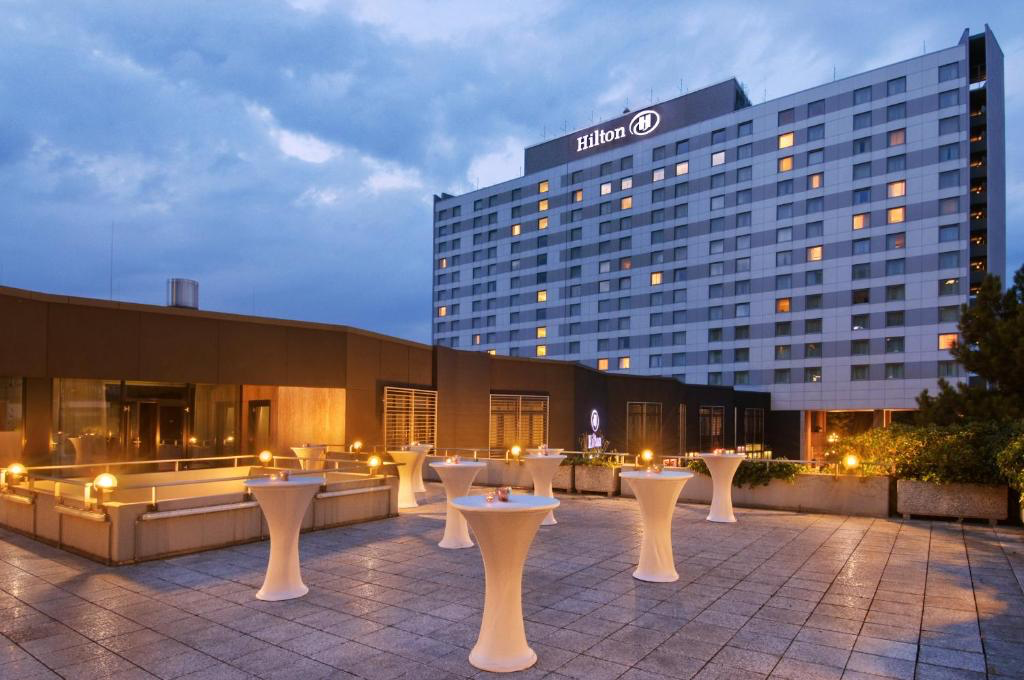 Choosing a globally-recognized hotel brand such as the Hilton will immediately add an air of professionalism to your corporate event. With 2,124 square meters of event space and 18 meeting rooms, the latest A/V equipment for hire, and top-quality catering options available, the Hilton is fully equipped to host all types of corporate conventions.
Location: Dusseldorf city center
Capacity: up to 900
Cost: €€€
7. SKYLOFT: a bright, modern space in central Stuttgart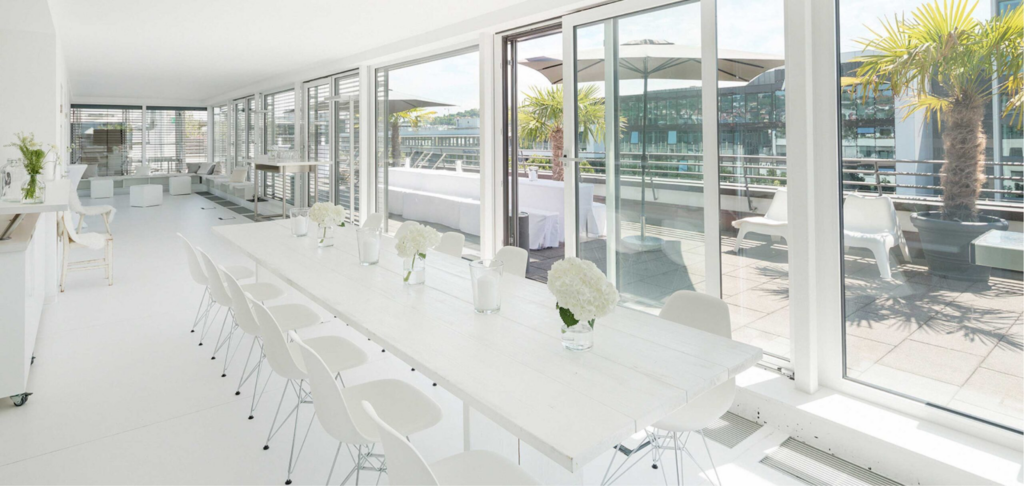 Home to global giants such as Mercedes Benz and Porsche, Stuttgart has been a hub of industry and business for decades. Now a hotspot for tech startups, Stuttgart is an increasingly important business location in Germany. 
SKYLOFT is a popular corporate event space in the city center. It's a bright and modern loft, which can act as both a boardroom and a convention center. Think of it as a blank canvas for your next corporate event—with some stunning views of the city thrown in for good measure.
Location: Stuttgart center
Capacity: up to 198
Cost: €€
8. Offsite Meetings: an adaptable, fully-functional space in Cologne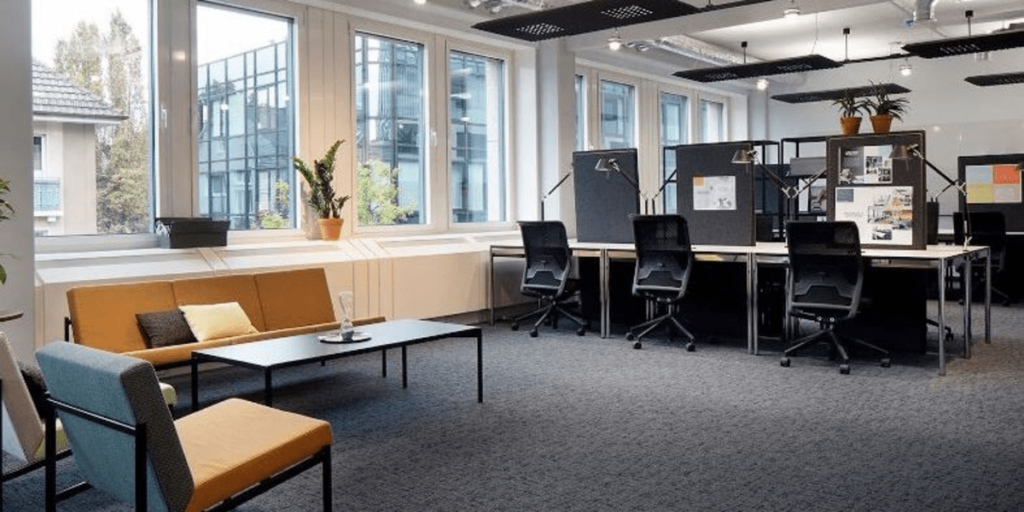 Whether you're planning a networking event, company photo shoot, or looking for a cozy meeting room, chances are you'll be able to hold it here. Offsite is a great modern space in central Cologne, with different options from a seminar loft space to small boardrooms to private offices. It manages to feel both relaxed and professional at the same time and is definitely one to remember for your next event in Cologne.
Location: Cologne city center
Capacity: up to 50
Cost: €€
9. SVYT: the sought-after business hideaway in Munich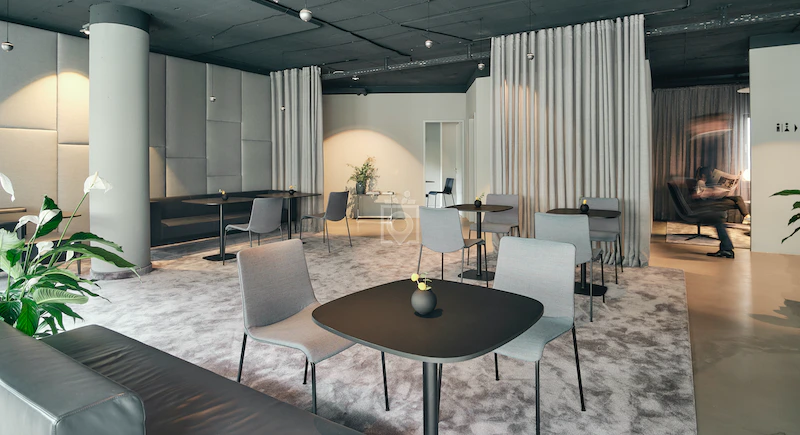 With a variety of meeting rooms, conference spaces, and boardrooms on offer, SVYT is a classy venue ready to host your next corporate event in Munich. It also offers an exclusive coworking space for executives and business travelers, located right next to Maximilianstrasse in the heart of the city. 
Ranging from 75€ – 125€/hour, it's on the pricier end of the scale but offers an elegant, professional space to impress clients or treat employees. Looking at the variety of snacks available might just help you make up your mind… 
Location: Munich city center
Capacity: up to 200
Cost: €€€
10. NürnbergMesse: a vast conference and convention center in Nuremberg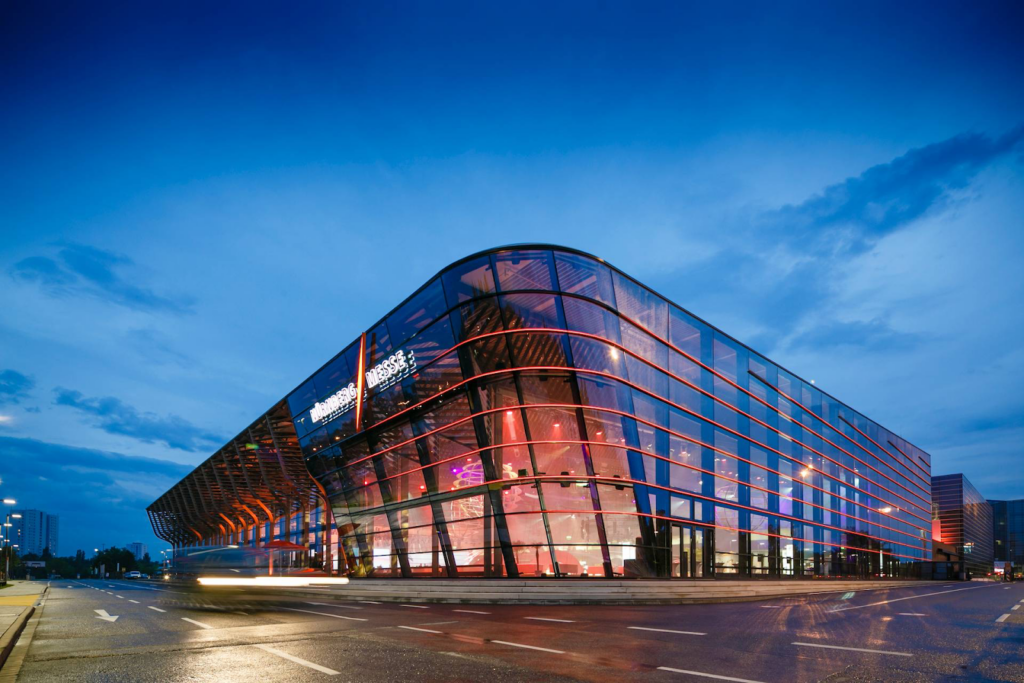 To finish with a bang, here's NürnbergMesse, one of the world's 15 largest trade fair companies. It's a brilliant exhibit space, but also offers smaller halls and rooms. The space offers maximum flexibility, high-end videoconferencing equipment, six restaurants, ten cafeterias, and thousands of parking spaces. It's an ideal choice for the larger-scale corporate events, with an international reputation.
Location: Nuremberg
Capacity: 15 – 13,000
Cost: €€€€€
Get ahead and start organizing your corporate event today
Whatever event you're hosting, whenever you're hosting it, it's never too early to start planning—and you can use TravelPerk's event management checklist to make sure you're ticking all the boxes. 
If you feel you could benefit from support with the organizational side of things, TravelPerk, expert corporate event planners, can help with the book and management of your event, taking the administrative weight off your shoulders. You pick the venue, let TravelPerk take care of the rest! Bis später, Deutschland.