When you spot a cheap flight online, it's very easy to get caught up in a whirlwind. You're fixated on thinking that you're going to bag an absolute bargain vacation and end up overlooking just how expensive it could be once things add up.
We don't mean the cost of accommodation, dining out, or general spending money. These are just the 'little extras' that you need to spend in order to have a successful trip.
What we're talking about is all of the other 'extras' associated with travel that people often forget to budget for.
Perhaps you need to update your travel vaccines, or maybe pay a tourist tax for each night of your stay? 
Even if you're responsible enough to organize travel insurance, you'll need to ensure that you have enough money on your travel card to cover any potential medical bills at the time too. 
Unfortunately, not everyone can afford these hidden extras and they can cause quite the shock when you find out that you have to add on a couple more dollar signs to a vacation that you thought would be a steal.
Certain countries are home to more hidden costs than others, so, which countries can you expect to uncover the most and the least hidden travel fees?
Thankfully for you, we've found out. By analyzing a range of different fees around the world, including recommended vaccination costs, visa requirements, tourist taxes, average travel costs, and potential healthcare costs; check out the results below:
Countries with the Most Hidden Travel Fees
When it comes to the countries that have the most hidden fees, you might be surprised! Find out below:
1. Germany
When it comes to the country with the most expensive hidden fees, Germany takes first place. The country attracts history buffs, culture vultures, and nature lovers alike with its vast landscape that offers something for everyone.
Germany's capital city, Berlin is fascinating to visit, with its rich history of East and West division being evident in the eclectic mixture of buildings and architecture and the volume of museums explaining its troubled past.
If you manage to snag some cheap flights to Germany, watch out for the hidden costs associated with this destination. One of these is the vaccinations recommended for travel, with Tetanus, Hepatitis A, and Typhoid Fever expected to cost around $162.50. 
Although no visa is required to visit, a tourist tax is enforced in some destinations, with the capital Berlin requiring visitors to pay five percent of the net price of their accommodation. Based on the average price of a hotel in the city, you can expect to pay around $39.41. 
Germany also has one of the most expensive healthcare scores, with the average cost of medical treatment per person per year totaling $6,503.36, which indicates just how expensive a medical bill in the country could be.
2. Bhutan
Bhutan comes in just behind Germany, taking the second position for its expensive hidden travel costs. Offering tourists a rare glimpse of authenticity thanks to its protected culture and traditions, Bhutan's golden-roofed temples and magnificent monasteries draw in plenty of people every year – be aware that you cannot visit the country without being part of an official tour or group.
Although it narrowly misses out on first place overall, Bhutan does come top for having the most expensive tourist tax. This tax has increased significantly since the country reopened post-pandemic; increasing the daily 'Sustainable Development Fee' from $65 to $200. 
A week's trip in Bhutan, therefore, sets you back $1,400 per person. For a visa, which you need as well, prices are slightly lower at $40 per person. Bhutan also has one of the highest transport fees, with the average cost being around $1.98 per trip.
3. Saudi Arabia
Wrapping up the top three countries with the most expensive hidden travel costs is Saudi Arabia. It's clear that the associated costs aren't putting travelers off though, with the country being one of those that the World Tourism Organisation recently highlighted as seeing extraordinary growth in arrivals in Q1 2023, with a huge 64% increase vs Q1 2019. 
Many travelers visit the country to experience adrenaline-fueled activities such as dune-bashing and sandboarding, as well as for more cultural activities like camel riding, Arabian camping, and visiting Mecca.
When it comes to travel fees, Saudi Arabia has both the priciest vaccination recommendations and visa costs of the top five, with these costing around $320 and $182 respectively. Vaccine-wise, Meningococcal Meningitis (ACWY) and Hepatitis A are both recommended for those visiting Saudi Arabia, with the latter being one of the pricier injections at around $105 per shot.
4. Netherlands
In fourth position, and second in Europe, with the most expensive hidden travel fees, is the Netherlands. The country attracts tourists from all over the world to its picturesque towns and beautiful national parks. The capital, Amsterdam, welcomes around 18 million visitors per year to explore its famous canals and world-class museums. 
Despite there not being any vaccines recommended to visit or a visa required, the Netherlands is one of the most expensive when it comes to tourist tax, public transport, and healthcare costs.
For tourist tax, the country requires visitors to pay 7 percent of the price of their accommodation, which will cost around $66.78 based on average hotel costs and is only a little less expensive than Saint Kitts and Nevis and Bhutan.
Average public transport costs are as high as $3.47 per trip, and healthcare costs are $6,531.01 annually per person.
5. Switzerland
Switzerland rounds up the top five destinations with the highest hidden travel costs and also takes third place across Europe. Popular in both the winter and the summer months, the natural beauty of the Alps, the tranquil lakes, picturesque towns, and bustling cities are a strong draw in addition to the iconic outline of the Matterhorn mountain. 
When it comes to hidden travel fees, you had better hope that you don't get ill in Switzerland, as healthcare costs are expensive here. The average Swiss ranks up $10,309.76 in medical fees per year, which is over $1,000 more expensive than the next highest country, Norway. 
The country also has one of the most expensive transport costs at an average of $3.87 per trip. You don't need to worry about getting a visa or any travel vaccinations, however, as these are neither required nor recommended.
Countries with the Fewest Hidden Travel Fees
Here's a list of countries with the least amount of hidden travel costs based on our index.
1. Kyrgyzstan
Taking the top spot for the country with the least hidden travel fees is Kyrgyzstan, a landlocked country in Central Asia. A relatively new tourist destination, those who do visit are sure to enjoy the country's capital, Bishkek.
The visually-attractive, modern city is set against the backdrop of snow-capped mountains with an abundance of green spaces. Outside of the city, there's plenty to do; from hiking to horse riding and discovering the ancient Silk Road. 
But what hidden fees should you be aware of when visiting? Well, Kyrgyzstan doesn't require tourists to obtain a visa when visiting or pay a tourist tax upon arrival, so there's no extra cost required for these things. The country also has one of the cheapest transport costs at just $0.19 per journey on average. 
The greatest hidden cost to bear in mind when visiting Kyrgyzstan is vaccination fees, as the government recommends getting both Tetanus and Hepatitis A. The average estimated cost for both of these is around $132.50. 
Average healthcare costs are around $63.70 per person per year; making Kyrgyzstan the 27th cheapest in the entire study. This gives a good indication of how much a potential medical bill could cost here compared to other destinations.
2. Kazakhstan
In second place with one of the least hidden costs is Kazakhstan in Central Asia. The ninth largest country in the entire world, Kazakhstan is known for the Caspian Sea, its wild horses, and architectural marvels. 
The capital city of Astana is home to the bustling Green Bazaar, stunning Zenkov Cathedral, and impressive Central Mosque. Outside of the city, you can enjoy skiing, hiking, and biking to your heart's content in the surrounding mountains.
When it comes to hidden costs, Kazakhstan doesn't require visitors to have a visa or pay tourist tax to enter the country – similar to its neighbor Kyrgyzstan. When it comes to vaccination costs, Kazakhstan is much cheaper. Only Tetanus is recommended, which is estimated to cost around $27.50. 
Transport costs are higher here though, although only slightly, with an average cost of $0.20 per trip. Finally, the average healthcare cost per person per year sits at around $341.54, which falls into the cheapest half of the study.
3. Mongolia
Rounding up the top three destinations with the least hidden costs is Mongolia, another Asian country. Its Gobi desert has fascinated explorers, paleontologists, and travelers for decades with the area being most famous for its iconic natural formations, dinosaur fossils, wildlife, and nomadic tribes.
Its capital, Ulaanbaatar, is the country's travel hub and is home to the only international airport and the central station of the famous Trans-Mongolian railroad. 
So, if you managed to snag some cheap flights, what other fees should you be aware of? Of the top five, Mongolia has the cheapest public transport costs with an average of $0.12 per trip. Vaccinations recommended to visit the country, (Tetanus, Hepatitis A, and Typhoid Fever), can set you back a bit, at an estimated cost of around $162.50.
When it comes to healthcare costs, the average cost is around $199.82 per person per year, which means it just misses out on finishing in the top 50 cheapest places.
4. Nicaragua
The cheapest non-Asian country in the study is Nicaragua, the largest country in Central America. The destination is famous for being home to a ton of lakes and volcanoes, as well as pristine rainforests and interesting colonial architecture.
Nicaragua sees less of an influx of tourists than its popular neighbor, Costa Rica, and is ideal for anyone looking to get 'off the beaten track'.
When it comes to hidden costs associated with visiting the country, Nicaragua scored well for the average transport cost, which is only $0.20 per trip. It also scored very well for the average amount of money spent on healthcare annually, which is just $161.20 per person. 
As with all of the countries in this top five, (or top 29 countries in the study in fact), Nicaragua doesn't require tourists to pay for a visa or tourist tax upon arrival. However, Nicaragua is one of the pricier countries in the top five for its travel vaccination requirements with Tetanus, Hepatitis A, and Typhoid Fever all being suggested for visitors.
5. Tunisia
In joint-fifth place, and the cheapest African country, is Tunisia. Tourists visit the country to enjoy its golden sandy beaches, sunny weather, and fascinating mix of Arab and Berber cultures. Attractions include the bustling streets and alleyways of the cities' medinas, the fascinating UNESCO–listed El Jem Amphitheater, and the Roman mosaics within the Bardo Museum in the capital. 
As for hidden costs, it's recommended that visitors are up-to-date with their Tetanus and Hepatitis A vaccinations, which is estimated to set you back around $132.50. There aren't any hidden costs when it comes to visas and tourist taxes, as Tunisia does not require tourists to acquire either of these to visit.
Taking public transport in Tunisia is also unlikely to break the bank, with an average cost per trip being $0.24. When it comes to healthcare, costs aren't the cheapest, with an average cost of $221.68 per person per year.
That being said, the average cost across all countries in the study is $1,313 so if you do end up in a medical center in Tunisia, you're unlikely to receive too large a bill. 
5. Albania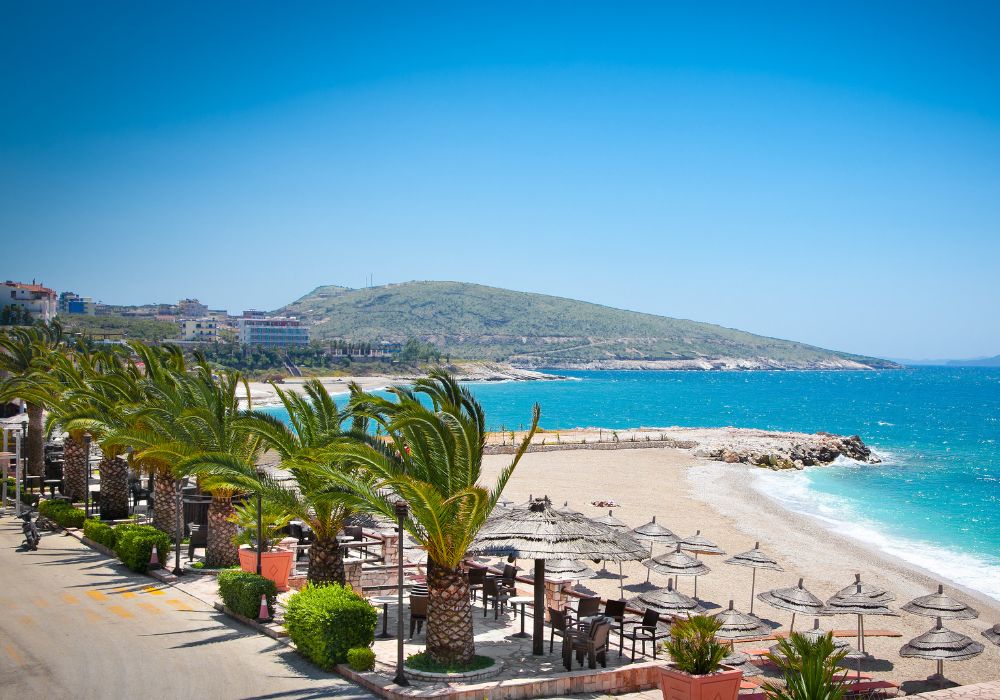 In joint-fifth place, and coming in as the cheapest destination in Europe, is Albania. One of the most popular places in the country is the Albanian Riviera, with its long sandy beaches and turquoise waters offering a cheaper yet equally as beautiful alternative to other European hotspots.
Another is Tirana, the capital, where tourists can enjoy riding a cable car up Mount Dajt and strolling around the lake in the Grand Park.
For those visiting Albania, only the Tetanus vaccine is recommended, which is estimated to cost a pocket-friendly $27.50. Neither a tourist visa nor tourist tax is required to visit the country, so there aren't any costs to worry about in this sense.
Of the top five, Albania is the most expensive location for potential medical costs with the healthcare costs per person averaging at $350.83 annually. Again, Albania is the most expensive for public transport from the top five, but its average trip cost of $0.38 still won't break the bank.
Methodology
To analyze the 'Hidden Cost Index', we first took a list of every country in the world and analyzed each for the following factors:
Vaccination requirements: whether vaccinations are required or not
Average vaccination cost: the estimated cost of vaccinations 
Visa requirements: whether a visa is required for a US citizen or not
Average visa cost: the cost of a visa 
Tourist tax requirements: whether tourist tax is required in at least one city or not 
Average tourist tax cost: the cost of tax

Those on a per-night basis were calculated based on a 7-night stay taking the average price of a hotel in the capital city using both Statista and Kayak data. Where there's a sliding scale, the cheapest price has been taken.

The average cost of public transport: average cost of one trip via public transport
Healthcare costs: using the average cost of healthcare per person per year as a good indication of how much healthcare costs in the country (and whether you should expect an A&E/doctor's bill to be expensive or not). 
We have omitted the US from the study as Goats on the Road is a US-based site and this looks at travel abroad.
We have also omitted any countries that the USA class as a category 4 'Do Not Travel' country.
Countries, where a full data set was not available, were omitted from the study.
Data sources used include Statista, Government websites, Join Sherpa, Masta, Business Insider, and World Data Bank.
Data is correct as of May 2023.