Philly: known for both its historical and cultural significance. Home to the Liberty Bell and Independence Hall—where the Declaration of Independence was signed in 1776—and the birthplace of the Philly cheesesteak and Rocky Balboa. It was also once home to some pretty famous names, including Ben Franklin and George Washington.
Philadelphia's mix of history, culture, gastronomy, art, and more make it the perfect location for your next company retreat. Plus, a Spring visit guarantees you'll be able to enjoy the beautiful cherry blossom trees in bloom across the city. You won't be short of sights to see, Philly Cheesesteaks to savor, and art murals to admire in Pennsylvania's largest city—certainly a company retreat to remember.
Here are the top ten spots you need to check out when planning your next business retreat.
5 Neighborhoods perfect for your next corporate retreat in Philadelphia
1. Rittenhouse Square: for hip, vibrant bars and restaurants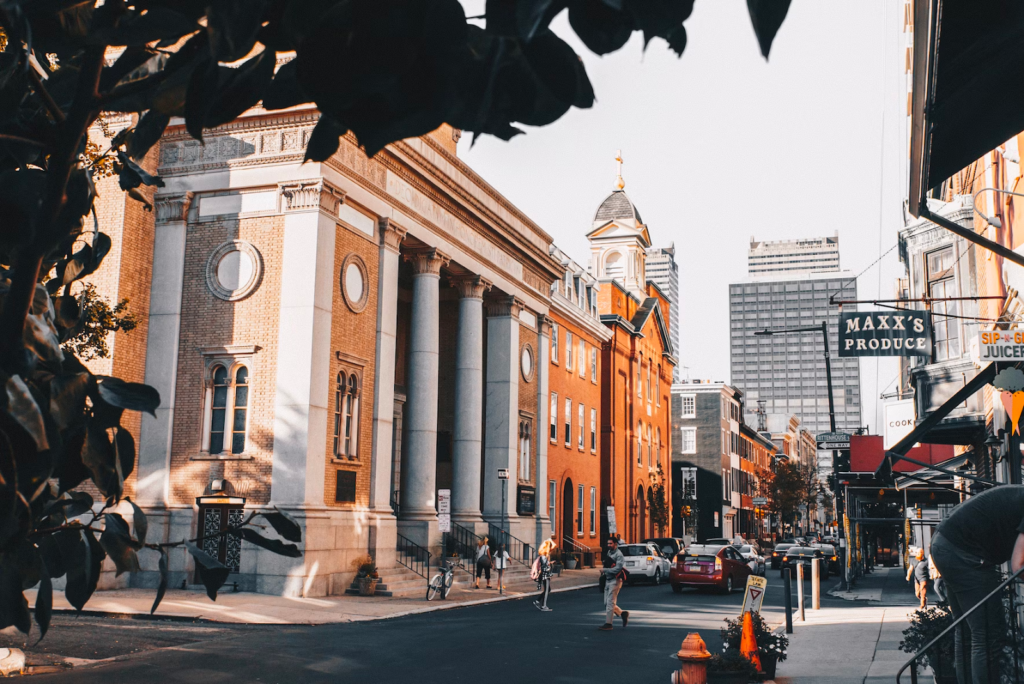 Located in Center City, if you know anything about Philadelphia you've likely heard of Rittenhouse Square. It's a modern and fashionable area full of hip restaurants, bars, and coffee shops—along with luscious outdoor spaces and parks. 
Rittenhouse is one of Philly's most walkable and well-connected areas, so an ideal pick for a relaxing company retreat for your team. It's the perfect base for teams looking to stay in the heart of Philly—near to anything and everything you could need during your company retreat.
Team building activities: tour The Rosenbach Museum, Library, and Garden, visit Philadelphia's Magic Garden, grab dinner at Parc, connect with your inner child at Wonderspaces Philadelphia
Best time of year: Spring
Price meter: $$$
2. Fishtown: for quirky street art outside the city center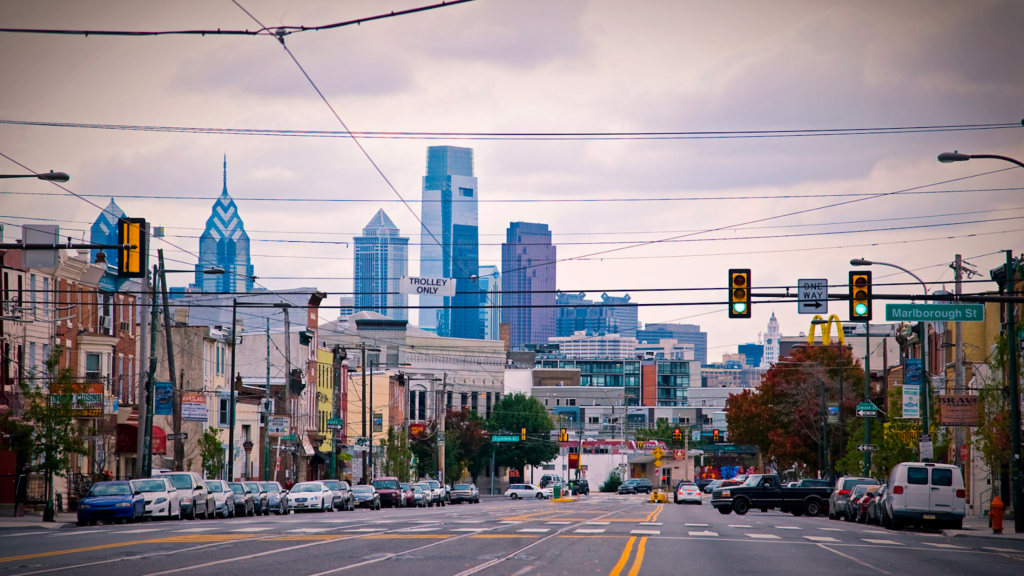 Fishtown—located in North Philly—got its name from the shad fisherman who populated it many years ago. Now, it's a trendy entertainment community full of quirky public art, bustling cafes, and restaurants. 
It's also got lots to offer in terms of daytime activities, with many event spaces, city cellars, and vintage shops. It's well-connected and walkable, making it a great base for your corporate getaway—you can even venture over to New Jersey!
Team building activities: check out the public arts and murals, relax in Penn Treaty Park, connect with colleagues over a drink in the open-air Frankford Hall
Best time of year: Spring
Price meter: $$
Did you know that TravelPerk has a specialist Group Travel and Meetings & Events team?
3. Old City: for connecting with Philly's rich history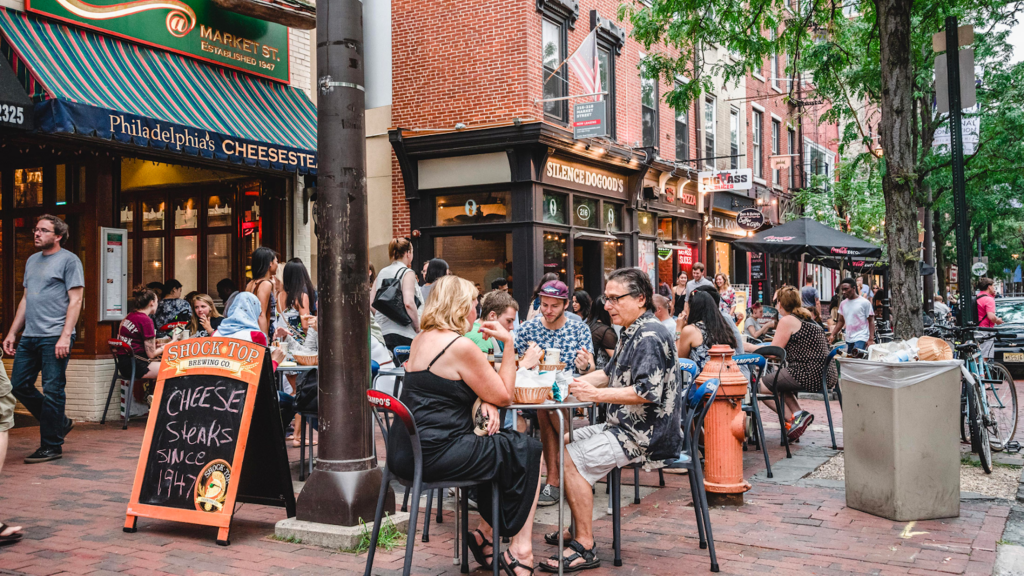 If you're looking to be surrounded by history, Old City is the ideal spot for your company retreat. Home to the Liberty Bell, Independence Hall, and Betsy Ross' house—where the first American flag was made—this historically important neighborhood is now a modern, vibrant district with ample offerings to delight your entire team.
Team building activities: visit the Museum of Illusions for some laughs, stroll along Eltfreth's Alley—the oldest continuously occupied street in North America, tour Independence Hall, enjoy Cherry Street Pier
Best time of year: Spring/Summer
Price meter: $$$
4. Fairmount: for admiring the cherry blossom trees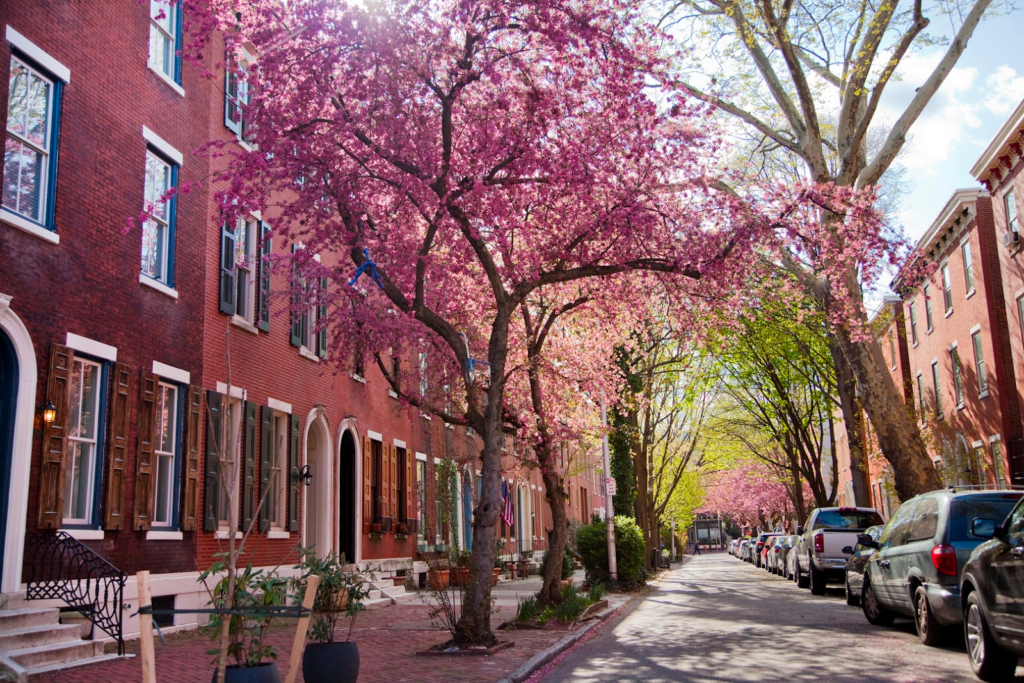 Fairmount—located just outside of the hustle and bustle of Center City—is known as the 'Art Museum Area' due to its walking distance from Philly's major galleries and museums. It's a great place to admire the cherry blossom trees that brighten up Philly's streets during the Spring, and the bike-friendly streets provide an alternative way to discover the neighborhood's ample green spaces.
Fairmount is the ideal spot for teams looking for a bit of everything—history, culture, gastronomy, and the great outdoors. Plus, for everything you get when staying in Fairmount, it's relatively budget-friendly.
Team building activities: scale the Rocky Steps at the Philadelphia Museum of Art, visit the Franklin Institute, explore Fairmount Park, and visit the US's first zoo—Philadelphia Zoo
Best time of year: Spring
Price meter: $$
5. Passyunk Square: for world-famous Philly cheesesteaks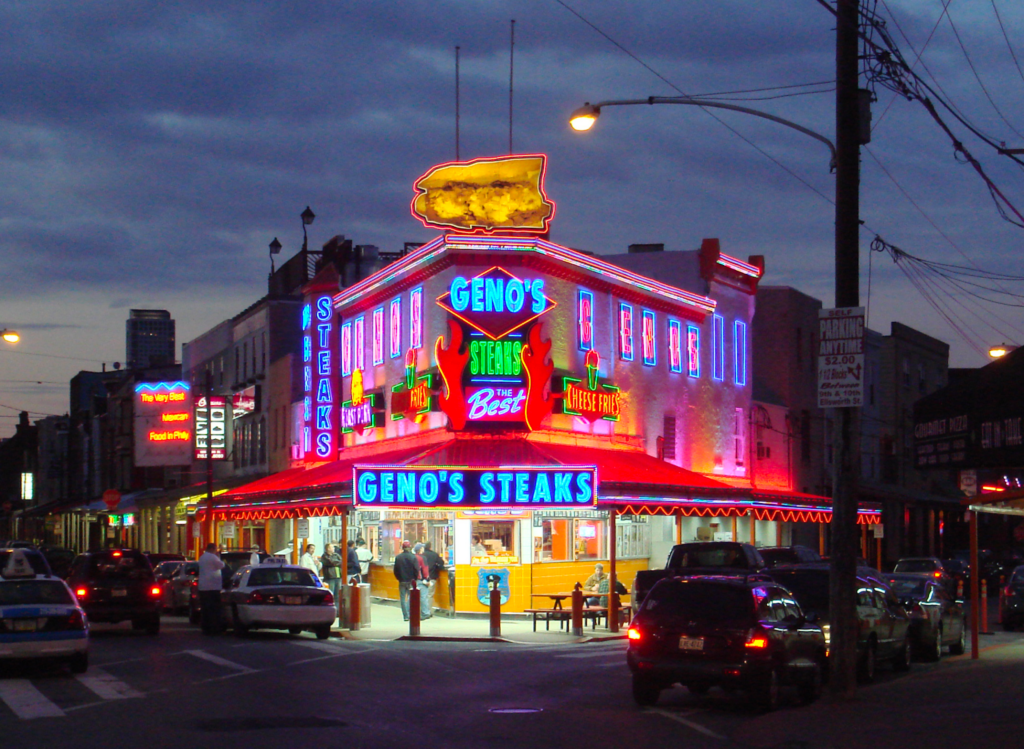 For our final pick we're taking a look at South Philly, where Passyunk Square offers a plethora of indie boutiques, cafes, bars, and restaurants. Home to the famous 'Pat's King of Steaks'—where the steak sandwich was invented in 1933—and rival Geno's Steaks—which opened up directly opposite in 1966—Passyunk is the place-to-be for trendy foodies.
The area has over 150 independent businesses, as well as beautiful parks and local landmarks. It's also home to the southern end of the Italian Market—the curb market made famous by Sylvester Stallone's Rocky. Now, you can walk through the market and marvel at the many grocers, butchers, fishmongers, and more that sell their goods to locals and visitors alike.
Team building activities: take your pick of Geno's Steaks or Pat's Steaks for world-renowned Philly Cheesesteaks, visit the Singing Fountain, dip in and out of the bars and restaurants that line Passyunk Avenue
Best time of year: Spring
Price meter: $$


5 Hotels for a team building retreat to remember
1. The Notary Hotel: for a luxurious, central stay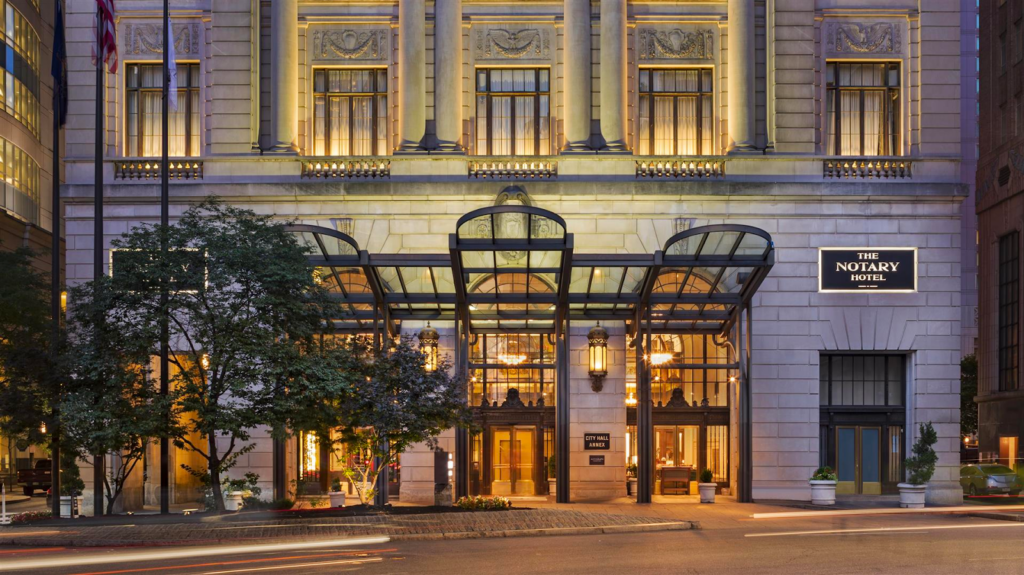 The Notary Hotel is the perfect base from which to explore Center City Philadelphia Area and all its offerings—such as the Liberty Bell, Independence Hall, Reading Terminal Market, and more. The hotel itself is a beautiful blend of historic architecture and modern luxury—recently renovated and with all the amenities you could need during your company getaway.
Team building activities: check out the famous Reading Terminal Market, view Masonic artifacts at the Masonic Temple, catch a play at the Forrest Theatre
Best time of year: Spring
Price meter: $$
2. Lokal Hotel: for a relaxed and authentic Philly experience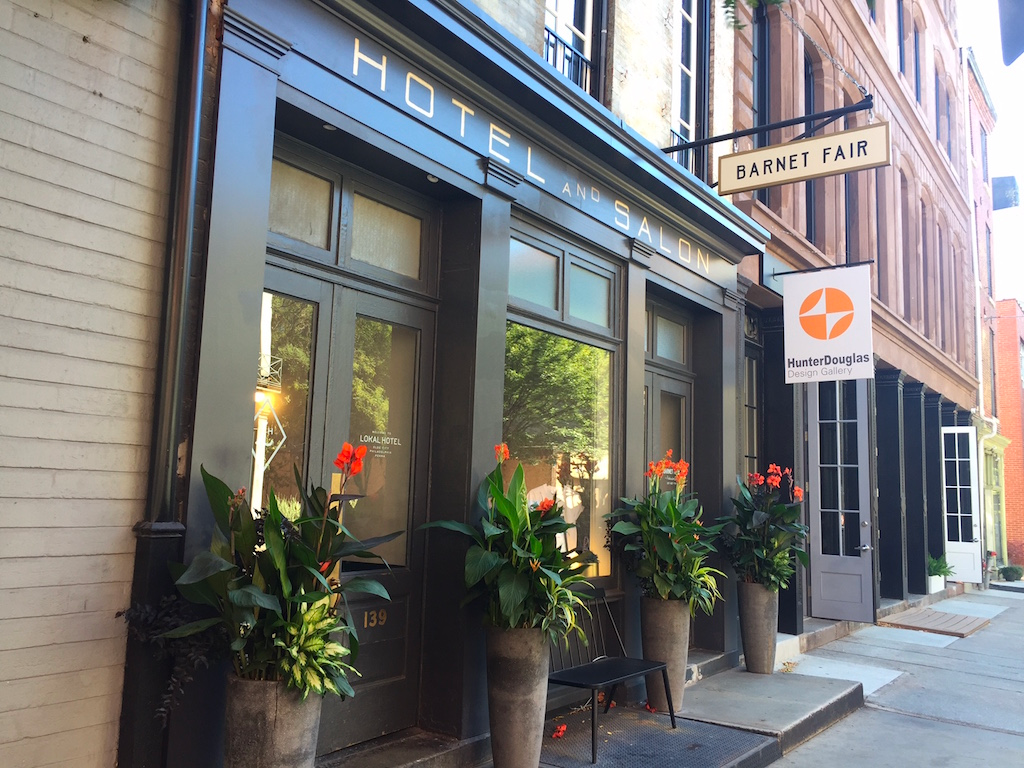 This boutique hotel is ideal for smaller teams looking for a getaway focused on quality time and team building. With two Philly hotels—conveniently located near each other in Fishtown and Old City—the stylish apart-hotels can also accommodate bigger teams who don't mind being a little spread out.
Team building activities: try some locally brewed beer at  Yards Brewery, enjoy some small plates with the locals at Fishtown Social, catch an outside concert at Penn Treaty Park
Best time of year: Spring
Price meter: $
<<CTA BOX>> Wondering how to keep everyone entertained? Here's 14 activity ideas for your next team retreat or offsite. <<CTA BOX>>
3. The Rooms at Fitler Club: for on-site amenities like no other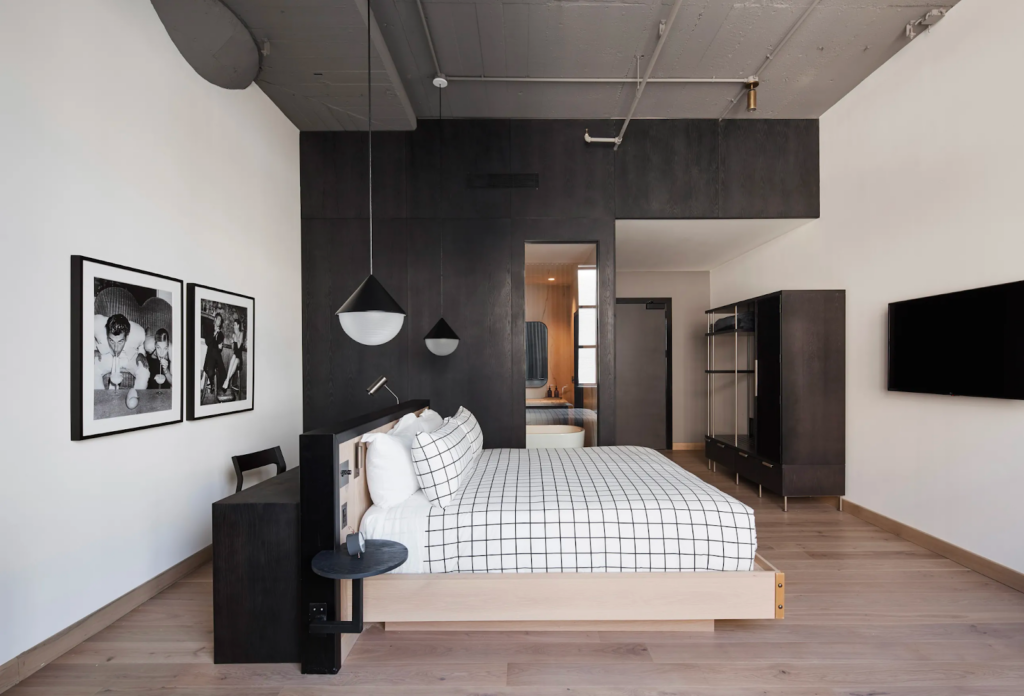 This concrete and glass fortress is one of the places-to-be in Philly, and it's not just because of the modern, comfortable guest rooms. Guests at The Rooms at Fitler Club also get exclusive access to Fitler's primary offering: a members-only leisure and fitness club. 
The ample conference rooms and meeting spaces make it an ideal retreat venue, and its on-site offerings and prime location make organizing team building events and activities simple. It's swanky and charming—and you could easily find yourself standing at the bar with your next biggest client.
Team building activities: check out Einstein's Brain at the Mütter Museum, try the many amenities on-site in the Fitler Members Club, head across the river to Penn Park for a team picnic
Best time of year: Spring
Price meter: $$$
4. Motto by Hilton: for work and leisure in Rittenhouse Square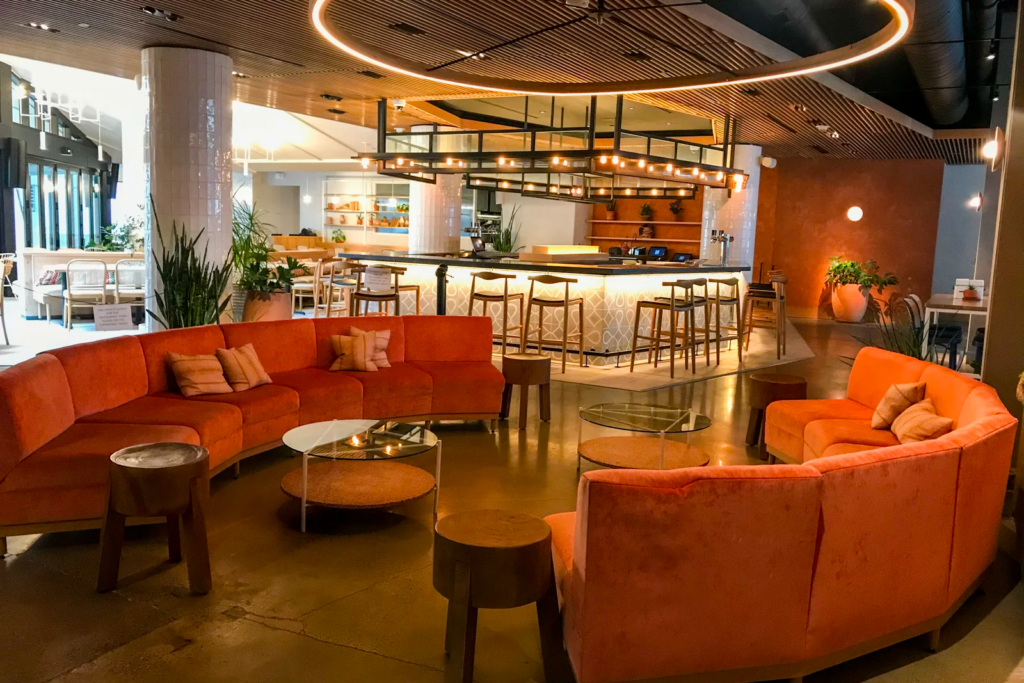 Another great pick for your company retreat is this sleek, spacious hotel in Rittenhouse Square. This boutique hotel is larger than most and offers all the amenities you'd expect from a Hilton Hotel.
The rooms are simple and budget-friendly, and the communal areas give you and your team lots of space to connect. Plus, the hotel's meeting rooms are a great option if you need to get your head down, and there's a WeWork right around the corner.
Team building activities: head to the Helium Comedy Club, catch an outdoor movie at Dilworth Park, visit Philly's Magic Gardens
Best time of year: Spring
Price meter: $$
5. Four Seasons Hotel Philadelphia: for unbeatable views and quality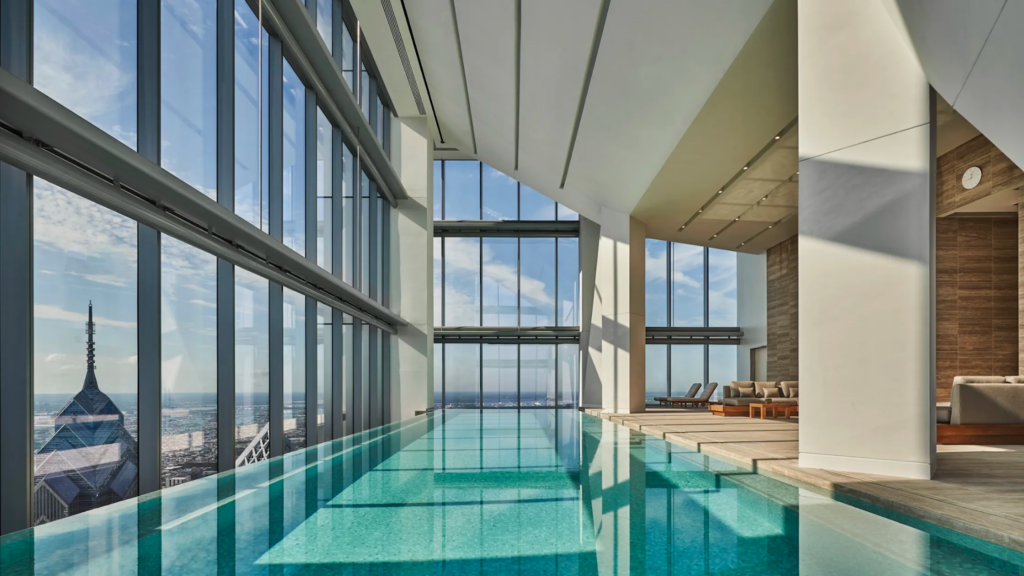 If you're looking for a luxury retreat, look no further than the Four Seasons Philadelphia. It's got all the high ceilings, greige furniture, and stunning views you could ask for—especially from the 57th-floor infinity pool. 
As the team there will tell you: it's a Four Seasons, but it's still Philly. It's the ideal location for a luxury retreat with your team.
Team building activities: winter ice skating in Center City, visit the Franklin Institute, get team pics with the iconic Love Park sculpture
Best time of year: Spring
Price meter: $$$$
If that wasn't enough for you, we've rounded up a few more hotels to consider that didn't make our top five, but still well-worth considering: 
The Rittenhouse
Kimpton Hotel Monaco Philadelphia
AKA University City
Club Quarters Hotel
Sofitel Philadelphia
Philadelphia calling! Make your next company retreat unforgettable
Whether it's history and culture or fun and food that you're after in your next company getaway—Philadelphia is the place to be. It's got something for every person, business, and budget; whether you're coming from in-state or out-of-state.
If the strategic planning of a successful retreat is weighing you down, TravelPerk Events offers stress-free organization to make your life easier. The one-stop corporate event planning solution is the helping hand you need to take your corporate retreats to the next level.
One last fun fact for you to help ensure you're in the know. Philadelphia cream cheese? Not from Philly—first made in New York in 1872, got the name in 1880 in an attempt to link it with the high-quality food and dairy farming associated with Philadelphia at the time.
The more you know, huh? Enjoy your next offsite!