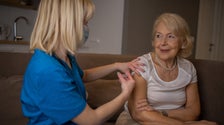 The Food and Drug Administration approved the first vaccine to prevent lower respiratory tract disease caused by respiratory syncytial virus for adults ages 60 and older on Wednesday.
RSV is a common and contagious virus that causes infections in the lungs and breathing passages. According to the Centers for Disease Control and Prevention, most people with RSV experience mild, cold-like symptoms that take a recovery time of one to two weeks.
The single-dose vaccine Arexvy, which was created by GSK, could be made available by fall to those 60 and over, a demographic that is at a higher risk of developing severe diseases from RSV, CNN reports. However, the CDC's Advisory Committee on Immunization Practices must still recommend its use.
"Older adults, in particular those with underlying health conditions, such as heart or lung disease or weakened immune systems, are at high risk for severe disease caused by RSV," Peter Marks, director of the FDA's Center for Biologics Evaluation and Research, said in a press release on Wednesday.
According to the CDC, 6,000 to 10,000 adults 65 years and older die from RSV in the U.S. each year. RSV is also common among children, with 100 to 300 deaths in children younger than 5 each year. The virus is also the most common cause of pneumonia and bronchiolitis in children under the age of 1 in the U.S.
The FDA approval follows the "tripledemic" surge in RSV, COVID-19 and flu cases at the end of 2022.
"Today's approval of the first RSV vaccine is an important public health achievement to prevent a disease which can be life-threatening and reflects the FDA's continued commitment to facilitating the development of safe and effective vaccines for use in the United States," Marks said in the press release.
According to CNN, the vaccine has been in the works for the past 60 years. A clinical trial found that the vaccine was 83% effective in protecting against lower respiratory tract disease caused by RSV, and 94% effective in preventing severe diseases in seniors.
The FDA press release said that in one study where some of the 2,500 participants received Arexvy at the same time as the FDA-approved vaccine for influenza, two participants developed a rare type of inflammation that affects the brain and spinal cord called acute disseminated encephalomyelitis.
Another study with 2,500 participants found that after receiving Arexvy, one participant developed Guillain-Barré syndrome — a rare disorder in which the body's immune system damages nerve cells, which can result in muscle weakness and even paralysis.
The FDA is requesting that GSK conduct a postmarketing study to further assess the risks of Guillain-Barré syndrome and ADEM, according to the press release.