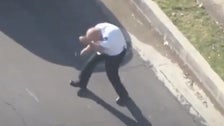 A swarm of bees wreaked havoc in a Los Angeles neighborhood on Monday, leaving at least two people injured.
The Los Angeles Times reported thousands of bees swarmed near the Encino reservoir and that local residents were warned to stay inside and keep doors and windows shut.
In the most shocking moment, a Fox 11 news helicopter captured a police volunteer staggering away from the bees, then falling face-down in the street.
Warning: The footage is difficult to watch:
A KTLA chopper captured the aftermath, as the man got up and walked away from the scene. Reporters described him as having a "pretty bad head wound" from the fall:
KABC said the man was one of two people taken to a hospital for injuries related to the bees. Their conditions are not known.
Local media said a professional beekeeper was brought in to handle the situation.
It's not clear what set off the bees.
"This is such an active hive, they're so aggressive," Brooks Putman of All Valley Honey & Bee told KTLA. "There are so many of the bees that they look like they have a fairly well-established hive."
Putman said, however, that in most cases bees will leave people alone as long as they're left alone.